Northeast Historic Film (NHF) is an American regional archive dedicated to preserving, collecting and exhibiting northern New England's (Maine, New Hampshire, Vermont and Massachusetts) film heritage. Northeast Historic Film is located in the town of Bucksport, Maine and operates out of a historic cinema building, the Alamo theatre.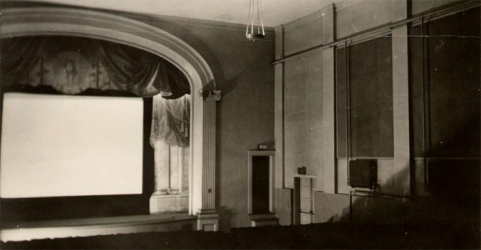 The Alamo Theatre was built as a cinema in 1916 and continued to exhibit films until 1956. Northeast Historic Film acquired the building in 1992 and has since restored it to include their offices, a 140-seat theatre and a public study center. NHF also runs a three-story Conservation Center, which houses NHF's collection of over 30,000 items - the largest collection of moving images in northern New England. Of the NHF's 800 moving image collections, over 300 are described online with streaming video available from over 90 collections. Below are a selection of amateur films which are on the AMDB and available to stream online via Northeast Historic Film.
Mag the Hag (Hiram Percy Maxim, 1925)
Northeast Historic holds the Hiram Percy Maxim Collection, which contains both home movies and more polished amateur works by Hiram Percy Maxim and his family. Maxim, was an engineer and inventor, and the founder of the Amateur Cinema League. The collection at Northeast Historic includes the amateur classic, Mag the Hag, a comedy "censored by the national board of senseless authors". The film is one of the oldest surviving amateur films and showcases the magic of movie making by transforming objects like a doll into a live cat using stop-action photography. Mag the Hag was directed by Maxim himself and features his daughter Percy Maxim cross-dressing to appear in the lead male role.
The Rise and Fall of Susan Lennox forms part of Northeast Historic's Alan Bemis Collection which includes 47 reels of 16mm film. The collection also contains a group of films directed by Sidney Shurcliff dubbed the Motormauler films. Bemis and Shurcliff were Harvard classmates and amateur film collaborators. Bemis explains that, "the general plan was that the Club would meet once a year. Each member was to show up with a $10.00 automobile which he would contribute to the outing. Sid Shurcliff would dream up a movie scenario involving a chase of some kind." The Rise and Fall of Susan Lennox is a Motormauler film that parodies the Hollywood melodrama starring Clark Gable and Greta Garbo. Like Mag the Hag, this film also features some cross-dressing, with Alan Bemis dressed as a woman. Bemis later would play as a woman again for a more elaborate Motormauler film, Why Do Oysters Perspire? which features not only motor vehicles, but boats and stunts using airplanes.
The Deerslayers comes from NHF's Archie Stewart Collection, which impressively spans from the 1920s to the 1990s. The film itself centers on a hunting trip that Archie Stewart took with a friend, Howard Kendall, in Maine from New York. In Amateur Movie Making: Aesthetics of the Everyday in New England Film, 1915-1960, scholars Janna Jones and Mark Neumann highlight the complexity and difficulty that Stewart and Kendall accomplished in the film. Nuemann and Jones write that "The Deerslayers is a set of contrived scenes that calls attention to the ways the camera serves as a wedge that splits experience." True to documentary form, the filmmakers are able to experience the present through clever filming of each other, while keenly aware that the film will be edited for a future audience.
For more information visit their website at oldfilm.org.
---