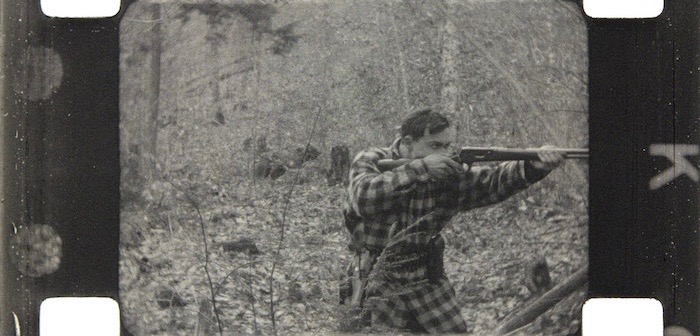 Identifier:
1108.0004-.0005 (Source: oldfilm.org)
Date produced: 1926
Filmmaker(s):
Thomas Archibald (Archie) Stewart
Length:
700 feet
Format:
16mm
Colour:
B&W
Sound Notes:
Silent
Awards/Recognition:
Northeast Historic Film list of titled amateur works
Description:
"Structured around a hunting trip to Maine made by Archie Stewart and Howard Kendall. The two men travel to Perry, Maine, from New York state by train, then drive a car to a lake where they transfer their luggage to a motor boat on Grand Lake Stream and ride through heavy fog on rough water to West Grand Lake. They then carry a canoe to Lower Sysladobsis Lake, load the canoe with their rifles and supplies, and paddle off. After reaching their camp along the lake's shore, they check their rifles and eat before hunting." oldfilm.org
Resources:
Part of the Archie Stewart Collection held by Northeast Historic Film.
Discussed by Mark Neumann and Janna Jones, "Layers of Vision in Amateur Film," in Martha J. McNamara and Karan Sheldon, Amateur Movie Making: Aesthetics of the Everyday in New England Film, 1915-1960, 2017.
Locations:
Washington County, Maine (Filming)
Club Affiliation:
Subjects:
Genre:
Form:
Tags:
Repository:
Archie Stewart collection, Northeast Historic Film
Viewing Notes:
"Additional notes: begins with title card reading: 'The Deerslayers' and cast list: Howard Kendall and Archie Stewart, with shots of both men. Archie with hunting gear leaving house. Train pulls out of station and woman in stylish hat holding young girl waves goodbye [Mary Stewart and daughter Mary]. Extended footage of train traveling over bridge. Interior of train passenger car. At station in Perry, Man hand cranks automobile and gets in. Laughing man, introduced as Rob Golding, standing beside automobile on rural road and joined by Archie. They laugh and talk. Next day Archie puts on belt with ammunition, hunting knife. Removes box camera from pouch and looks through viewfinder. Men unload luggage from car and carry canoe to water. Men in motor boat on rough water, Grand Lake. Intertitle reads: 'Portage from Grand Lake to Dobsis Lake.' [Dennison's Portage] Men paddle canoe. Moving shot from water approaching small cabins, two story house on shore, rocks with waves. Man seated on porch railing of small house, small dog at feet. Dog jumps downs stairs to greet Howard, men play with dog. Archie and Howard stand on lakeshore checking their rifles. Archie tracks deer in woods, draws pistol, rifle nestled in crook of left arm. Aims and fires three times, nods at camera. 'Howard bags one.' Howard walking thru small glade of trees spots prey, takes aim with rifle and fires. Howard trots through darker patch of trees to fallen deer on ground. Howard takes knife and starts to gut deer, long shot. Howard cleans knife, drags deer carcass. Archie aims rifle and fires, runs up to dead buck, tugs antlers. Howard carrying deer slung across shoulders. Archie carrying doe on shoulders, looks tired in closeup. Howard drops carcass to ground. Howard hangs deer by neck from tree bough supported by tripod of sticks. Howard and Archie each examine and stroke the dead deer. Various shots of deer hanging from trees, piled on ground, men lugging bodies away, some with trophy heads removed. Draft horse in harness drags deer carcass up to pile of other dead deer, men load kill onto small cart. Men paddle canoe across lake again, back to Perry. Pile of deer and luggage on dock. Man with pole guides boat into landing. Men seated on boat with heads of bucks with antlers held in laps. Sedan car pulls trailer with canoe, departs lake, pulls into train station with locomotive waiting. Shot of small wooden railroad station. Interior of passenger car, men, women, child passengers and view of countryside from moving train. Intertitle reads: 'The remainder of the trip is spent at Howard's camp at Southmeadow.' Very small single room building. Man comes out of door holding frying pan, swirls and pours water out of pan onto ground. Archie, seated on steps, cuts notches onto rifle barrel with knife for each deer killed. Christmas trees are loaded onto flat-bed train cars. Archie in city clothes carries luggage up to Perry train station. Howard at station doffs his cap and waves goodbye." oldfilm.org
Video Link:
---