---
Date produced: 1976
Filmmaker(s):
Description:
"Edited film created by Frank L. Kreznar, an award winning amateur filmmaker, documents Slovenia, Croatia, Bosnia-Herzegovina, Vojvodina, and Serbia. Most of the footage is of countryside or mountainous areas although Kreznar depicts Zagreb, Croatia, and Belgrade, Serbia. The historic Petrovaradin Fortress in Vojvodina, Serbia, is only historic building filmed. The footage of Slovenia emphasizes agriculture, while the footage of Bosnia-Herzegovina includes scenic shots of mountains and waterfalls. Kreznar also shows traditional houses in the rural areas providing a contrast to modern Soviet construction such as Soviet-style apartment buildings. Shots of urban areas also include an emphasis on the lack of cars, high volumes of pedestrian traffic, and the popularity of public transportation. He depicts churches that are still being actively used while discussing the lack of Soviet suppression of religion in Yugoslavia, and he shows the existence of privately held business enterprises such as taxi services and cafés. He also mentions that the majority of Yugoslavian agriculture is under private, family control and that private businesses with five or less employees are allowed to exist. Kreznar discusses the impact of wars between Eastern and Western Europe on this territory, showing various war memorials throughout the film. The film ends with footage of hitchhikers – mainly from countries in Western Europe – attempting to travel through the country" via the Human Studies Film Archives, Smithsonian Museum.
---
Date produced: 1937
Filmmaker(s):
---
Date produced: 1935
Filmmaker(s):
Description:
"Film footage moderately edited with added intertitles, shot in Ceylon, Egypt, and Italy by oil explorer and geologist Walter Link during his personal vacation, records various tourist destinations. Landmarks include: the beach and harbor at Colombo, Sri Lanka (Ceylon); the Sphinx, pyramids, Mosque of Mohamed Ali and Egyptian Museum in and around Cairo, Egypt; Villa San Michele in Capri, Italy; and St. Peters and the Coliseum in Rome, Italy. Footage consists mainly of sights and structures, and features little interaction with local inhabitants," Human Studies Film Archives, Smithsonian Museum.
---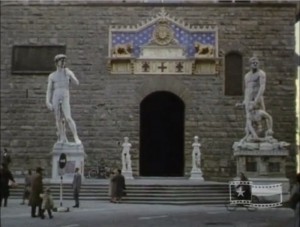 Date produced:
Filmmaker(s):
Description:
"This amateur film captures Edwin and Minnie Mayer's worldwide adventure across Australia, Asia, Africa, and Europe in the 1950s. This segment documents stops in Thailand, India, Egypt, Greece, Vatican City, Italy, the Netherlands, and England" Texas Archive of the Moving Image.
---
Date produced: 1930
Filmmaker(s):
---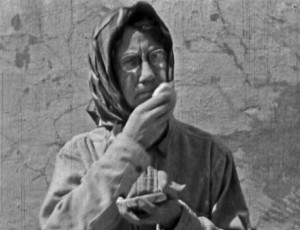 Date produced: 1932
Filmmaker(s):
Description:
"A Study in Reds, that women's club film of a sovietized America, has been successfully completed and the club, a very pillar of society in its community, has been made safe, by the experiment, for Democracy. The Five Year Plan called for the production of ten eggs a day, so that there was none left for the onetime owner of the chickens; children seemed to get mixed on their return from the communistic nursery; and the police ate all the tidbits from the workers' lunches, so that in the end the good ladies of the club returned contentedly to the stultifying, but more reassuring, banalities of private ownership. Miriam Bennet, ACL, of Wisconsin Dells, was the director and cameraman of this reversal of the customary Sovkino drama" Movie Makers, Aug. 1932, 361.
---
Date produced: 1971
Filmmaker(s):
---
Date produced: 1971
Filmmaker(s):
Description:
"A Traditional Country Wedding in Aland by A. O. Olson a PSA member of San Francisco, Calif. Axel has recorded an all-but-disappeared ritual in this tiny island between Finland and Sweden. This 23-minute 16-mm film was awarded the PSA-MPD Gold Medal and the Documentary Film Award" PSA Journal, Nov. 1971, 42.
---
Date produced: 1970
Filmmaker(s):
Description:
"Seeing Switzerland by R. D. Charlton from Alexandra Headland, Queensland, Australia. Roy has been a winner in past PSA competitions and Switzerland's beauty combined with his film making talents emerged in another winning entry this year. This 9-minute 8mm film was awarded a Ten Best Medal and the Foreign Film Award" PSA Journal, Nov. 1970, 38.
---
Date produced: 1968
Filmmaker(s):
Description:
"Jeanette from Scotland won the Scenario Award for a story with a very touching twist at the end. Not much can be written as to its content without giving away the story and thus spoiling it for you when you see it. Rex Palmer did this one in black-and-white (only two other films in the Ten Best were not in color), with a deft handling of the story that tends to mislead you right up to the very end. It easily won as Best Foreign Film in this year's competition" PSA Journal, Oct. 1968, 48.
---
Total Pages: 5