---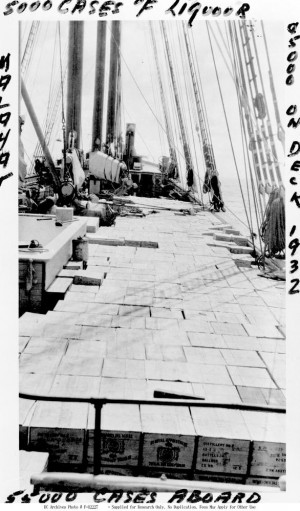 Date produced: 1933
Filmmaker(s):
Description:
"Depicts a rum-running expedition from Victoria to "Rum Row" off the California coast with the mother ship M.V. Malahat. The tender M.V. Hickey is shown transferring cases of liquor to American vessels and avoiding US Navy cutters. At San Martin Island, Mexico, the Hickey puts in for repairs." (BC Archives)

NOTE: The original reversal film was lost in the 1990s after being sent out for video transfer in Vancouver. Only the BC Archives analog video transfer is extant.
---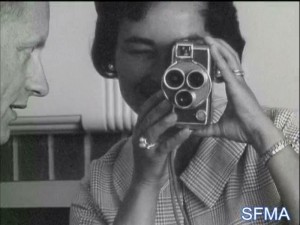 Date produced: 1960
Filmmaker(s):
Description:
"Welcome San Francisco Movie Makers opens with a montage of classic San Francisco sights, setting the backdrop for the first meeting of the San Francisco Movie Makers Club. After an introduction of the club's members and its activities, filmmaker Dr. Frank S. Zach, along with his wife Helga, proceeds to demonstrate the proper use of 8mm and 16mm cameras and film sound recording techniques. Shot, scripted, edited, hand titled and over dubbed with music by Dr. Zach, this film seeks to encourage, teach, and recruit image makers." centerforhomemovies.org
---
Date produced: 1938
Description:
"The Golden West, as this amateur movie was titled by its maker. whose identifty is lost, tours America's Riviera," as the film rather grandiosely labels the Los Angeles region.... It focuses on public places and seldom the filmmaker's family members, who are onscreen largely to illustrate local customs...." (Scott Simmon) During a ride on a blimp, the filmmaker shoots aerial footage of Los Angeles and area, including some of the local film studios. Other sequences include a visit with B-movie actor George O'Brien, on set at RKO, and a Shriners Parade at the Los Angeles Memorial Colosseum, where floodlights illuminate floats representing various Hollywood studios.

The filmmaker is not credited. In archivist Lynne Kirste's commentary for the excerpt in Treasures 5, he is described as an unidentified amateur filmmaker from Pennsylvania.
---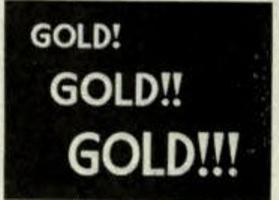 Date produced: 1940
Filmmaker(s):
Description:
"After studying the early history of the West, fifth grade students and their teacher at the University School, Lexington, Ky., donned the costumes of Western pioneers and filmed Gold! Gold!! Gold!!!, the story of an early pioneer who crossed the frontier into California. Lillian E. McNulty was the cameraman" Movie Makers, October, 1941, 470.
---
Date produced: 1930
Filmmaker(s):
---
Date produced: 1928
Filmmaker(s):
Description:
"Mr. Taylor submitted an amusing scenic film in the 35 millimeter division, showing the varied and bizarre architecture of Hollywood. An honorable mention was awarded this film. This contest contribution was made last Summer and Fall during Mr. Taylor's spare time. He used a small automatic camera, equipped with ah F .3.5. lens, and an old Pathe of doubtful vintage" Photoplay, June 1928, 137.
---
Date produced: 1971
Filmmaker(s):
---
Date produced: 1968
Filmmaker(s):
Description:
"The City was entered by its maker as an experimental film and ended up winning the Travel Film Award. Usually travel motion pictures have a difficult time in festival competitions, but this one came out almost on top. George Hood, who also won an Honorable Mention for Goin' Home, shows you 17 minutes of San Francisco that makes you feel you have lived there all your life - and he does all this without one word of narration, just sounds and music plus excellent filming" PSA Journal, Oct. 1968, 48.
---
Date produced: 1965
Filmmaker(s):
Description:
"Three of Everything, the winner in Class C, is a cross section view of the advantages, equipment and materials the junior high school student finds today in a modern educational institution. Filmed at Mr. Gleason Junior High School in Sunland, Calif., the film depicts the print shop, the wood shop, the metal shop, the foundry, physical education, cooking classes, math and science, and finally graduation. With so much to assist his learning years, the film rightfully concludes that each student has, indeed, had three years of everything" PSA Journal, Sept. 1965, 51.
---
Date produced: 1963
Filmmaker(s):
Description:
"As part of the general program of heart research, studies are being made to determine how the body's blood pressure can compensate for sudden and extreme differences in elevation. At the San Diego Zoo, the long-necked animals - the giraffe, the horse and the llama - are used in this research project. By surgical procedure, devices are inserted in the animal's body which measure and record the external actions and the internal natural control mechanism of the heart. The information compiled from these studies will aid greatly in man's effort to understand the complexities of the body" PSA Journal, Oct. 1963, 41.
---
Total Pages: 4