---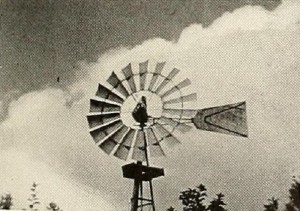 Date produced: 1940
Filmmaker(s):
Description:
"Simplicity and directness mark How to Use Filters, made by Kenneth F. Space for the Harmon Foundation. A teaching film must be free from overburdening theory. Mr. Space knows when to forget the deep dark secrets of theory and when to speak out about the actual, practical facts. His film was well filmed, and the subject matter was chosen to present the case clearly and in an interesting fashion. The user of a movie camera will learn more about filters from seeing this film than he can gain from reading many pages on the subject. It tells just what to expect from various filters and stresses the results obtained from their use more than it does the reasons why they work. Mr. Space's movie is one of the few educational films which are simple enough to be effective." Movie Makers, Dec. 1940, 604.
---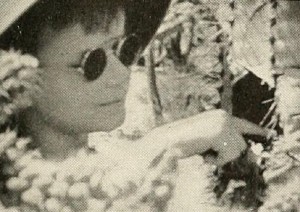 Date produced: 1940
Filmmaker(s):
Description:
"Sahuaro Land, by Frank E. Gunnell, is as clever and painless a teaching film as one may find in many a classroom screening. Here, in a colorful Arizona cactus desert, we find the surefire ingredients of a boy and his dog. The boy is an enthusiastic nature student who, in the course of his explorations of the region, contrives to make sundry entries in his notebook, which find their way to the screen. These data are all so natural a part of the story, however, that the information conveyed does not assume the rather forbidding status of an instructional title in any case. The outdoor color work is excellent, and the viewpoints are well chosen. Mr. Gunnell's use of telephoto technique for making closeup studies of distant, inaccessible objects (such as the bloom atop a tall cactus) was particularly effective. We learned a lot from this film." Movie Makers, Dec. 1940, 604.
---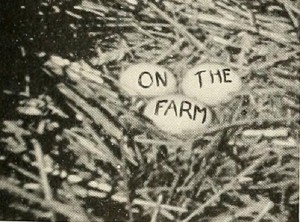 Date produced: 1940
Filmmaker(s):
Description:
"Sunlight and morning noises, the rich, sweet smell of clover, the hot grain fields at midday and windmills drawing water from the deep earth — these are part of the common life of an Ohio farm that two young girls, Marjean and Mary Elizabeth Headapohl, have put into their film, On the Farm. It is a record as American in feeling as Walderts Pond, even though unconsciously so. Innumerable closeups show the generousness of the earth in Ohio, whether in flowers around the house or in the grain and vegetables of the fields. Day after day, the imponderable clouds drift by. Peas are shelled for dinner; the cows are brought in from the pasture by the collie dog; the farm hands return to the barn after a day of harvesting wheat. There is little more shown, in substance, and presently the film ends. But it leaves one with a conviction that this simple way of life in America cannot easily be changed, and that, as long as people of good hearts make records such as this, we cannot wholly forget that the Republic was founded on the plough." Movie Maker, Dec. 1940, 603-604.
---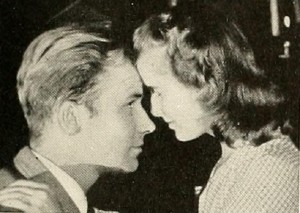 Date produced: 1940
Filmmaker(s):
Description:
"Lake Mohawk, Preferred, made by Leo J. Heffernan, is a picture of the attractions, residences, entertainments, dog shows, yachting regattas and water sports of Lake Mohawk in New Jersey. But Lake Mohawk, Preferred is also a film with a continuity idea utterly new to amateur movies, for the not unusual subject matter of the picture is held together with a "screwball" theme and "gags" that keep you wondering what is going to happen next and entertained in the meantime. A handsome couple have a movie camera. "Concentrate to make good movies," says their instruction book. This they do in a very pleasant way (see the frame enlargement on page 577), and the results are surprising. Their mental efforts transport them and the camera bodily about the lake, at just the right time and place to film whatever is going on. They have some astonishing experiences, too. Sometimes they can't seem to materialize, and they pick up odd characters in their voyages through ether. But their method works and they get beautiful and lively sequences of life at Lake Mohawk." Movie Maker, Dec. 1940, 603.
---
Date produced: 1940
Filmmaker(s):
Description:
"A clever little domestic story, unpretentious but told in a good cinematic style, comes from the camera of J. Owen Campbell, in His Off Day. Here are recounted the difficulties experienced by the father of a family in his endeavor to relax on his day off. Constantly frustrated in his attempts, he finally seeks refuge in the family car, with results which provide an amusing surprise ending, notably clever in treatment. Technically, the outstanding feature of this film is the handling and lighting of the interior shots, which are uniformly good, with the exception of one or two of them. Mr. Campbell has demonstrated in this film that a simple story, enacted in familiar settings by members of one's own family, offers the most usable material for the average movie maker's indoor efforts. It is for such an outstanding embodiment of this principle that the producer of His Off Day is especially to be commended." Movie Makers, Dec. 1940,602-603.
---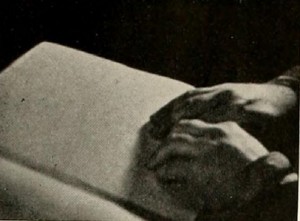 Date produced: 1940
Filmmaker(s):
Description:
"It is a striking gesture to employ the one medium which depends upon the sense of sight to aid the cause of the blind. This is what Jack L. Krapp has done in his comprehensive movie, Hands that Work in the Darkness, a thoroughgoing presentation of the unusual work being done for the sightless by the Cleveland Society for the Blind. The film is of generous length, yet, because of Mr. Krapp's special skill in maintaining interest through choice of viewpoint and because of the absorbing subject matter, it holds the attention throughout. Appropriate musical background, together with the delivery of a well composed spoken narrative, further enhances the presentation of the subject. Mr. Krapp's interior lighting work is very well done, and he seems to be able to take large or small interiors in his stride. A notable section of the film includes the recording of a play, performed by blind actors on a full sized stage. This is an excellent record film and a splendid achievement in its field." Movie Makers, Dec. 1940, 602.
---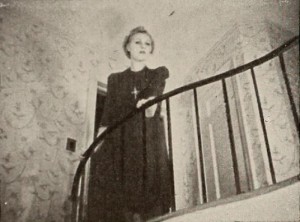 Date produced: 1940
Description:
"Boy meets girl and color meets a cine club in Footloose, the latest production of the Rockville Cinema Club; the result is an able and entertaining farce comedy. In moving from black and white to Kodachrome, the members of this veteran group have taken the hurdle in their stride. If anything, the chromatic medium may be said to have added sparkle and brilliance to their plot complications and to the angles, editing and cutting with which they interpret them. Definitely keyed to the Hollywood '"screwball" school of roughhouse comedy, Footloose opens with a dynamic and delightful introduction of the players and carries on to involve a boy and a girl, an artist, his model and assorted comedy and character actors, in random but romantic complications. The pace is fast, the color pleasing and the cutting crisp and well integrated with the action." Movie Makers, Dec. 1940, 602.
---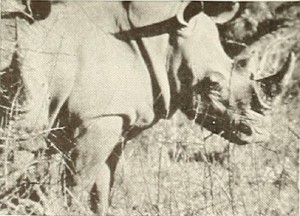 Date produced: 1940
Filmmaker(s):
Description:
"In the tradition of Carl Akeley and the late Martin Johnson is the humorously titled but essentially serious film, Charlie, the Zulu Game Guard, by Esther and Vincent Vermooten. Stalking rhinos, both black and white, in the Hluhluwe Reserve of British South Africa, Dr. and Mrs. Vermooten, accompanied by the game guard Charlie, managed to capture on film a series of incomparable studies of the beasts in their native habitat. The circumstances must have been difficult, the pursuit undoubtedly dangerous, but Dr. Vermooten used a tripod throughout and succeeded, despite obvious trials of climate and heat, in getting perfect color rendition. This fact, added to the well planned continuity of the film, makes it an outstanding accomplishment of its kind." Movie Makers, Dec. 1940, 602.
---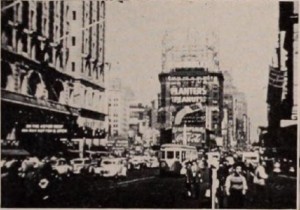 Date produced: 1940
Filmmaker(s):
Description:
"Harley H. Bixler, a technician, has been inspired with the might of America, and he has interpreted it according to his lights. In Cavalcade of America, taking our entire country as his canvas, he has painted in, with striking chromatic images, the physical and industrial high lights of our heritage. Here are the sinews of strength, awaiting only the activating force of human endeavor to turn them to the path of power. Here are the mills and the mines, the oil and the electricity, the farms and the factories without equal in our modern world. Mr. Bixler interprets his fine pictorial document with a narrative that is usually vivid but sometimes matter of fact and accompanies the whole with recorded music. Cavalcade of America is a striking study of a tremendous subject." Movie Makers, Dec. 1940, 602.
---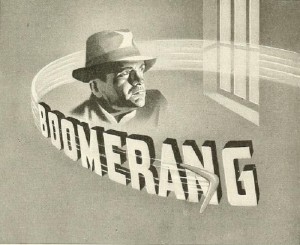 Date produced: 1940
Filmmaker(s):
Description:
"Boomerang is a simple, direct and hard hitting drama with a moral. Caught in lean times, a young man is laid off from his factory job. Lusting blindly for revenge, he kidnaps his boss's little daughter and sets off down the long, lonely road of the hunted fugitive. Days stretch into weeks, but still he eludes capture, as his patient little prisoner slowly melts his resentment with kindness and childish trust. At last, won over by the warmth of her love, he goes recklessly forth to get a doll that she wanted, only to meet death in a blaze of gunfire. The boomerang of revenge has come full circle. In this rather specialized drama, Chester Glassley has done a good job with a difficult story. The buildup is slow but relentless. The long series of outdoor hideouts is convincingly haunted with fear and menace, and the movie maker has done much to enhance their mood with an adroit use of his camera. Perhaps most outstanding, however, is the genuine portrayal of the little girl." Movie Makers, Dec. 1940, 602.
---
Total Pages: 209