---
---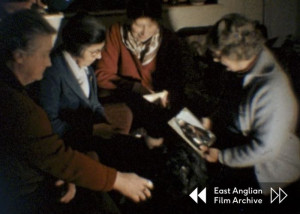 Date produced: 1965
Filmmaker(s):
Description:
'Silent film shot by Miss Philippa Miller recording scenes of people and activities around the 1930s-style bay-fronted terraced houses and gardens in a small residential close at different seasons of the year. Miss Miller lived in Norwich so the film has provisionally been linked to Norwich, but identification of the location would be welcome. The film captures the relaxed and friendly relationship between the women, men and children filmed and Miss Miller behind the camera. From the film stock marks it appears that the film was shot between 1965 and 1967.
All but two of the scenes are filmed outdoors. Indoors we see four women sitting together looking at two boxed costume dolls and stroking a black poodle, and a brief scene of an elderly lady. The exterior scenes were filmed during winter, spring and summer and capture people's activities and domestic chores around their homes and gardens, their comings and goings, and various pet dogs. Scenes include: women clearing a path through snow; a row of ten sparrows on a ledge above a snowy roof; a man washing a car with cloth and bucket of water as laundry billows on a washing line; a woman dressed to go out in hat and coat carrying bags; children playing with a dog, a football, a toy pram and a toy tractor; a bride in white outfit with bouquet standing with a man, perhaps her father, and a woman chauffeur in peaked cap helping people into a car as they leave for a wedding; crocuses; another man washing a car; a boy on a tricycle; a knife grinder at work, operating his machine by treadle within a handcart with large wheels; a man mowing the lawn a man painting the front gate of a spring garden; a young man and woman; a man up a ladder cleaning windows; women with two children in matching coats; a house under construction with the timber frame of the upper storey and roof open; a woman hanging out sheets on a washing line; a woman shaded beneath a floral parasol standing in front of flowering rose bushes; a woman setting off on a bicycle; a woman holding a baby; children sitting on a lawn and playing with modelling clay; a young man; a woman at a window; a chaffinch; rose bushes; another lady dressed in hat and coat with bag going out; a woman playing ball with the black poodle; a man using an axe to chop at the roots in a hole around a tree stump' (EAFA).
---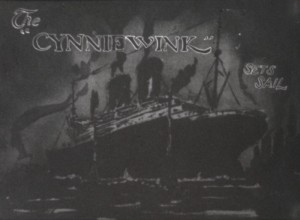 Date produced: 1929
Filmmaker(s):
Description:
Amateur film documenting the wedding of S. Winston Childs and Cynthia (Cheney) Childs. The film shows guests gathered in formal attire; eventually the bride and groom exchange vows, share the wedding cake, and depart from the ceremony.
---
Date produced: 1935
Filmmaker(s):
Description:
"Celebrate the wedding of Amy Norman, visit Belle Vue Zoo,and meet the Powell family, with their own animals, in their garden. A view of Manchester Central Library and the Town Hall Complex precedes cricketing scenes at Bowdon, and finally, a family trip (in colour) to Nefyn in North Wales, where young and old alike enjoy the sun and sea. The Powell family lived in East Didsbury in South Manchester.Manchester Central Library was quite new when this film was shot. It was opened in 1934 by George V, and in 2014 re-opened after refurbishment for its 80th anniversary." (BFI Player)
---
Date produced: 1982
Filmmaker(s):
Description:
El filme muestra el proceso de realización de un anillo de bodas.

The film depicts the process of creating a wedding ring.
---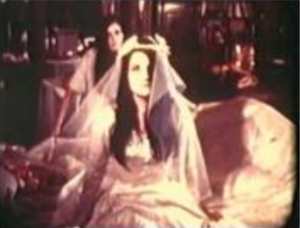 Date produced: 1971
Filmmaker(s):
Description:
"Celestinos filmó la cinta en una vieja casa de Chimalistac, al sur de la Ciudad de México. Según la historia en ella habitan dos hermanas que viven un encierro real y metafórico a causa de su sexualidad reprimida. Las primeras imágenes de la película muestran a una de ellas vestida de novia, mientras que otra lleva la cola del vestido. La escena da pie a un erotismo doloroso: una de ellas se acaricia para que la cámara muestre en close up sus lágrimas. Un flash back nos muestra la causa: el momento de su infancia en que una monja de visita en la casa le dio manotazos por haberle mostrado una imagen de una mujer desnuda que encontró por casualidad. El personaje busca liberación. (...) La otra hermana también busca salir de la casa (emblema del ámbito doméstico familiar), y encontrar su libertad sexual" (Vázquez Mantecón, 2012)

"Celestinos filmed the tape in an old house in Chimalistac, south of Mexico City. According to the story, the house is inhabited by two sisters that live in a real and metaphorical confinement because of their repressed sexuality. The first images of the film show one of them dressed as a bride, while the other carries the tail of the dress. The scene is followed by a painful erotism: one of the caresses herself to make the camera show her tears in close up. A flash back shows the cause: the moment of her childhood when a nun hits her hands because she showed her a picture of a naked woman that she found by chance. The character seeks liberation. (...) The other sister is also looking forward to leave the house (emblem of the familial domestic scope), and to find her sexual freedom" (Vázquez Mantecón, 2012)
---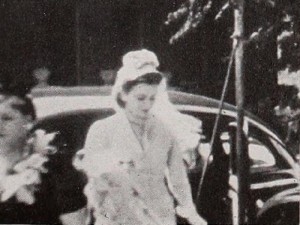 Date produced: 1943
Filmmaker(s):
Description:
"Although Made in Heaven, by Jesse Geisler, is a carefully planned and sequenced film of the preparations for a wedding and the wedding itself, it gives the effect of complete realism, tinctured with good humor and the joy of life. The preparations are gay, as the bride's friends help her to dress, producing "something old, something new, something borrowed and something blue" in the traditional way. The Jewish orthodox ceremony is handled with simple dignity and then, with the section presenting the wedding party, the film resumes its lighter treatment. Transitions from one sequence to another are excellently handled, and the scenes of the wedding party represent an outstanding accomplishment, for it is not easy to make good movies at such an occasion." Movie Makers, Dec. 1943, 478.
---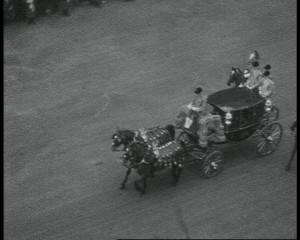 Date produced: 1934
Filmmaker(s):
Description:
"Shots from an upper story window in Parliament Street of the activity in the street below prior to the arrival of carriages carrying the royal family and bride on their way to Westminster Abbey, during the ceremony and as the carriages return, highlighting in particular the foggy day. Scenes include crowds outside 100 Parliament St; a procession of civilians with flags which marches in the direction of the Cenotaph; the activities of troops prior to the arrival of the royal procession; carriages carrying the royal family and emerge from the fog near the cenotaph, are filmed as they pass by and head towards Westminster Abbey in the fog; activities in the street after the processions have gone; crowds waving at carriages as they return; activities as crowds disperse from in front of the building opposite; film concludes with a procession of civilians with flags which marches from the direction of the Cenotaph" (EAFA Database).
---
Date produced: 1920
Filmmaker(s):
Description:
"Scenes of a wedding party held in a large garden. There is a large marquee, the bride and groom are mingling with guests and there are a large number of bridesmaids. Some of the guests are extremely well-dressed - furs and big hat for one woman - and the priest is shown talking to some of the guests. As the couple depart, the guests assemble on the house steps to throw streamers. Other scenes show a family in the garden, with the children playing ring-a-ring-a-roses." (NWFA Online Database)
---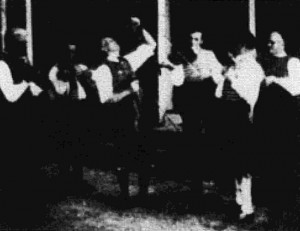 Date produced: 1971
Filmmaker(s):
Description:
"A Traditional Country Wedding in Aland by A. O. Olson a PSA member of San Francisco, Calif. Axel has recorded an all-but-disappeared ritual in this tiny island between Finland and Sweden. This 23-minute 16-mm film was awarded the PSA-MPD Gold Medal and the Documentary Film Award" PSA Journal, Nov. 1971, 42.
---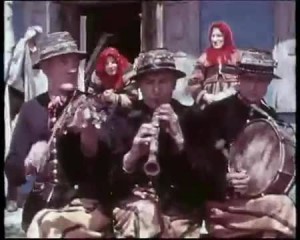 Date produced: 1938
Filmmaker(s):
Description:
The English language translation of the film is A Wedding in the Country.
---