---
---
Date produced: 1935
Filmmaker(s):
Description:
"A combination of time lapse cinemicrography and shooting huge factory interiors presented William Schanzenbach, ACL, with the gamut of technical difficulties in the photography of the four reel picture, The Commercial Production of Yeast. The interior shots of huge tanks and other machinery were not only adequately exposed but also were shot from attractive angles without extreme consciousness of camera angles. The laboratory sequences, in which time lapse technique was combined with work at the microscope to show the growth of yeast over a period of time, were well handled. Careful planning and clear titles add to the virtues of this exceptional industrial film." Movie Makers, Dec. 1935, 551.
---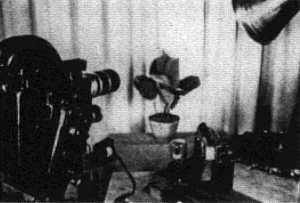 Date produced: 1960
Filmmaker(s):
Description:
"We remember Jack's Prelude to Spring a few years ago in which he dealt with time lapse photography. In Floral Capers he introduces the equipment he uses in time lapse photography and how he does it in one easy lesson. We watch flowers go through the opening cycle, vines racing up a pole, grasses, plants, and flowers racing ahead in their growth, split frame emphasizes the stimulation of light on the growth of plants. We watch many interesting events in the life of plants, and some amusing ones" PSA Journal, Nov. 1960, 40.
---
Date produced: 1953
Filmmaker(s):
Description:
"A short amateur film using time-lapse photography of flowers blooming in a studio setting." Library and Archives Canada.
---
Date produced: 1936
Filmmaker(s):
Description:
"Harrison and Harrison's offer of the firm's color meter in leather case, with six 1 1/4 -inch meter-matched filters in leather filter fold, was awarded Eugene L. Ritzmann of Berkeley, Cal., for his 'Garden Life.' The entrant has been making amateur movies for nine years, and his skilled work in putting on the screen in color by means of controlled timing the blooming of flowers demonstrated that his period of apprenticeship has long since expired. If a word of suggestion and distinctly not of criticism might be offered it would be the film would have greater value for the uninformed if titles should be inserted identifying the various flowers. The subject caused some tough eggs of the male persuasion to sit up and take notice. What it will do to the world of womankind it is not hard to imagine." American Cinematographer, Jan. 1938, 28.
---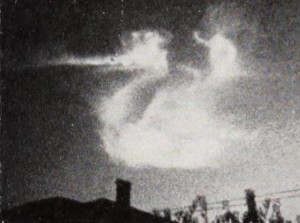 Date produced: 1944
Filmmaker(s):
Description:
"With the use of a time lapse device, S. G. Lutz has made, in The Heavens Declare the Glory of God, a highly competent record of clouds in motion. Although the subject, treated in a different manner, might easily become too static actually to constitute a true movie. Mr. Lutz has achieved a sure continuity and a sense of artistry that is unusual. In many instances, the film presents sequences of such an unusual kind as to be highly exciting and almost awe inspiring. Speeding the motion of the clouds creates, from the commonplace, a sense of eeriness and weird beauty. In many of the storm sequences, the motion is so greatly dramatized as to impart a nearly terrifying sense of impending disaster." Movie Makers, Dec. 1944, 496.
---
Date produced: 1930
Description:
"Film is made up of a variety of short segments. Included is clip of a man fishing in an old mill stream, a New Year's Eve party, people toboganning and skiing, a time lapse of a cigarette burning, the Toronto skyline, and Niagara Falls" Archives of Ontario.
---
Date produced: 1950
Filmmaker(s):
Description:
"Monarch Butterfly Story: This film, with its carefully written and recorded narration, is equally meticulous in its photography which chronicles the life-cycle of the Monarch butterfly from egg to adult. Major Anderson and his wife Claire Louise have collaborated in producing one of the finest studies of insect life ever produced by a non-professional film maker, and already one large educational film distributor is negotiating for its purchase. Employing two Bolex H-16 cameras, the Andersons have produced several excellent sequences in time-lapse photography aided by equipment home-made for the purpose by Mr. Anderson. The picture opens with scenes showing adult Monarchs in natual habitat. Interesting facts regarding the butterfly are told in the narration. Then the egg-laying period is shown, followed by closeups of the egg, hatching of the pupa, and it ultimate growth to an adult through the various stages of metamorphosis natural to the Monarch. It is the meticulous ultra-closeup photography and the perfectly executed time-lapse camera work that gives this production its class, and easily makes it one of the best 16mm color films of the year." American Cinematographer, May. 1951, 190.
---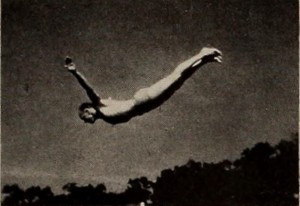 Date produced: 1946
Filmmaker(s):
Description:
"Henry E. Hird, whose suavity and expertness as a movie maker increase each year, has chosen in his present offering to illustrate one of the cine film's most interesting capacities — its power to analyze motion. Introducing his footage with a lead title assembly finely accomplished with double exposure on moving backgrounds, Mr. Hird has observed and recorded with cinematic sureness such things as what happens when cream is poured into a cup of coffee and is filmed in such manner that the action is greatly slowed down for careful analysis. We watch the mechanics of flying seagulls, in landings and takeoffs. We look at the manner in which crystals are formed from chemical combinations, as well as at opening flowers, by time lapse filming. Smoke rings are shown and there are fine examples of the familiar dives caught in slow motion. Mr. Hird's picture compares favorably with the best slow motion studies of the professional screen, and it presents a number of fresh subjects." Movie Makers, Dec. 1946, 471, 486.
---
Date produced: 1942
Filmmaker(s):
Description:
"Revelation indeed reveals the slow, but intense, life of flowers as they unfold. Hans J. Theiler, who built a special mechanism for the purpose, has made time lapse studies of blooms in their determined efforts to find sunlight. Other flowers lose as well as open. The time lapse sequences are preceded by closeup footage of various blooms impeccably filmed. In the chief section of the picture, Mr. Theiler has caught very dextrously the unusual and almost terrifying performances of plants as they carry on their exceedingly active careers. The time lapses are exceptionally smooth." Movie Makers, Dec. 1944, 496.
---
Date produced: 1982
Filmmaker(s):
Description:
"An eclipse of the moon – and a little animated love story." Oldfilm.org

"A time lapse study of the total lunar eclipse; July 5, 1982." UCLA Film & Television Archive.
---
Total Pages: 2