---
---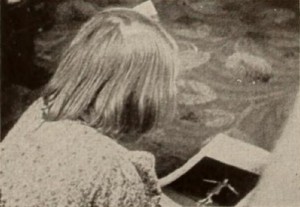 Date produced: 1946
Filmmaker(s):
Description:
"Victor E. Pye, using his family as the principal actors in a sincere and competent photoplay, brings us the flavor of family life in far away Australia. With a sure cinematic sense, he opens Inspiration with a moving dolly sequence which carries you into the house directly to the star of the film. With creditable economy of footage and compelling acting and directing, Mr. Pye tells a simple tale of a once crippled child returned to health through the inspiration of a famous figure skater — herself a former "polio" victim. There are also several scenes from which it becomes obvious that the movie maker has profited from viewing theatrical productions with his mind on his own filming. Suave and sensitive, Inspiration becomes moving and believable as the plot unfolds." Movie Makers, Dec. 1946, 488.
---
Date produced: 1930
Filmmaker(s):
Description:
"An intertitled travelogue film of a trip to Australia starts with a map showing the journey from London to Australia, followed by views at different stages of the route" (SASE online).
---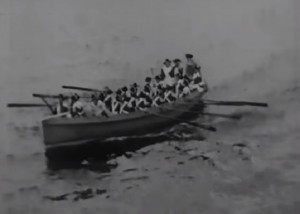 Date produced: 1937
Filmmaker(s):
Description:
"The subject of 'Nation Builders'—the history of Australia—is without doubt the most ambitious ever undertaken by any amateur filmer. The fact that the project was successful is in itself a tribute to Sherlock's skill. Granted that in connection with the 150th anniversary of his nation's founding there were pageants re-enacting historic events and an opportunity for an alter filmster to photograph them: but how many times have not other amateurs scored dismal failures trying the same thing? Filming such a pageant, it is all too easy to capture only the impression of history actually happening. The twentieth century background which must so often have been just beyond the camera-lines was never permitted to intrude upon his eighteenth and nineteenth century action." American Cinematographer, Feb. 1939, 61.
---
Date produced: 1934
Filmmaker(s):
Description:
"Ramblings Around Sydney, by James A. Sherlock, ACL, is a carefully planned and photographed motion picture study of a city, a happy example of what care and cinematic sensitivity can do for this type of subject. Although Mr. Sherlock did not commit himself to any strong continuity theme, the picture yet has a delicate cohesiveness that defied the best efforts of the earlier amateur movie makers. Outstanding are the filter shots, the shots made of city streets in the rain and the night scenes. Throughout there is a careful choice of camera viewpoint which succeeds in revealing many aspects of the city in relatively short footage. The whole is welded into an enjoyable subject that would entertain any audience." Movie Makers, Dec. 1934, 547.
---