---
---
Date produced: 1967
Filmmaker(s):
Description:
"The Red Ring, from Japan, tells the story of a young girl who buys a red ring and buries it on the hillside. Years later, as a young woman, she retells the story through flashbacks. Finally she goes to dig up the ring to tie in with the glimpses of herself as a young girl" PSA Journal, Aug. 1967, 37.
---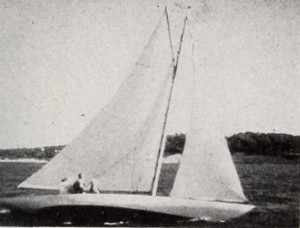 Date produced: 1944
Filmmaker(s):
Description:
"In Reflections, Henry E. Hird has followed the intelligent practice of revising footage shot when film was more plentiful, with the result that he has created a new and interesting synthesis by editing. On a winter evening, a man reflects on the joys and adventures of a past summer. Of an athletic disposition, he has swum, sailed and hunted. Interested in wild life, he has observed and filmed birds. From time to time, he adjusts a radio, to find music that expresses the moods of his reverie. Finally, he turns off the radio, the musical accompaniment ceases and the film ends in silence. With excellent cinematography and with a nice editorial sense, Mr. Hird has gathered interesting events into an entertaining whole." Movie Makers, Dec. 1944, 496.
---
Date produced: 1961
Filmmaker(s):
Description:
"An archaeologist on an excavation finds a glass cube that allows him to see into the past where he sees an Egyptian Princess standing in a garden." Sacramento Public Library.
---
Date produced: 1928
Filmmaker(s):
Description:
"This film discloses, concisely and with cinematic dexterity, what passes in the mind of a dying soldier in a shell hole in Flanders. The three memories flashing back to the suffering doughboy were well done and the film as a whole disclosed the best sense of cinematics revualed bv anv contender in this division." Photoplay, Nov. 1929, 67.
---
Total Pages: 2