---
---
Date produced: 1935
Filmmaker(s):
Description:
"Burnford's picture was not only good from the documentary angle, but was very well photographed. It showed the lumbering industry in England starting with the felling of trees and then through the mills and then to the things built of wood, showing the most dramatic incidents." American Cinematographer, Feb. 1937, 73.

"Opens with various mature trees shown in full leaf. Men remove the bark from lower part of mature hardwoods and fell them with axes and long, two-man saws. Montage of falling trees. Bark prised from the fallen trunks. The torn-out root-base is sawn off and the trunks dragged from the forest by a team of heavy horses. The team drags the trunks onto the cart with the chain and the very largest trunks taken on a five-horse cart. At the lumber yard a large bandsaw divides the trunks in half and these are sliced. Men are show playing darts with the resulting, shaped, dartboards. SUB-TITLE - Harvest from over the seas. A ship - 'Karin Thorden' - docks, her decks stacked with timber already cut. Cranes transfer timber to barges, rafts and lorries. SUB-TITLE - For joinery. At the woodwork shop, specialised machines divide the wood into still smaller pieces and cut mortises and tenons and window frames are assembled. SUB-TITLE - For building. Workmen, on site, put up the roof timbers of a house. SUB-TITLE - For paper. Slow mixing of wood pulp. Smoothed out and rolled, dried and calendared. The large, wide rolls progress through the huge machines and sheets are slid off. SUB-TITLE - For music. Violin and Cello makers at work with hand tools, then a finished violin is played. SUB-TITLE - For flying. A bi-plane takes off. At the aeroplane factory, sections of the wooden wing frames are assembled, wing coverings doped. SUB-TITLE - For sailing. Large, J-class yachts tacking. J KI 7 featured. Finally, there are shots of mature, forest trees" (EAFA Database).
---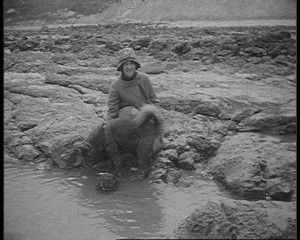 Date produced: 1930
Filmmaker(s):
Description:
"Film record of a holiday in Kent, including footage of Eunice and Eustace Alliott, the activities of other holidaymakers, and sights encountered on the road" (EAFA Database).
---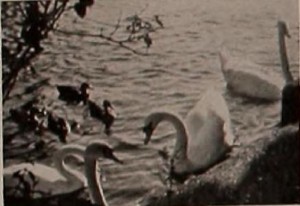 Date produced: 1939
Filmmaker(s):
Description:
"In Linden Lea is A. Scott Moorhouse's tribute to a mother land, a tribute paid with distinction and an admirable warmth of feeling. We go to the English countryside, where Mr. Moorhouse sings, in film, the ancient refrain that Chaucer, Shakespeare, Gray, Wordsworth, Jefferies, Kipling and Brooke lifted in the English tongue. It is Mr. Moorhouse's good fortune and his sound cinematic ability that have permitted him to bring what he feels so strongly in a very direct fashion to his audience. His is the last sight of a peaceful England, recorded with vibrant emotion. "Rainbows; and the blue bitter smoke of wood; "And radiant raindrops couching in cool flowers; "And flowers themselves, that sway through sunny hours, "Dreaming of moths that drink them under the moon; " These, Mr. Moorhouse has greatly loved, as did Brooke, and in English woods, he would hope we shall "see no enemy, but winter and rough weather." In this beautiful Kodachrome footage are preserved the byways, the little ways, the errant and individual ways through which wander the casual cows, the meandering motors, the clopping carts and the quiet English, themselves, while to right of them and left of them are "English unofficial roses." And there is "honey still for tea" in this English land, and people to enjoy it, unhurried and unflurried. Mr. Moorhouse has pictured a way of life by suggestion, because his scenes are almost all with few human beings, but he has pictured it sharply and triumphantly, even if tenderly. In this brief essay in film is the essence of "This royal throne of kings, this scepter'd isle, "This earth of majesty, this seat of Mars, "This other Eden, demi-paradise; "This fortress built by Nature for herself "Against infection and the hand of war; '"This happy breed of men, this little world; "This precious stone set in the silver sea . . . "This blessed plot, this earth, this realm, this England." Movie Makers, Dec. 1939, 609, 631-632.
---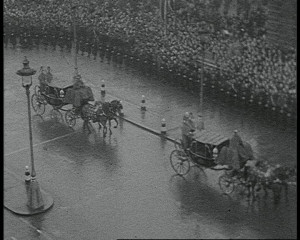 Date produced: 1936
Filmmaker(s):
Description:
"Scenes of the preparations in Parliament Street and Whitehall an hour before the funeral procession and the procession itself filmed from an upper storey window in Parliament Street" (EAFA Database).
---
Date produced: 1934
Filmmaker(s):
Description:
"'Moods of Nature' by Paul Brunford, recently won a prize in the Institute of Amateur Cinematographers' contest in England. Not only does Brunford show a fine sense of rhythm, but a keen eye for composition and a splendid sense of cutting and dramatic values in nature. This picture merely deals with a storm arising and then subsiding. Brunford uses both water and earth to show this. The smashing waves, bending trees and waving wheatfields combine to create his drama. His photography however, is something for which he is to be especially congratulated." American Cinematographer, Jan. 1936, 24.
---
Date produced: 1935
Filmmaker(s):
---
Date produced: 1935
Filmmaker(s):
Description:
"'Slum Clearance' was in 8mm. It was a record of the tearing down of tenement houses of the old type and showing them replaced with modern apartment buildings. Mighty interesting characters were shown, occupants of the slum tenements, children, etc. A very colorful sequence was built up in the early part of the picture. The latter part of the film is given over to the new homes and to suburban homes where the more fortunate of the slum dwellers moved. A fine document and an interesting picture." American Cinematographer, Feb. 1937, 73.
---
Date produced: 1934
Filmmaker(s):
Description:
"When you go to England this summer, and are looking for attractive color material, take a tip from Alan Moorhouse, ACL, of Toronto, as exemplified in his charming reel, A Village by the Sea. Running 400 feet of delightful Kodachrome, it tells a simple genre story of village life in Cornwall, down at the southwest tip of England. Here, streets and structures date from centuries back and the country folk still wrest their simple living from fish trawling in the cold, gray Channel waters. Mr. Moorhouse has caught a deal of this physical and spiritual color in his one reel film." Movie Makers, July 1936, 278.

"A. Scott Moorhouse of Toronto, Ontario, entered a combination black and white and Kodachrome subject in 'Village by the Sea.' This picture went very far in the finals and is highly deserving of the honorable mention it receives." American Cinematographer, Feb. 1936, 73.
---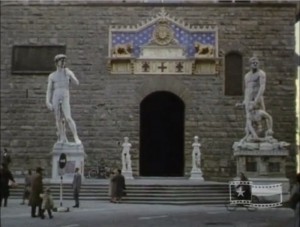 Date produced:
Filmmaker(s):
Description:
"This amateur film captures Edwin and Minnie Mayer's worldwide adventure across Australia, Asia, Africa, and Europe in the 1950s. This segment documents stops in Thailand, India, Egypt, Greece, Vatican City, Italy, the Netherlands, and England" Texas Archive of the Moving Image.
---
Total Pages: 2