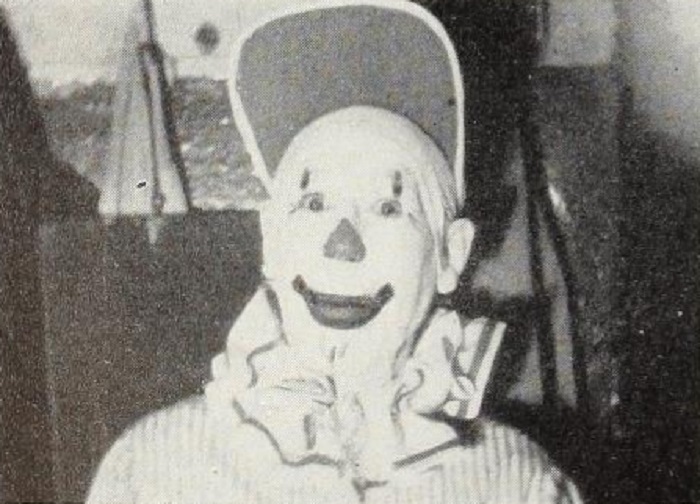 Date produced: 1950
Filmmaker(s):
Languages:
English
Length:
1600 ft
Format:
16mm
Colour:
Kodachrome
Sound Notes:
Silent
Sound:
With music on disc.
Awards/Recognition:
ACL Ten Best 1950
American Cinematographer Amateur Movie Makers Contest, 1951 - Top Ten Award Winner
Description:
"A carefully detailed study of the biggest show on earth, Ringling Bros. and Barnum & Bailey Circus bears lively evidence to Oscar H. Horovitz's intense interest and attentive recording over a ten year period. The glamour and the tinsel, the thrills and the panoply, the sawdust and the sweat, all have been caught by his camera and painstakingly mounted. Backstage glimpses show something of what it takes to produce the massive extravaganza. The clowns in their dressing rooms reveal a little of the secret of their art. But in the eager faces of young spectators and the breathless attention of their elders can be read the circus's enduring mystery and perennial allure. The filmer's technical capabilities are manifestly demonstrated. Despite the obvious exposure handicaps, individual shots of admirable artistry turn up often enough to enliven any audience. With all these factors in its favor, however this massively impressive movie may leave some viewers wishing for a little less detail, a little more simplicity, and a still more stringent use of the editing scissors." Movie Makers, Dec. 1950, 465-466.

"This picture, in its original 1600 foot length, was selected by Movie Makers as one of the Ten Best in its 1950 competition. Oscar Horovitz has completely re-edited it, compressing it to 800 feet for what, we are sure, is a greatly improved picture. Certainly it is one of the best film documents of a circus ever seen by American Cinematographer's reviewers in many years, and we are sure that Cecil B. DeMille, who currently is producing a picture on circus life, would agree on the merits of its photography. Horovitz's camera—a Bell & Howell 70-DE camera—has caught the atmosphere of Circus Day with colorful scenes, both inside and outside the tents, beginning with the Sideshows and continuing inside the big top where he recorded all the big spectacles from a variety of angles. It is evident that making the picture required Horovitz to visit the circus on several different occasions, for it shows careful study and preplanning and a wise choice of positions for setting up his camera. The interiors, made under the big top with its attendant inferior lighting for photography, are commendable and offer a fine example of what can be done with Kodachrome film in the hands of a skilled cine photographer." American Cinematographer, May 1951, 190.
Resources:
As is noted in this film's description section, a 1600 foot version of the film placed in the ACL's Ten Best of 1950, while a reduced, 800 foot version of the film was recognized as a Top Ten Award Winner in the American Cinematographer contest of 1951.

Movie Makers (March 1952, 85) reported that Horovitz wrote an article titled "Filming Circus Thrills" for a publication called Panorama in spring 1952.

This film was available in the ACL's Club Film Library, having been donated in 1953 (Movie Makers, March 1953, 81).

This film is a part of the Institute of Amateur Cinematographers Collection held by the East Anglian Film Archive.
Subjects:
Genre:
Form:
Tags:
Repository:
Institute of Amateur Cinematographers Collection, East Anglian Film Archive
Screenings:
Screened by the Hartford Cinema Club in 1951: Hartford, CT
---