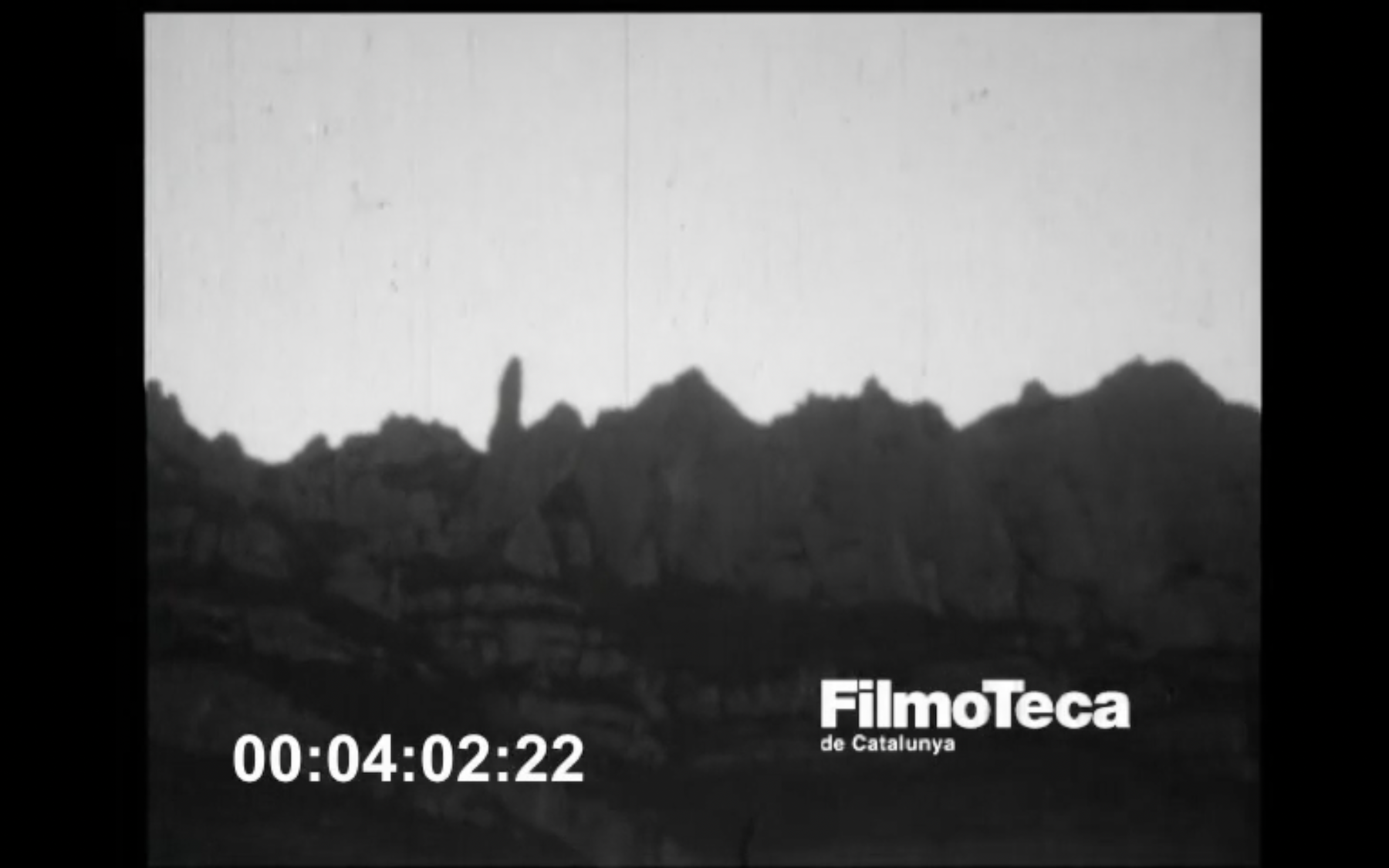 Identifier:
05292.P/01 (Source: Filmoteca de Catalunya)
Date produced: 1932
Filmmaker(s):
Country of Production:
Catalonia
Languages:
Spanish
Duration:
00:10:53
Length:
291 ft
Format:
16mm
Colour:
B&W
Sound Notes:
Silent
Awards/Recognition:
American Cinematographer Amateur Movie Makers Contest, 1932 - Certificate Award, Second Place, Scenic
Description:
(Catalan): Film a mig camí entre el film d'argument (un pelegrí cec marxa amb els peus descalços fins a Montserrat, acompanyat d´un nen, i quan hi arriba es produeix un miracle i recupera la vista) i el film documental (escenes diverses de Montserrat i els diferents mitjans de transport per arribar-hi: cotxe, carrilet, cremallera i funicular, etc.).

Film devoted to the famous Montserrat mountain in Catalonia that blends fiction (a blind pilgrim walks barefoot to Montserrat, accompanied by a child, and when he arrives a miracle occurs, and he regains his sight) and documentary styles (various scenes from Montserrat and the different means of transport to get there: car, rail, rack and funicular, etc.). [Description from the Filmoteca de Catalunya catalog]
Resources:
A copy of this film is available through the University Union Catalogue of Catalonia.

Romaguera i Ramió, Joaquim. DICCIONARI DEL CINEMA A CATALUNYA. Barcelona: Enciclopèdia Catalana, 2005. p.142.
Locations:
Montserrat, Spain (Filming)
Club Affiliation:
Centre Excursionista de Catalunya (CEC)
Subjects:
Genre:
Form:
Tags:
Repository:
Filmoteca de Catalunya
Screenings:
Screened at the First Catalonian Exhibition of Amateur Cinematography in 1932: Barcelona, Spain
American Cinematographer Amateur Film Contest (1932):
Video Link:
---