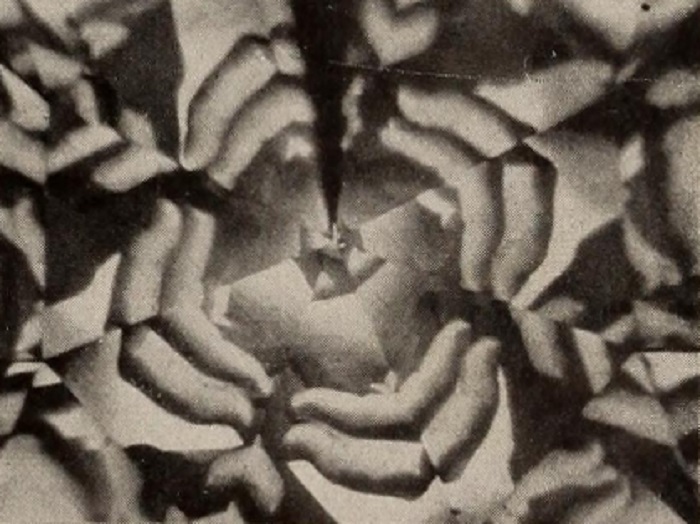 Date produced: 1946
Filmmaker(s):
Languages:
English
Length:
300 ft
Format:
16mm
Colour:
Kodachrome
Sound Notes:
Silent
Awards/Recognition:
ACL Ten Best 1946 - General Class
Description:
"Kaleidoscopio, by Dr. Roberto Machado, is a brilliant and provocative study in abstractions, filmed in its entirety through a kaleidoscope. Dr. Machado's cinematic extension tube, however, is quite obviously not the familiar small toy of one's childhood: in one sequence, delicate human fingers are deployed before the device, while in another a set of colored, kitchen measuring spoons do a gay dance in multiple. The lighting — which traditionally was transmitted only through the base — ranges from that type (through gleaming balls of crushed cellophane) to reflected illumination on an assortment of children's marbles. Billed by its producer as a "film musical," Kaleidoscopio is indeed instinct with strong rhythmic patterns and pulsations. The picture is an exciting and imaginative advance along the ever widening frontiers of personal motion pictures." Movie Makers, Dec. 1946, 471.
Resources:
Discussed by Dr. Machado in "Adventure in Abstraction" (Movie Makers, May 1947, 195, 216-217). In the article, the filmmaker shares his interest in combining music with abstract film images. He also describes the kaleidoscope device that he used to film Kaleidoscopio.

This film may also be known as Caleidoscopio.

The film was available in the ACL's Club Film Library.
Subjects:
Genre:
Form:
Screenings:
Screened by the Hartford Cinema Club in 1946: Hartford, CT
Screened by the Amateur Movie Society of Milwaukee in 1947: Milwaukee, WI
Screened by the Metropolitan Motion Picture Club in 1947: New York City, N.Y.
Screened as part of an "Art in Cinema" program at the San Francisco Museum of Art in 1947: San Francisco, CA
Screened by the Westwood Movie Club in 1947: Westwood, San Francisco, CA
Screened by the Rockford Movie Makers in 1947: Rockford, IL
Screened at a Brazilian International Amateur Movie Contest in 1950: Sao Paulo, Brazil
Screened by the La Casa Movie Club in 1951: Alhambra, CA
Screened by the Washington Society of Amateur Cinematographers in 1951: Washington, D.C.
Screened by the Christchurch Movie Club in 1953: Christchurch, NZ
---
Do you know where this film is? Get in touch with us at amdb@ucalgary.ca.