---
---
Date produced: 1964
Filmmaker(s):
Description:
"The Cinch is a quick, cute comedy about a do-it-yourselfer who decides to fix his own TV set. He fixes more than the set and ends up in quite a fix himself. The film won the Most Humorous Film Award. It is sharply cut and the fast pacing gives it its punch and humor" PSA Journal, Sept. 1964, 50.
---
Date produced:
Filmmaker(s):
Description:
"Film contains Sid and Charlotte's heads floating on a black background. They talk about the kinds of T.V. shows they like and it ends with Sid saying the punch line 'I can't stand a show that is all talking heads'." UCLA Film & Television Archive.
---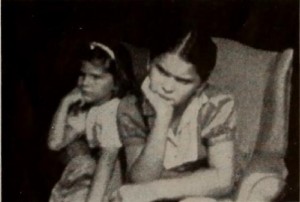 Date produced: 1953
Filmmaker(s):
Description:
"We had thought satire, especially in films, was a lamented art of the past. Thus it is a pleasure to report that it is back again with a vengeance in March of TV. Following both the visual and narrative patterns originated by the now-familiar March of Time series, Charles E. Coleman has created an uproarious satire on television and the inroads it has made into the American home. Both subtle and devastating by turns, the film leaves no aspect of this electronic marvel unscathed. On the technical side, all departments have been capably handled, with the crisp direction and portentous narration being, perhaps, the most notable. The acting is assured and natural, remaining always within the farcical framework of the satire. Whether you like, dislike or simply ignore the subject which this shortie so sparklingly derides, March of TV is unreservedly guaranteed to keep you in stitches." Movie Makers, Dec. 1953, 332.
---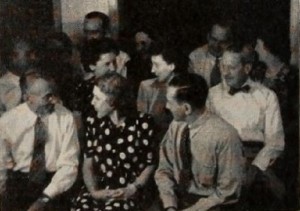 Date produced: 1947
Filmmaker(s):
Description:
"This clever 16mm. picture is amazing in several ways, but two characteristics stand out. It is only 250 feet long and it was completely filmed, with the exception of the double exposed titles, in one evening. George Merz, the producer of this novel study, warned his guests that, when they came to see the Louis-Conn fight televised, they would have to earn their way by acting in his production. Ringside Seats at Home shows the guests arriving, reacting to the fight and paying off bets. It also contains surprisingly clear footage of the fight itself, including the knockout in the eighth round. A unique and attractive picture, the movie shows what can be done if you work a little, pray a little and gamble a lot." Movie Makers, Dec. 1947, 539.
---
Date produced: 1964
Description:
"TV You'll See in 83' is a club production and observes that the commercials on TV are getting more numerous all the time. Pretty soon, says the film, they'll squeeze out all program material and TV will be one long string of commercials from morning to night. How will these commercials hold the viewer's interest? The Toronto club gives several examples" PSA Journal, Sept. 1964, 51.
---