---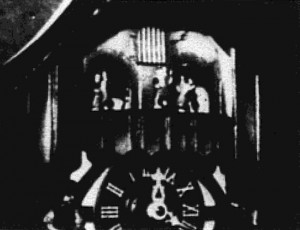 Date produced: 1971
Filmmaker(s):
Description:
"In a Clock Store by Christopher Leggo of Berkeley, Calif. Chris has taken the lively musical selection by this title, performed on a Wurlitzer pipe organ, and shot about every imaginable clock there is, timing the action to the music. This 6-minute 16mm film was awarded a Ten Best Medal and the Experimental Film Award" PSA Journal, Nov. 1971, 42.
---
Date produced: 1970
Filmmaker(s):
Description:
"The Vein of Iron by Peter B. Crombie, a PSA member of Oak Lawn, Ill. Peter took a most inanimate object as his subject but through unusual angles and lighting and appropriate choice of music came up with a very interesting film. This 5-minute 8mm film won for him an Honorable Mention" PSA Journal, Nov. 1970, 38.
---
Date produced: 1967
Filmmaker(s):
Description:
"In the Window is a sort of mystery film in which a girl is frightened by mysterious telephone calls and is constantly gazed on through her window by a man with a pair of binoculars" PSA Journal, Aug. 1967, 37.
---
Date produced: 1962
Filmmaker(s):
Description:
"Did any of us ever stop and think about the journey of a checker and that might be left in the street? Where would it travel? This red checker was assisted by the rain and it is carried in the storm drain and on into the stream and lake. We watch its excursion and constantly wonder where it will go. Don Jones shows us the travels of this red checker" PSA Journal, Oct. 1962, 36.
---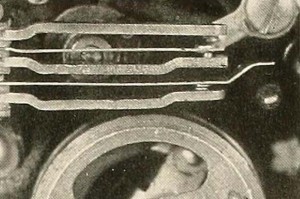 Date produced: 1937
Filmmaker(s):
Description:
"To produce a clear explanation of just how the modern dial telephone works is a task that would tax any movie maker's ability, or even the united capabilities of any two filmers. Yet, when Kenneth Bloomer and Robert Orr. jr., pooled their movie making and telephone engineering knowledge to make Behind the Dial, they produced one of the most competent technical films that Movie Makers staff has ever seen. Clear, flawless photography, combined with a script that was worked out with infinite care, makes the story interesting and complete. Particularly effective are the sequences of the operation of the automatic machinery of the dial systems, in which shots of the encased mechanisms dissolve into scenes of the same mechanisms after the cases have been removed. The camera achieves the effect of an X-ray in revealing what actually happens within a maze of machinery to make the dial system possible. The film represents a tremendous amount of labor and planning, for much of the equipment shown had to be filmed at the telephone office late at night when the traffic was very light. This is a documentary film of both educational and entertainment value." Movie Makers, Dec. 1937, 628-629.
---