---
Date produced: 1938
Filmmaker(s):
Description:
"Dramatic short of a frumpy woman's dream of the alternate course her life might take were she a beauty." oldfilm.org
---
Date produced: 1951
Filmmaker(s):
Description:
"Sam Fass, having captured some remarkable footage of the Ice Follies in 16mm Kodachrome, set about to weave these shots into an interesting continuity with a logical story line. The director of the ice show summons to his office two likely prospects for one of his ice numbers. When the young women arrive, he projects 16mm movies of his show in order to demonstrate the numbers in which he wishes the girls to take part. When the film ends, the girls agree to join the show and sign contracts -a simple story thread on which the shots of the Ice Follies were deftly strung. The camera work on the Follies numbers is just about tops. Exposure is all anyone could ask for and each number is carefully chronicled and later edited in a slick manner that gives the illusion it all was carefully planned production." American Cinematographer, May. 1952, 222
---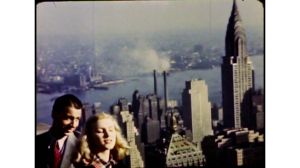 Date produced: 1949
Filmmaker(s):
Description:
"A blonde model and the sights of New York divide the honors in Othon Goetz's Her Heart's Desire, a pleasant story of the girl who came to the Big City to model and got married instead. Good city footage is quite rare; Mr. Goetz has succeeded in achieving some startling shots of New York's splendors as he follows the thin thread of his story. It is difficult to believe that this blonde would not have found a job — but she lends glamour to a film that otherwise might show considerable weakness." Movie Makers, Dec. 1949, 470.
---