---
---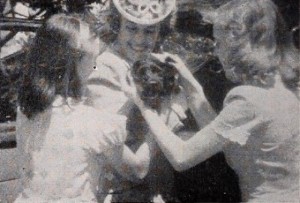 Date produced: 1948
Filmmaker(s):
Description:
"Young Fella is a teaching film; it is also a family film. Again Walter Bergmann presents his charming household and shows the devotion of its members for pets. This time it is a young cocker spaniel that is the star. Subtitles on the proper care of dogs point up the scenes which demonstrate the advice given, as to feeding, bathing, playing and proper use of a run. Young Fella is an appealing pup and a willing actor, but the Bergmann cats steal some of the scenes in typical fashion." Movie Makers, Dec. 1948, 496.
---
Date produced: 1944
Filmmaker(s):
Description:
"A lesson on FDR's Four Freedoms." ("More about an Amateur Cinema League of Nations.")
---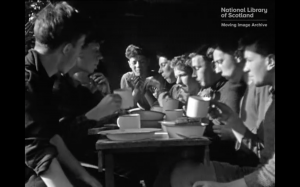 Date produced: 1940
Filmmaker(s):
Description:
"Glimpses of Life and Work in a School Forestry Camp "Somewhere in Scotland." (EAFA Database)
---
Date produced: 1934
Filmmaker(s):
---
Date produced: 1976
Filmmaker(s):
Description:
"Edited film created by Frank L. Kreznar, an award winning amateur filmmaker, documents Slovenia, Croatia, Bosnia-Herzegovina, Vojvodina, and Serbia. Most of the footage is of countryside or mountainous areas although Kreznar depicts Zagreb, Croatia, and Belgrade, Serbia. The historic Petrovaradin Fortress in Vojvodina, Serbia, is only historic building filmed. The footage of Slovenia emphasizes agriculture, while the footage of Bosnia-Herzegovina includes scenic shots of mountains and waterfalls. Kreznar also shows traditional houses in the rural areas providing a contrast to modern Soviet construction such as Soviet-style apartment buildings. Shots of urban areas also include an emphasis on the lack of cars, high volumes of pedestrian traffic, and the popularity of public transportation. He depicts churches that are still being actively used while discussing the lack of Soviet suppression of religion in Yugoslavia, and he shows the existence of privately held business enterprises such as taxi services and cafés. He also mentions that the majority of Yugoslavian agriculture is under private, family control and that private businesses with five or less employees are allowed to exist. Kreznar discusses the impact of wars between Eastern and Western Europe on this territory, showing various war memorials throughout the film. The film ends with footage of hitchhikers – mainly from countries in Western Europe – attempting to travel through the country" via the Human Studies Film Archives, Smithsonian Museum.
---
Date produced: 1932
Filmmaker(s):
---
Date produced: 1933
Filmmaker(s):
---
Total Pages: 291