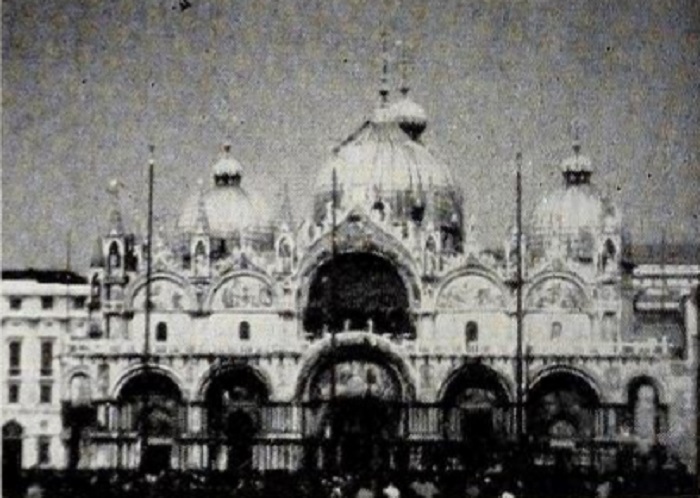 Date produced: 1951
Filmmaker(s):
Languages:
English
Length:
600 ft
Format:
16mm
Colour:
Kodachrome
Sound Notes:
Silent
Sound:
With sound on disc.
Awards/Recognition:
ACL Ten Best 1951
American Cinematographer Amateur Movie Makers Contest, 1952 - Top Ten Award Winner
Description:
"Venezia, Pearl Of The Adriatic - Oscar Horovitz, in his recent world travels, gives us the benefit of his discerning eye with a studied and beautiful account on color film of the beauties of Venice, Italy. In this picture, he especially demonstrates his uncanny knack for searching out the most dramatic points of interest and for capturing them with his camera in such a manner that even without a running commentary, the picture has an unusual appeal. The secret, of course, is Horovitz's trick of following up his shots with more descriptive shots, in order to tell the complete story. Every sequence, no matter how brief or what the subject, is complete -sufficient. His compositions are artful, adding much to the interest of the picture. Considering that he spent two days in Venice, he has achieved a remarkable documentary of this beautiful and interesting city." American Cinematographer, May 1952, 224.

"Venice, with the misted Italian sun glowing softly on her mosaic domes and sparkling spires, is truly gem-like in her pearly beauty. And Oscar H. Horovitz has succeeded to an extraordinary measure in capturing the warm opalescence of this ancient capital. Such standard subjects as the Grand Canal and St. Mark's Square, in sequences of rewarding detail, have been blended in with less familiar scenes along the city's less famed waterways and few narrow streets. Such a detailed study belies the widespread belief that one must have unlimited time in which to do full justice to one's subject; Mr. Horovitz reportedly spent but two days here. However, his expert command of the technical elements of movie making, plus a pleasing sense of composition and eye for human interest, combine to make Venezia a memorable travel-film experience." Movie Makers, Dec. 1951, 410-411.
Resources:
Record of the film at the BFI. The film was added to the ACL's Club Film Library in 1952 (Movie Makers, Feb. 1952, 60).
Locations:
Subjects:
Genre:
Form:
Screenings:
Screened by the Hartford Cinema Club in December of 1951: Hartford, CT
Screened by the Brooklyn Amateur Cine Club in 1952: Brooklyn, N.Y.
Screened by the Amateur Cinema Club of Buffalo in 1952: Buffalo, N.Y.
Screened by the Los Angeles Cinema Club in 1952: Los Angeles, CA
Screened by the Los Angeles 8mm. Club in 1953: Los Angeles, CA
Screened at the Interior Department Auditorium in 1955: Washington, D.C.
---
Do you know where this film is? Get in touch with us at amdb@ucalgary.ca.