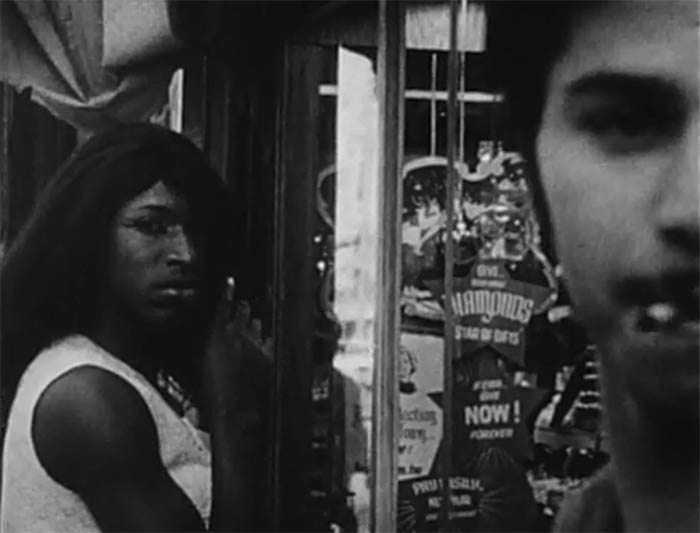 Date produced: 1967
Filmmaker(s):
Languages:
English
Duration:
00:08:30
Format:
16mm
Colour:
B&W
Sound:
Sound
Awards/Recognition:
Preserved by UCLA Film & Television Archive as part of the Outfest UCLA Legacy Project, with funding provided by the National Film Preservation Foundation.
Description:
"Produced several years before the historic Stonewall uprising for LGBT rights in 1969, director Nikolai Ursin's gently-activist short Behind Every Good Man (c. 1967) provides an illuminating glimpse into the life of an African-American trans woman. In strong contrast to the stereotypically negative and hostile depictions of transgender persons as seen through the lens of Hollywood at the time, the subject of Ursin's independent film is rendered as stable, hopeful and well-adjusted. The resulting intimate portrait serves as a rare cultural artifact of transgender life and African-American life in the U.S. at the mid-century," UCLA Film & Television Archive.
Locations:
Subjects:
Genre:
Form:
Tags:
Repository:
Norman Yonemoto Collection, UCLA Film and Television Archive
Screenings:
Screened at MIX Copenhagen, March 24, 2002: Copenhagen, Denmark
Screened at the Film Studies Center on February 3, 2006: Chicago, I. L.
Screened at Emory University for "Civil Rights on Film" program, February 28, 2009.: Atlanta, G.A.
Screened at SFMoMa for "Richard Avedon Film Series: Program 2", for two nights in July, 2009: San Francisco, California
Screened at Gladstone Hotel, September 29, 2009: Toronto, Ontario
Screened at Museum of Contemporary Art Detroit, June 5, 2010: Detroit, M.I.
Screened at Echo Park Film Center, for "Race and Space in Los Angeles III: 16mm films from the 1960s-1970s", February 23, 2017: Los Angeles, CA
Screened at REDCAT for Outfest, July 9, 2017: Los Angeles, C.A.
Video Link:
---