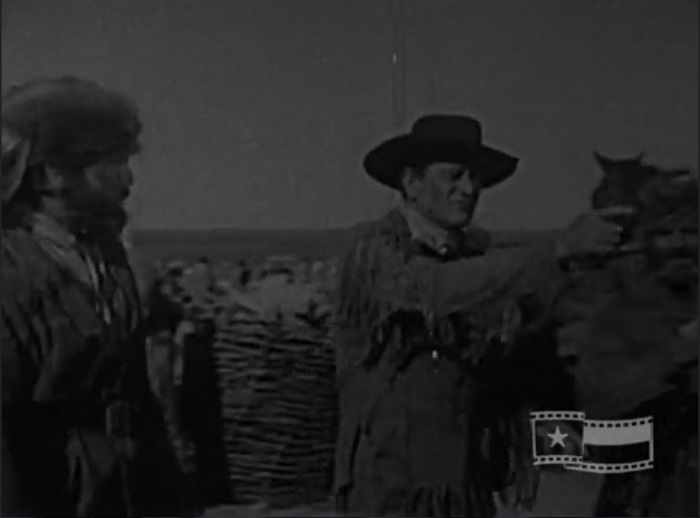 Date produced: 1959
Filmmaker(s):
Country of Production:
United States
Languages:
English
Duration:
00:17:36
Colour:
B&W
Awards/Recognition:
Texas Archive of the Moving Image list of titled amateur films
Description:
""The Air Evac Story, or: Better You Should Walk?" is a humorous amateur film that spoofs the United States Air Force's medical evacuation services. Starring members of the 14th Aeromedical Transport Squadron, the film begins at squadron headquarters at Brooks Air Force Base in San Antonio. It then follows crew members on their daily mission to transport patients, making stops in El Paso and Brackettville. While the voiceover narration commends the squadron for their professionalism, their comedic actions throughout the film tell a different story. Of particular note is a cameo by none other than John Wayne. Charles F. Curtis, a cinematography engineer with the Air Force, made the spoof with his crew around the same time that Wayne was in Brackettville shooting The Alamo (1960). Curtis helped design a working camera track system for the blockbuster film, and Wayne agreed to make a brief appearance in the Air Evac Story as thanks" Texas Archive of the Moving Image.
Resources:
"The Air Evac Story." Texas Archive of the Moving Image.
Locations:
Brackettville, TX (Filming)
El Paso, TX (Filming)
San Antonio, TX (Filming)
Tombstone, AZ (Filming)
Subjects:
Genre:
Form:
Tags:
Repository:
Texas Archive of the Moving Image
Video Link:
---