---
Date produced: 1962
Filmmaker(s):
Description:
"Garden shots, including time lapse shots of flowers opening, and a 1962 parade in Sidney or Victoria" British Columbia Archives.
---
Date produced: 1963
Filmmaker(s):
Description:
"Isabelle's next door neighbors - three bachelors - are asked to carry on for her, when she is stricken and hospitalized, in entering her prize orchid in the Garden Show. Their well-meaning but bumbling attempt to help her win the prize results in hilarious antics and a heart-warming conclusion to this delightful comedy" PSA Journal, Oct. 1963, 41.
---
Date produced: 1961
Filmmaker(s):
Description:
"Miss Luther has brought forth a delightful yet simple episode involving a little girl, a little boy, and a bouquet of daisies in the hand of each. We watch them as they walk across the meadow, play in the streams, give attention to the small animals and their attention to each other. Grandmother is ready with the kind of reward little children expect" PSA Journal, Oct. 1961, 47.
---
Date produced: 1960
Filmmaker(s):
Description:
"The rose, a young girl, so proper, and so elegant in her royal dress, jewelry and jeweled crown. The weed, also a lovely girl, simply dressed and scorned by the rose. By scissors the rose is cut and its petals picked away to the delight of the weed, but then a gloved hand pulls the weed and leaves it to die in the sun. Can it be that some do not like weeds?" PSA Journal, Nov. 1960, 42.
---
Date produced: 1960
Filmmaker(s):
Description:
"We remember Jack's Prelude to Spring a few years ago in which he dealt with time lapse photography. In Floral Capers he introduces the equipment he uses in time lapse photography and how he does it in one easy lesson. We watch flowers go through the opening cycle, vines racing up a pole, grasses, plants, and flowers racing ahead in their growth, split frame emphasizes the stimulation of light on the growth of plants. We watch many interesting events in the life of plants, and some amusing ones" PSA Journal, Nov. 1960, 40.
---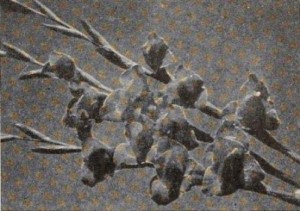 Date produced: 1952
Filmmaker(s):
Description:
"Bulbs and Beauty reveals in painstaking detail the planting, cultivating and harvesting of gladioli in the vast fields surrounding the town of Momence in the state of Illinois. In this elaborate undertaking, Haven Trecker unfolds in well planned and profusely close-upped sequences the many colorful aspects of this popular plant in the life of flower-loving America. The harvesting sequence is followed by somewhat generous footage of a flower festival, the big annual affair in glad-minded Momence; and the festival in turn is followed by a seemingly endless parade in tribute to these bounteous blossoms. Bulbs and Beauty, accompanied agreeably by magnetic sound on film, appears to have been made for informative and record purposes. It fulfills these functions in a lively and competent manner." Movie Makers, Dec. 1952, 337, 339.
---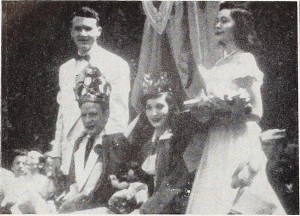 Date produced: 1950
Filmmaker(s):
Description:
"With the help of almost unbelievable luck from the weather man, Helen C. Welsh has achieved a high level of what is essentially newsreel filming. Her subject matter is in itself appealing — displays of tulips in a public park, children wearing amazing holiday headgear, dancers performing Old World figures, all climaxed by the pageantry of the coronation of a new king and queen of the festival. But Miss Welsh handles it expertly. Her viewpoints are varied and her camera work accomplished, while a wisely sparse and well recorded narrative ties the whole presentation into an attractive package. Albany's Tulip Festival is colorful, entertaining and fulsome as a record of a city's spring holiday." Movie Makers, Dec. 1950, 464.
---
Date produced: 1936
Filmmaker(s):
Description:
"Harrison and Harrison's offer of the firm's color meter in leather case, with six 1 1/4 -inch meter-matched filters in leather filter fold, was awarded Eugene L. Ritzmann of Berkeley, Cal., for his "Garden Life." The entrant has been making amateur movies for nine years, and his skilled work in putting on the screen in color by means of controlled timing the blooming of flowers demonstrated that his period of apprenticeship has long since expired. If a word of suggestion and distinctly not of criticism might be offered it would be the film would have greater value for the uninformed if titles should be inserted identifying the various flowers. The subject caused some tough eggs of the male persuasion to sit up and take notice. What it will do to the world of womankind it is not hard to imagine." American Cinematographer, Jan. 1938, 28.
---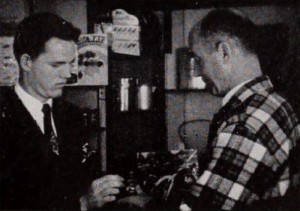 Date produced: 1948
Filmmaker(s):
Description:
"May Day Conflict is a well executed and skillfully edited family story film of the conflict created by the opening of the trout season and a flower festival both falling on May first. The central character is a good loser (the husband, of course!), as he accompanies his wife to the flower show after elaborate preparations for his fishing trip. Herbert F. Sturdy has deftly woven into the story pattern light, humorous incidents to provide amusing comedy relief from his fine floral closeup studies. Expert camera handling and smooth transitions lend a semi-professional finish to the picture." Movie Makers, Dec. 1948, 493-494.
---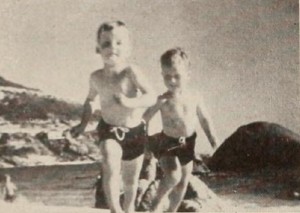 Date produced: 1947
Filmmaker(s):
Description:
"From Capetown, South Africa, comes Help Yourselves, Boys!, by Lewis Lewis, a charming record of two handsome youngsters and their father engaged in planting, growing and harvesting zinnias. Using many effective angles and double exposed titles, Mr. Lewis relates a plausible tale of his boys raiding the grape arbor, being caught, and finally having their exuberance turned toward flower growing. Since the newly hatched garden is situated close to the ocean, the scenic backgrounds are startling as well as pleasant. Rich, black earth and flaming orange zinnias provide an attractive setting for an engaging family movie." Movie Makers, Dec. 1947, 538.
---
Total Pages: 3