---
Date produced: 1950
Filmmaker(s):
Description:
"In the Certificate Awards group, Ralph E. Gray, a consistent winner in national film competitions and recently honored with the title of Leading Amateur Movie Maker of the nation by the Movie Makers Club of Oklahoma and associated cine clubs, has turned in another of his superb filming jobs in 'Glamorous Guatemala.' A highlight is the excellent titling job, a department of movie making in which Gray excels. Gray opens his picture with scenes of modern day Guatemala, then gradually leads us into more remote areas of the country where he shows the native Guatemalan at work and at play, harvesting coffee, weaving, and trucking his wares to market, or indulging the religious ceremonials and market day festivities, which comprise his chief diversions. Gray filmed his picture using a Cine Special and Kodachrome film." American Cinematographer, April 1950, 134-135.
---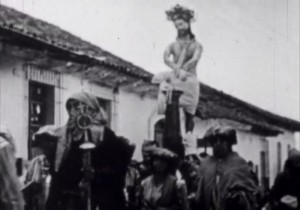 Date produced: 1942
Filmmaker(s):
Description:
""Wooden Face of Totonicapan" is a [1942] color film covering the art of making wooden masks in Totonicapan, Guatemala. The film was made under the auspices of the "Good Neighbor" film project, run by the Office of the Co-Ordinator of Inter-American Affairs in New York as part of the WWII war effort. It was produced by Ralph E. Gray." Periscope Film.
---
Date produced: 1955
Filmmaker(s):
---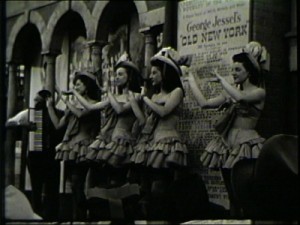 Date produced: 1939
Filmmaker(s):
Description:
"A clever, artfully-shot, and carefully-edited amateur film of the 1939 New York World's Fair." oldfilm.org
---
Date produced: 1964
Filmmaker(s):
Description:
"Objectif Festival is a story based - on truth or not, we don't know - of an old photographer who decides to bring his camera, tripod and all, the to the Cannes Film Festival to get a few still shots. He is not prepared for the fast shooting shutterbugs of today, nor the Bikini clad French dolls that litter the beaches. Time has passed him by in more ways than one. The film has been cleverly cut to fit its musical score, and this unusual editing has earned for the film the MPD Golden Scissors Award for the best film editing in the contest" PSA Journal, Sept. 1964, 50-51.
---
Date produced: 1955
Filmmaker(s):
Description:
"Esther Cooke presents an outstanding motion picture. This colorful pageant, filmed against a background of majestic Austrian Alps satisfies in every respect. A masterful eye for beautifully composed scenes is evident throughout the film. The pageant is covered from such a variety of angles, one marvels at Esther Cooke's ability to record the vent single handed. The accompanying musical background and very informative narration are obviously the result of careful research and planning. Leo J. Heffernan narrates the film - truly a masterpiece among travelogues." PSA Journal, Dec. 1955, 34.
---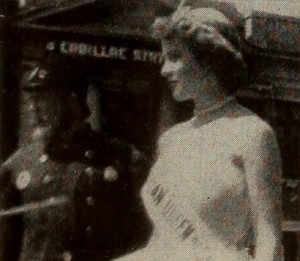 Date produced: 1953
Filmmaker(s):
Description:
"In Festival Michigan, Cornelius Vanden Broek undertook to record all of the fairs and community festivals that occur in the State of Michigan throughout the year. He was prompted to make this record for the benefit of many friends who were not able to attend them and thus to provide them with a vicarious participation. The usual parades, crowning a queen of this or that, live stock, home preserves, midway attractions and various contests for young folks are all here, done with pleasantly brief sequencing. A lively commentary accompanies the film. On the whole, this rather formidable undertaking results in a pleasant and completely honest endeavor. Mr. Vanden Broek achieved his goal with fine spirit." Movie Makers, Dec. 1953, 334.
---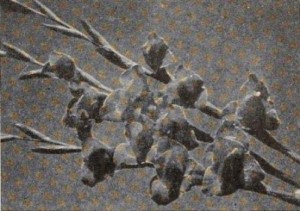 Date produced: 1952
Filmmaker(s):
Description:
"Bulbs and Beauty reveals in painstaking detail the planting, cultivating and harvesting of gladioli in the vast fields surrounding the town of Momence in the state of Illinois. In this elaborate undertaking, Haven Trecker unfolds in well planned and profusely close-upped sequences the many colorful aspects of this popular plant in the life of flower-loving America. The harvesting sequence is followed by somewhat generous footage of a flower festival, the big annual affair in glad-minded Momence; and the festival in turn is followed by a seemingly endless parade in tribute to these bounteous blossoms. Bulbs and Beauty, accompanied agreeably by magnetic sound on film, appears to have been made for informative and record purposes. It fulfills these functions in a lively and competent manner." Movie Makers, Dec. 1952, 337, 339.
---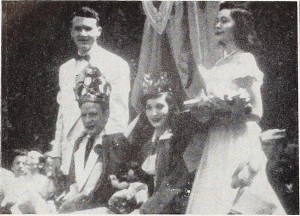 Date produced: 1950
Filmmaker(s):
Description:
"With the help of almost unbelievable luck from the weather man, Helen C. Welsh has achieved a high level of what is essentially newsreel filming. Her subject matter is in itself appealing — displays of tulips in a public park, children wearing amazing holiday headgear, dancers performing Old World figures, all climaxed by the pageantry of the coronation of a new king and queen of the festival. But Miss Welsh handles it expertly. Her viewpoints are varied and her camera work accomplished, while a wisely sparse and well recorded narrative ties the whole presentation into an attractive package. Albany's Tulip Festival is colorful, entertaining and fulsome as a record of a city's spring holiday." Movie Makers, Dec. 1950, 464.
---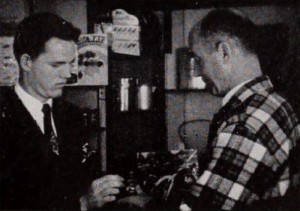 Date produced: 1948
Filmmaker(s):
Description:
"May Day Conflict is a well executed and skillfully edited family story film of the conflict created by the opening of the trout season and a flower festival both falling on May first. The central character is a good loser (the husband, of course!), as he accompanies his wife to the flower show after elaborate preparations for his fishing trip. Herbert F. Sturdy has deftly woven into the story pattern light, humorous incidents to provide amusing comedy relief from his fine floral closeup studies. Expert camera handling and smooth transitions lend a semi-professional finish to the picture." Movie Makers, Dec. 1948, 493-494.
---
Total Pages: 2