---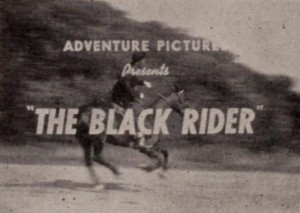 Date produced: 1941
Filmmaker(s):
Description:
"For Louis McMahon, making movies must seem to be as natural as breathing — only far more fun. It stands out in his work, from the first dynamic opening of The Black Rider to the last dramatic gun fight, in which, inevitably, the villain is vanquished and the hero left triumphant. For this film goes back to first principles of the motion picture, both in its "horse opera" subject matter and in its unfailing sense of movement and compelling excitement. True to the old traditions, this young producer has turned seemingly impossible obstacles with cinematic trickery and imagination. For the present, his technical skill has not always been equal to his creative ambition, but the genuine urge is there in abundance." Movie Makers, Dec. 1941, 566-567.
---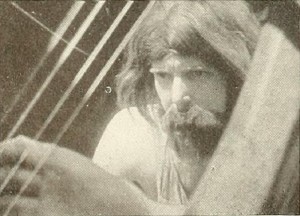 Date produced: 1941
Filmmaker(s):
Description:
"C. Manley DeBevoise continues, in That All the Earth May Know, the development of his special field of the exposition of Bible stories in film. Here is the tale of the tortured Saul, the worried Samuel and the God sent David — musician and warrior. Since the film is made by a Sunday School class, it is prefaced by a statement from the class's teacher that a "success story" of long ago will be presented. The actor who portrays Samuel achieves real dignity and importance: others are sufficiently convincing with very hard assignments. Costumes and sets are contrived excellently, and a Long Island, N. Y., locale does not seem to be out of place in the film. Mr. DeBevoise solved one problem by purely cinematic methods. He showed the combat of the Jews and the Philistines, but the Sunday School class did not run to an army. With six or seven couples in actual hand to hand fighting, these become an apparent host by multiple exposure. Mr. DeBevoise improves each year in direction, cinematography and in the greater sincerity of his actors' work." Movie Makers, Dec. 1941, 566.
---
Date produced: 1941
Filmmaker(s):
Description:
"Seldom has an amateur embarked upon so formidable a production as did David Bradley when he and some friends decided to film Ibsen's Peer Gynt, using Grieg's music for background. This mystic drama is considered so difficult that it has been performed only twice in the American theatre; yet the task held no terror for this group. Fashioning their own costumes and finding suitable locations in suburban Chicago, Mr. Bradley's intrepid band has done an amazingly good job. It would be easy to visualize the result had the production been in less capable hands than those of Mr. Bradley, and it is to his great credit that such quaint characters as the Button Moulder and the many trolls and woodland sprites do not appear ludicrous. The chief fault in this tremendous undertaking is that Ibsen's gigantic play has been transliterated to the screen rather than translated. That is, Mr. Bradley, by his own admission, modeled his scenario as closely as possible on a work written expressly for the theatre. Had he taken more liberties with the dramatic form in favor of a more peculiarly cinematic treatment — as exemplified so strikingly in the fine Hall of the Mountain King sequence — there would have been no structural weaknesses in his film. With this fundamental concept firmly in mind, Mr. Bradley, recently turned twenty one, should scale the heights in his future productions." Movie Makers, Dec. 1941, 566.
---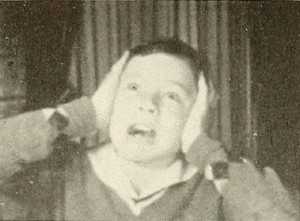 Date produced: 1941
Filmmaker(s):
Description:
"The plot of Magic Mush is one that is fairly familiar to movie makers. A youngster saves up enough of the coupons that come with a breakfast food to get a free magic set, complete with wand. It turns out that the magic wand actually works, and Sister and Brother make things appear and disappear to their hearts' content. The trick work involved is done by stopping the camera, removing some article from the scene, or adding one to it, and starting the camera again. To this familiar plot, Eric N. Unmack has added some clever ideas of his own. One amusing device is the return of a kitten, rescued from the limbo of magic; she comes floating down, tied to a small parachute. Other clever tricks and especially good acting make this a first class family reel. All of it is presented with uniformly excellent interior filming." Movie Makers, Dec. 1941, 566.
---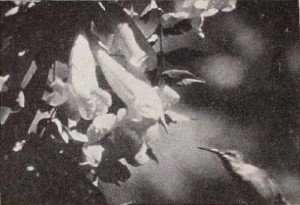 Date produced: 1941
Filmmaker(s):
Description:
"Birnam Wood has moved again, this time across the ocean from Dunsinane to Cleveland, where Mrs. Warner Seely dons evergreen branches to film Madame Hummer at Home. Thus concealed, Mrs. Seely has made a fascinating record of the life cycle of the hummingbird. Although a dual approach to a film is not generally advisable, she has managed to combine ornithological data with a great deal of human interest. While we are learning much about the habits of the hummingbird, we sense a spirit of friendliness and informality about the film which gives it a wide appeal. A charming introduction leads us from a bird book, out into the garden and finally to the well concealed nest of Madame Hummer. Reaction shots of two young girls discovering the nest and scenes of Mrs. Seely at work in her "elephant hideout," as she calls her camouflaged vantage point, add much to the interest. Verse titles, occasionally too ingenious to scan, contribute to the overall feeling of warmth in this nature picture." Movie Makers, Dec. 1941, 566.
---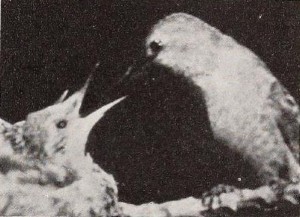 Date produced: 1941
Filmmaker(s):
Description:
"In making Hummingbird, Dr. Richard Cassell has succeeded admirably in producing a film of absorbing interest and, at the same time, one of distinct educational value. In a straightforward and workmanlike manner, he presents the life story of a family of these minute winged creatures in close shots and extreme closeups. The film treatment is simple and direct, stressing the growth and habits of the birds. The patience that must go into the production of a film of this type never shows, but Dr. Cassel's movie making skill is apparent in every scene. While the technical excellences of exposure and composition are notable in this film, the most amazing achievement is its lighting. Obviously difficult even to film, many of the closeups appear almost to have studio lighting. The titling is clean cut and well integrated and the cutting is deftly paced, this quality being helped by the wide range of viewpoints and an excellent choice of camera positions." Movie Makers, Dec. 1941, 565-566.
---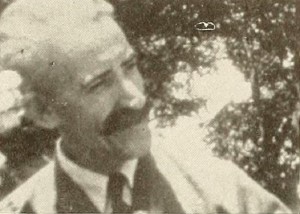 Date produced: 1941
Filmmaker(s):
Description:
"Flowering Byways, presented with well chosen musical accompaniment, is a story of the creation and growth of a home garden, cleverly interwoven with the thread of human interest. In it, Ernest Kremer has made a thoroughly enjoyable and interesting record of his father in law's gardening ability. "Pop's garden" has its beginnings in the chilly days of early spring, when the bare ground gives little promise of the profusion of bloom that is to spring up under Pop's skillful hands. We follow with keen interest the growth of the garden through subsequent months. Mr. Kremer's skill in presentation being demonstrated by the constant variety of material and by the interpolation of well chosen touches of human interest. Finally, the apotheosis of Pop's garden creation is realized when he takes first prize at the local garden club show. The flower closeups here are always excellent, but they are not made an end in themselves." Movie Makers, Dec. 1941, 565.
---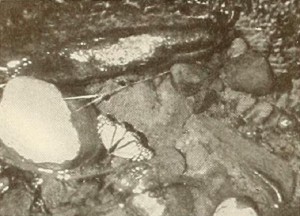 Date produced: 1941
Filmmaker(s):
Description:
"The very great faculty of Robert P. Kehoe for seeing natural beauty and giving it an individual and entirely original expression in film enables him, in Brookside, to reach a new height in cinematography, because he has added to that faculty an attention to the business of continuity. Like Tennyson's Brook, Mr. Kehoe"s film starts to go somewhere, keeps going and gets there, while we who watch the going see, by the brookside, some of the loveliest — but tripodless — footage of water, flowers and woodland that any landscapist could want to come by. The final sequence of Mr. Kehoe's picture has a tragic tenderness that is almost too poignant, since he has filmed the funeral progress down the darting brook of a lustrous butterfly that ventured too close to the water and was sucked into it. With wings outspread, the little body goes past us into '"yesterday's ten thousand years" as the film ends." Movie Makers, Dec. 1941, 565.
---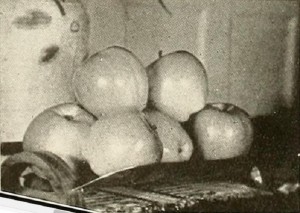 Date produced: 1941
Filmmaker(s):
Description:
"Blossom Forth the Fruit is a straightforward, well made, carefully planned and well exposed instructional film, which tells how to care for apple trees and their fruit in all stages of growth. Its maker, William R. Hutchinson, has a thorough knowledge of apple growing, and he also had the collaboration of specialists from Cornell University and the Farm Bureau. The clear presentation of all the phases of treatment that are necessary to insure the growth of fine fruit is noteworthy. From the technical point of view, microscopic color studies of insects, parasites and blights furnish excellent examples of ultra closeup technique. Methods of spraying and other protective treatment of the fruit are shown in clearly presented detail. Because of its clear presentation and uniformly high technical quality, this film is worthy of the highest commendation." Movie Makers, Dec. 1941, 564-565.
---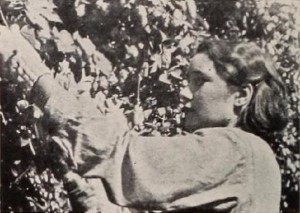 Date produced: 1941
Filmmaker(s):
Description:
"Paul Thompson's Behind the Bale would be an amazing performance for a large studio, equipped with many facilities and numerous staff members, and this is true by reason of the exceedingly careful collaboration between the film editor and the comment writer. For a small producer of industrial pictures, Behind the Bale is a triumph in the technique of post recording, as well as a beautifully made picture that would stand on its own feet without narration and with relatively few titles. A Northwest brewer wishes to make it clear that the quality of hops has much to do with the quality of beer. Therefore, Mr. Thompson shows us the Yakima (Wash.) Valley briefly and then gets down to the special crop which the film pictures. We follow hops through planting, growing, picking and baling, in a Kodachromatic exposition that has rare beauty, and we end with four men enjoying the beer of Mr. Thompson's client. In the entire course of this fine piece of cinematography, there is a wizardry of cutting the film to fit the narration — and the reverse — that produces exposition timed with scene in a fashion that would do credit to the best industrial filmers anywhere." Movie Makers, Dec. 1941, 564.
---
Total Pages: 190