---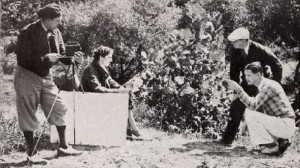 Date produced: 1934
Filmmaker(s):
Description:
"Hooked, an 8mm. comedy by the Grand Rapids Movie Makers, was intended as a straight drama of the trout streams. It has ended, however, as a delightful farce of a movie club trying desperately to complete such a picture — and is probably the better because of this mid production metamorphosis. For, although the first and original section of the picture is wholly charming and well photographed, it is in the latter section that the film picks up spirit, sparkle and definite dramatic power. It is in this part that the producers have conceived and executed a number of cinematic coups, climaxing them with a stunning multiple exposure sequence probably never before equalled or even approached in this medium. Walter Mills, ACL, L. Thorny, ACL, M. P. Gamber and Wendell Patton, of the Grand Rapids club, continue and enhance, with this film, their rightful reputation as most able advocates of 8mm." Movie Makers, Dec. 1934. 534.
---
Date produced: 1934
Filmmaker(s):
Description:
"In Birds of a Feather, Edmund Zacher, II, ACL, exhibits the patience and skill necessary to compile a complete story entirely with telephoto lenses. All the particular points which must needs be observed to make successful telephoto pictures — careful centering, sharp focusing and rigid camera support — are exhibited in this film, which is interesting withal, as it tells the story of a thrush family from the time the youngsters are hatched until the last laggard leaves the nest. Some scenes, which show the parent bird in closeup by means of telephoto magnification and in which the bird fills the entire frame, are truly remarkable. Good fortune gave Mr. Zacher the beautiful background of a flowering tree for this springtime idyll. A suitable musical background — compiled from discs — accompanies the film. Mr. Zacher made this picture entirely from a window in his home, and his patience and skill in capturing every needed shot are remarkable." Movie Makers, Dec. 1934, 534.
---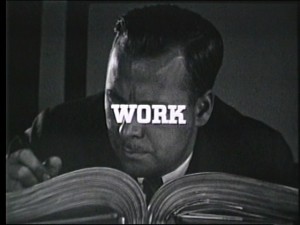 Date produced: 1934
Filmmaker(s):
Description:
"Among the Ten Best, Another Day, by Leslie Thatcher, ACL, is a splendid example of the relatively simple avant garde film, so popular among European amateurs but so seldom attempted by even the advanced workers of the American continent. Set against the background of Toronto, Another Day portrays in semi abstract fashion the dramatic changes which overtake the life and tempo of a great city as Saturday crosses the noontime deadline from work to play. Mr. Thatcher's conception of this theme is clean cut, his execution suave and technically brilliant. Dissolves, wipeoffs and double exposure are blended intelligently with matchless straight photography to enhance the beauty of striking angles and compositions. With the subject matter of such films ready to the hand of every amateur cameraman, it is a strange phenomenon that to date they are not attempted more often." Movie Makers, Dec. 1934, 513, 534.
---
Date produced: 1933
Filmmaker(s):
Description:
"In Surgical Eradication of Pyorrhea, Dr. S. H. McAfee, ACL, made use of a very fine closeup technique and, in presenting the preliminary clinical information, plaster models played an important part. The work was shown step by step so that certain points could be watched more closely later on. The very difficult problem of lighting oral surgery for good photography was well handled and the resulting exposure and definition were eminently satisfactory." Movie Makers, Dec. 1933, 524.
---
Date produced: 1933
Filmmaker(s):
Description:
"Under the Maple Leaf, by Hamilton H. Jones, ACL, is a partially refilmed and entirely reedited version of last year's award winner, Canadian Capers. A splendid picture a year ago, its new and additional sequences now bring to the film a photographic beauty plainly of the very first rank. A sequence of the morning mist rising from a lake deserves particular mention. Mr. Jones's considerable skill with his camera has increased in stature and may not yet have reached its full flowering. For this accomplishment his work has been given a place of honor in these selections. In the reluctant estimation of the judges, however, the editing and cutting of Under the Maple Leaf so far lagged behind its generally matchless beauty as to rob the film of its fullest emotional power. This factor only prevented Mr. Jones from repeating this year his full triumph of a year ago." Movie Makers, Dec. 1933, 523-524.
---
Date produced: 1933
Filmmaker(s):
Description:
"A Century of Progress, the one reel record of the Fair in Kodacolor, by Edmund Zacher, II, ACL, is distinguished by the freshness of its dramatic treatment rather than by the faultless excellence of technique. In this latter field, Mr. Zacher, choosing to experiment along relatively unblazed color trails (slow motion, night photography, dissolves, etc.) has on occasion made slight errors, a fact which he himself is the first to admit. Dramatically, however, his film is a joy and a delight, replete with human interest, unhurried but unflagging in its presentation of the Fair from ever fresh viewpoints." Movie Makers, Dec. 1933, 523.
---
Date produced: 1933
Filmmaker(s):
Description:
"Night Call, made by Elizabeth Sansom, ACL, and Kenneth V. Bloomer, ACL, is noteworthy for its attention to exact detail in the portrayal of an event in the daily (and nightly) routine in the lives of two physicians who receive a "hurry call" to perform an appendicitis operation. Miss Sansom, in the course of the story, films an operation sequence that seems letter perfect, both from the point of view of the operation itself and of the lighting, closeup and photographic technique employed." Movie Makers, Dec. 1933, 523.
---
Date produced: 1933
Filmmaker(s):
Description:
"Wonderland Trails is a triumph of treatment over the subject matter. K. G. Stephens, ACL, has used with sensitive artistry the space and time saving devices of closeup synecdoche, lap dissolve and the fade in, telling his charming tale of a mountain hike that went astray. On this simple framework he has presented a series of lovely scenic views, always well photographed and often superior in their crisp beauty. Smart editing serves throughout to reinforce the values of this film, which is distinguished by an imaginative and careful advance planning." Movie Makers, Dec. 1933, 523.
---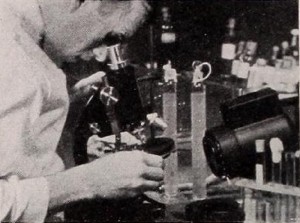 Date produced: 1933
Filmmaker(s):
Description:
"An achieved simplicity in presenting a complex idea is the outstanding accomplishment that wins for the National Oil Products Company an honorable mention for its film. This picture presents the necessity for Vitamin "D" in the food of children and gives the highlights of preparing the Nopco product containing this essential food element. This picture, directed by Ralph Wechsler and photographed by Arnold M. Hill, ACL, follows the safely conventional presentation of industrial film messages in its continuity methods, its use of animated diagrams and its description of ultimate consumer usage. Working within this pattern, the makers of the picture have done extraordinarily well whatever they attempted. The continuity flows so smoothly as to be unperceived unless by a critically inclined observer; the animated diagrams are clear, well executed and strictly limited to the bare necessities of making the idea entirely evident; the photography is unexceptionable in nearly one hundred per cent of the film. This product of the joint efforts of an intelligent director, a very capable cinematographer and a fully cooperating industrial concern shows how perfect a practical film may be if real care is devoted to its making." Movie Makers, Dec. 1933, 522-523.
---
Date produced: 1933
Filmmaker(s):
Description:
"Among the films awarded honorable mention is Remote Control, by Louis W. Bleser, ACL, which gives a fine cinematic exposition of the activities of a train despatcher, by means of an unusually well equipped miniature railway system. Here the technical problem is especially important, calling for closeup studies of the first quality, the aim being so to light and photograph the subject that there would be a semblance of realism. In effecting this result, the use of well chosen titles and fine editing played no small part. Such a film as this upholds the maxim that "cinematics begin at home." " Movie Makers, Dec. 1933, 522.
---
Total Pages: 174