---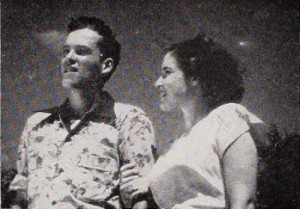 Date produced: 1948
Description:
"What would have been an excellent film under any circumstances becomes outstanding as a group production. Produced by the Minneapolis Cine Club, it was originally conceived by William S. Block, carried out under the supervision of G. L. Larson, with Earle E. Ibberson in charge of production, while club president Elmer W. Albinson did the final cutting and editing. All members contributed directly to the project, either in filming or by helping to complete the picture. In the film we accompany two teen-agers, a 4-H boy and girl, on a grand tour of the fair, visiting exhibits, marvelling at the livestock show,standing pop-eyed before the midway spectacles, puzzling over the complexities of modern art, gasping at the fireworks display against the night sky. A running gag furnishes comedy relief, while the wholesome charm of our young guides is revealed in a sympathetic and appealing fashion. The members' filming is consistently competent, and deft editing has made Minnesota State Fair a well integrated and thoroughly enjoyable entertainment." Movie Makers, Dec. 1948, 476, 491.
---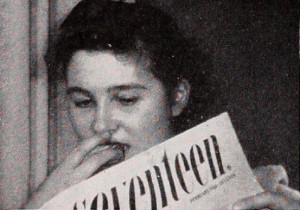 Date produced: 1948
Filmmaker(s):
Description:
"In Maxine's Big Moment, William Messner proves that he knows the language of the motion picture, for he tells his tale in true visual terms. No subtitles are used, nor are they needed. This is a small film but a suave one, scarcely more than a vignette, as it recounts the excitement of a teen age girl's first formal dance. In it, the producer has used high key lighting that is eminently suitable in portraying a lovely young girl anticipating and preparing for a party. The choice of softcolor backgrounds adds immensely to the mood of the film, and the imaginative mirror shots in which the young lady pins a corsage to her gown are noteworthy. Fine editing and smooth transitions, in addition to good acting, combine to make a delightful and entertaining home movie." Movie Makers, Dec. 1948, 476.
---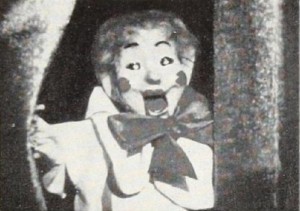 Date produced: 1948
Filmmaker(s):
Description:
"The construction and performance of marionettes are skillfully pictured in Life Hangs By A Thread, by Paul R. Elliott and Joseph Dephoure. Aided by skillful lighting, a fine sound track perfectly harmonized with the action and an intelligent script, interest is closely held from the time a marionette is a lump of putty to its moments of glory when, in the hands of an experienced operator, it seems to take on a life of its own. Perhaps the most impressive thing about Life Hangs By A Thread is its careful step by step planning, indicating the sound belief by its producers that a movie should tell as much as possible pictorially, with the commentary used only to enhance the visual appeal." Movie Makers, Dec. 1948, 475-476.
---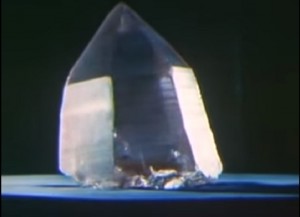 Date produced: 1948
Filmmaker(s):
Description:
"Crystals While You Wait is a record of the triumphant climax of long scientific research for a crystal substitute. Desperately needed as a filter in expanding telephone transmission lines, the final perfection of this synthetic crystal could not have been more exciting electronically than is this study of it esthetically. To it, Joseph J. Harley has brought creative imagination, absolute accuracy and a rich sense of this drama in a laboratory. Ethylene diamine tartrate (known to electrical engineers as E.D.T.) is the hero of this scientific saga. And a colorful one it is in this record of its synthesis into electrically usable crystalline form. From its provocative lead title assembly — double exposed on a dynamic pattern of back lighted crystals — through its smoothly integrated sequences of laboratory procedures, to its triumphant and stirring climax, Crystals While You Wait is a moving marriage of science and cinematics." Movie Makers, Dec. 1948, 475.
---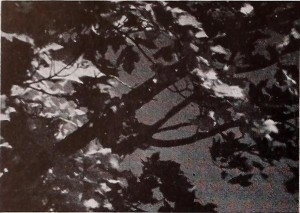 Date produced: 1948
Filmmaker(s):
Description:
"In Autumn, Martin E. Drayson extends brilliant camera handling to embrace a quality ordinarily associated with painting, raising his film several notches above the usual autumnal study. Call this quality expressionism, a term we are familiar with in the paintings of Manet, Cezanne, Gauguin or Vlaminck. Literally painting with light the shades and hues of the season, sheer poetry is produced by their reflections in the shimmering surface of a pond, which unique camera viewpoint was used for the climax of the footage. The film escapes the static quality often noted in nature studies by the dexterous changing of camera position; added to this are the natural movements created by the wind brushing softly through the dry leaves, or, again, by gentle ripples momentarily disturbing the water's glassy surface." Movie Makers, Dec. 1948, 475.
---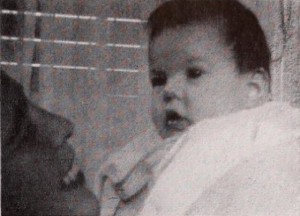 Date produced: 1948
Filmmaker(s):
Description:
"The Unexpected, by Ernest H. Kremer, is that rara avis of the amateur movie world, a perfectly produced and universally entertaining family film. It is no secret, surely, that taking pictures of one's family outranks all other reasons prompting a home filmer to buy his camera. It is an equally open secret that the results, generally, are those that only a mother could love. Judged impersonally and by even the simplest movie standards, the technique is sloppy, camera treatment dull and continuity non-existent. But now, with The Unexpected, family film making takes on new stature and its apostles may speak with new pride. The picture tells a simple tale: A man arrives home and finds a note from his wife. Unexpectedly, she writes, she has been called to the city, but there is food in the icebox, et cetera, etc. Later that evening, after a suavely developed interlude of husbandly miming, the wife returns and announces that she expects a baby. The rest of the rewardingly short reel records early activities in the life of the infant, capped by a swift and comic climax. A simple tale, but superbly told. Mr. Kremer's technical skill, developed through years of competent 8mm. work, is more than a match for this, his first 16mm. production. Perhaps most outstanding among the picture's many fine points is its admirable economy of footage. Running a scant 325 feet of film, it has a sense of pace regrettably rare in amateur movies. Mr. Kremer, for example, recognizes the lap dissolve as a spatial transition, not a specious ornament — and he uses it as such with telling effect. His editing is crisp, his camera treatment incisive and his continuity planned and purposeful. The Unexpected, in proving that excellence can join hands with the hearthside, should be a ringing challenge to all family filmers." Movie Makers, Dec. 1948, 474-475.
---
Date produced: 1933
Filmmaker(s):
Description:
"This was a very delightful 16mm subject that carried much entertainment value in addition to its good photographic quality." American Cinematographer, Dec. 1934, 377
---
Date produced: 1933
Filmmaker(s):
Description:
"This picture was made with indoor lighting and showed a very consistent photography." American Cinematographer, Dec. 1934, 377.
---
Date produced: 1933
Filmmaker(s):
Description:
"This picture was a finely photographed record of water from the ocean to the clouds and back to the ocean again through its various stages. His photography rated high." American Cinematographer, Dec. 1934, 377.

"The one reel film, Water, is a pleasant blending of plan and montage. In it, Howard Demarest, ACL, has traced what may be termed the life cycle of water — from its restless abundance in the great oceans, its radiant journey to banking clouds, the return in rainfall, until, through the coursing of streams and rivers, it blends once more in the sea. Parts of this great, natural continuity Mr. Demarest had on film before the present picture was definitely conceived. Other parts he made following the conception, sometimes to fill it out, again to improve it with retakes. In all these deftly integrated sequences his photography is consistently crisp, sparkling and steady. In many of the scenic views it approaches perfection in beauty of composition and lighting. Attractive and well worded titles round out a piece of work that is definitely superior." Movie Makers, Dec. 1933, 522.
---
Date produced: 1933
Filmmaker(s):
Description:
"This picture was a special delight as Miss Hill had concentrated upon pastel colors as she found them in the woods and fields. Also she brought the human element into her picture very gracefully and entertainingly." American Cinematographer, Dec. 1934, 377.
---
Total Pages: 209