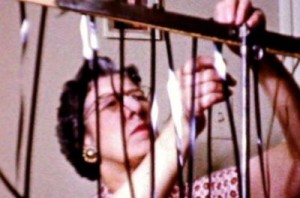 Evelyn Kibar
Club Affiliation
Gender:
Female
Awards/Recognition:
ACL Ten Best 1946 - Honorable Mention General Class
Chicago Film Archives list of titled amateur work
Films:
---
Biographical Notes:
"John and Evelyn Kibar were a husband and wife amateur filmmaking team. They lived in Racine, Wisconsin and were members of amateur cinema groups including the Kenosha Movie Makers (also known as the Kenosha Movie and Slide Club and the Kenosha Camera Club), Society of Amateur Cinematographers, PSA, and Ra-Ciné Movie and Slide Club. They began making films together in the 1930s, and were frequent visitors, presenters, judges and winners in both photographic slide and film competitions in Chicago and Milwaukee. The Kibars' films were award-winning creative collaborations and often included audio accompanyment on tape. Detailed notes within the original cans suggest these audio tracks were to be played alongside their corresponding titles during projection. Their 1946 film "Autumn Glory," won an honorable mention in the Amateur Cinema League's annual "Ten Best Contest" that year." Chicago Film Archives
Bibliographic Resources:
The films of Evelyn Kibar and John Kibar are part of the Ron Doerring collection held by Chicago Film Archives.