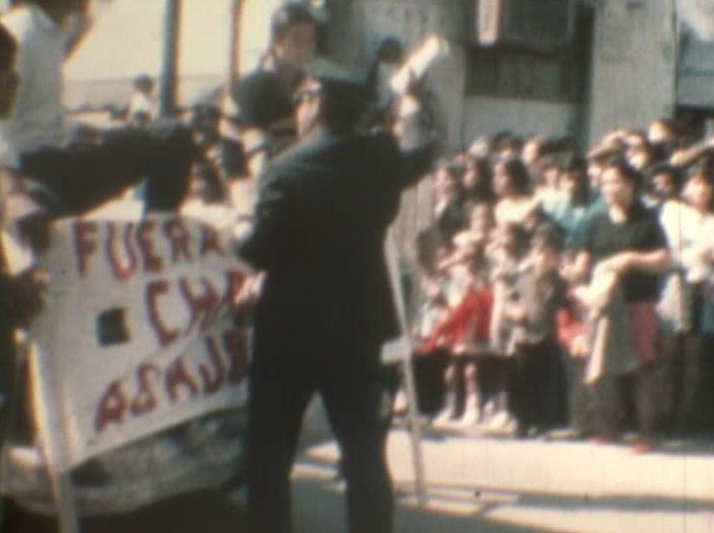 Date produced: 1972
Country of Production:
Mexico
Languages:
Spanish
Duration:
00:15:00
Format:
Super8
Colour:
Colour
Sound Notes:
Unknown
Awards/Recognition:
This film is part of the
Superocheros
anthology, compiled by UNAM Film Archives.
Description:
"En este cortometraje se narra la resistencia al régimen en la ciudad de Monterrey, en el estado de Nuevo León, a través de varios frentes: la irrupción de un grupo de sindicalistas independientes en el desfile oficial del 20 de noviembre, con la presencia del gobernador Luis M. Farías; la invasión de tierras y la presencia de organizaciones vecinales en Topo Chico; los muertos por un accidente laboral en la Fundidora Monterrey; las huelgas de obreros de la CTM y de panaderos de la CROC (dos poderosos sindicatos oficiales), o la actividad vecinal del Grupo 2 de Octubre en la colonia Días Ordaz" (Vázquez Mantecón, 2012).

"This short film tells the story of the resistance against the regime in Monterrey city, in the state of Nuevo León, through several perspectives: the irruption of a group of independent union laborers in the official November 20th parade, with the presence of governor Luis M. Farías; the invasion of land and the presence of neighborhood organizations in Topo Chico; the dead by a working accident in Fundidora Monterrey [Monterrey Foundry]; the strikes of CTM workers and CROC bakers (two powerful official labor unions), or the activities of neighbors of the October 2 Group in Diaz Ordaz vicinity" (Vázquez Mantecón, 2012).
Resources:
Vázquez Mantecón, Álvaro. El Cine Super 8 en México 1970-1989 . Filmoteca UNAM, 2012. Find this book in Filmoteca UNAM Docs
Locations:
Monterrey, Mexico (Filming)
Club Affiliation:
Cooperativa de Cine Marginal [Marginal Cinema Cooperative]
Subjects:
Genre:
Form:
Tags:
---