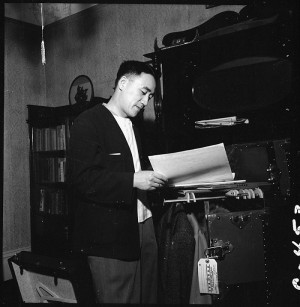 Dave Tatsuno
Gender:
Male
Awards/Recognition
National Film Registry, 1996
Films:
---
Profession
Businessman
Biographical Notes
"Dave Tatsuno (1913-2006) was well known in the Bay Area Nikkei community for operating the Nichi Bei Bussan stores in San Jose and San Francisco, California. His interest in making movies began in 1936 and resulted in this collection of home movies, consisting of eight 8mm films (3 color and 5 black & white) and one 16mm color film. The film depicting Topaz concentration camp is on the National Film Registry, one of two home movies on the Registry and the only such movie originating from an American ethnic community." Discover Nikkei.
Bibliographic Resources
The Dave Tatsuno Collection is held by the Japanese American National Museum.

"Dave Tatsuno, 92, Whose Home Movies Captured History, Dies." The New York Times, Feb. 13, 2016.
"Dave Tatsuno, 92; He Secretly Filmed Life in U.S. Internment Camp." Los Angeles Times, Feb. 16, 2006.