---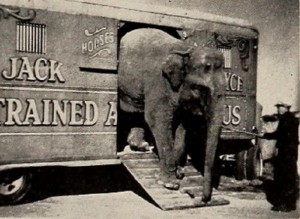 Date produced: 1945
Filmmaker(s):
Description:
"What happens behind the scenes is always of interest to curious people — and most of us are curious. Remembering the delighted boys who sometimes get odd jobs in the backyard of the circus, Guy Nelli elected to let us see what they have seen, in Outside the Big Top. Not once are we shown the performance for which the whole effort is made, since Mr. Nelli very properly stays outside with his camera. Beginning with interesting and well filmed scenes of the circus in its early morning arrival, Mr. Nelli shows us how the Big Top is set up and carries us along until the show has ended. Odds are that he is a persuasive talker as well as a fine movie maker, because he got some of the best portrait and "candid" scenes of the performers that one will meet in many a day." Movie Makers, Dec. 1945, 496.
---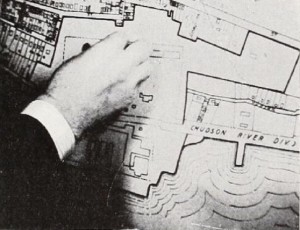 Date produced: 1945
Filmmaker(s):
Description:
"Ossining in Wartime is a sincere cinematic record of civilian war activities which every community in the land would be pleased and proud to have. It was not an easy production to complete. Conceived only in the later years of our war effort, the majority of the picture's sequences had to be especially recreated for the ubiquitous camera of its producer, Robert F. Gowen. Newspaper headlines, posters, placards and an occasional subtitle maintain the film's episodic continuity from the earliest efforts of airplane spotters and air wardens to the final joyous ceremonies marking victory over Germany and Japan." Movie Makers, Dec. 1945, 496.
---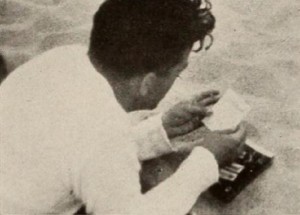 Date produced: 1945
Filmmaker(s):
Description:
"Take a man who wants to play golf and his wife who wishes to see the sights on a family vacation and you have the simple plot of Nantucket Turnabout. Richard Elms treats the idea with a freshness, however, that lifts it from the usual vacation film class. Through the mechanism of the wife's desire to visit historical places, some lovely views of Nantucket are logically inserted in the film, while the husband wearily tags after her as his prepayment for a chance to play golf. The eventual golf game ends with the wife, fresh after her sight seeing, winning easily, while the exhausted husband repeatedly drives to the rough, far into the final sunset." Movie Makers, Dec. 1945, 496.
---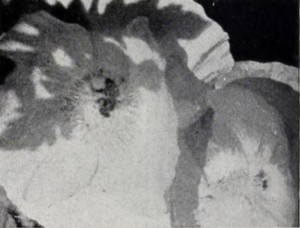 Date produced: 1945
Filmmaker(s):
Description:
"As an openly avowed disciple of Herman Bartel, one of the old masters of nature filming, Martin E. Drayson has been an ably and imaginative pupil. Seldom have individual scenes of such delicate beauty as his poured across the screen of personal movies. Interlude in Sunlight, like Mr. Bartel's work in Awakening or Pathetique, is essentially an effort to interpret, in cinematic imagery, compositions of music. As such, it is divided into three sections or movements, comprised pictorially of bees, flowing water and flowers. The musical scores which these interpret are Paganini's Moto Perpetuo, Massenet's Meditation from Thais, and Johann Strauss's Wiener Blut waltzes. Preceding these pieces (during the lead title assembly) and between the several sections, Mr. Drayson has elected the use of complete silence." Movie Makers, Dec. 1945, 496.
---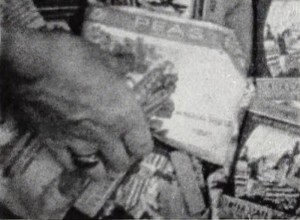 Date produced: 1944
Filmmaker(s):
Description:
"Albert D. Furnans has taken a group of charming people in a natural pursuit, truck gardening, and has developed a genuinely amusing "running gag"; the result is a delightful family film. Through an excellent sense of timing, he has sustained the "gag" with proper finesse until its final disclosure. The refreshing use of angles and the meaningful employment of lighting, together with good editing, bring balance and clarity. The entire picture shows the result of good planning and directing, and the filming keeps well abreast of these." Movie Makers, Dec. 1945, 496.
---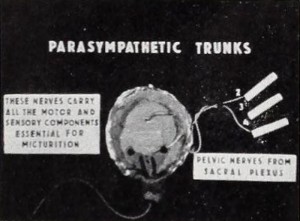 Date produced: 1940
Filmmaker(s):
Description:
"Dr. A. I. Willinsky has made an important contribution to medicine in his film Cystometrography. The initial part of the movie shows brilliant use of models in this amazing recording of bladder pressure. The second portion deals with the machines used in study technique and includes one developed by Dr. Willinsky himself. The picture culminates with a series of charts, showing the wide variety of clinical records kept. The film is a very intelligently planned, comprehensive statement of the method that Dr. Willinsky is presenting." Movie Makers, Dec. 1945, 496.
---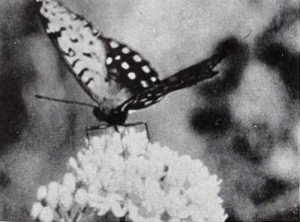 Date produced: 1945
Filmmaker(s):
Description:
"The late and unlamented war kept amateur movie makers — along with the rest of peripatetic America — pretty close to their backyards. Robert S. Walker is one who has made this restriction pay dividends. The result is Butterflies, a charming study of these winged wanderers of blossomland. Those filmers who have ventured into the field of extreme closeup work will understand and applaud the patient skill with which Mr. Walker got wellnigh perfect results in recording each new specimen. Rhymed quatrains serve, with the scenes, to create a film of light and airy entertainment." Movie Makers, Dec. 1945, 496.
---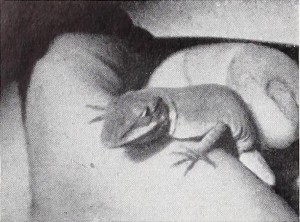 Date produced: 1945
Filmmaker(s):
Description:
"To film an insect well, when it is crawling, creeping or flying, is a real feat. Francis M. Spoonogle does this with great success. In his film, Backyard Zoo, he has taken completely undirectable creatures and has managed to capture them on film with such intimacy as to give one the feeling that he might be living for a while in the insect world. Unsuspected beauty is revealed in the coloring of caterpillars with normally unseen fur collars. So sharply has he focused on insect life in this beautiful 8mm. film that the "feathers," making up the coating of a butterfly's wings, are almost discernible." Movie Makers, Dec. 1945, 495-496.
---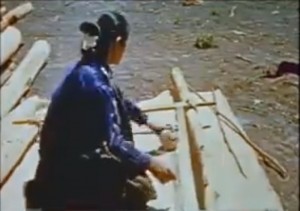 Date produced: 1941
Filmmaker(s):
Description:
"E. Tad Nichols, III, born in the West, has been in the saddle almost since he first toddled. Much of his time has been spent among the Western Indians, and he has an intimate knowledge of their ways. So skillfully has he planned and edited each sequence of Navajo Rug Weaving that the audience has the rare satisfaction which comes from seeing just the right amount of each step of this ancient art that has held one method and course for many centuries. The direction and filming are of such excellence that the viewer almost seems to be present for the carding, spinning, dyeing and actual weaving of the rugs. Here is the human record film at its best." Movie Makers, Dec. 1945, 495.
---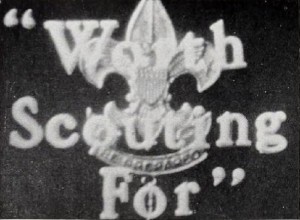 Date produced: 1945
Filmmaker(s):
Description:
"With the vitality of youth, the wonder of the woods and adolescent hunger for adventure, you have the ingredients for an excellent movie. Al Morton accepted the challenge offered by them, and turned out an interesting and competent film. Worth Scouting For has the indefinable quality that comes from fine filming, innate good taste and an understanding of boys' ways in the woods. Taking two independent youngsters and a large Boy Scout troop, Mr. Morton skillfully weaves a good story, based on the scorn of the two boys for the "sissy stuff" of Scouting. Both the troop and the boys go camping in the same area. The untrained campers make the mistakes avoided by the Scouts. They eat cold food because of their inability to build a fire; they become ill from smoking cigarettes which they have stolen; one almost drowns and is rescued by a Scout. They learn their lesson and decide that to "know how" is intelligent, not "sissy." A fine ability to film and direct youngsters with success makes Worth Scouting For an excellent picture which will be a delight to the actors in years to come. That, in itself, is a high accomplishment." Movie Makers, Dec. 1945, 495.
---
Total Pages: 209