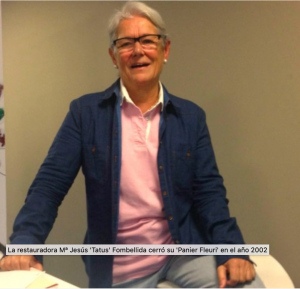 María Jesús Fombellida
Dates active:
1976-1984
Gender:
Female
Awards/Recognition:
Tarrasa City Charlot Award, Special Mention (1981)
IV Amateur Film Contest in Villa Franca de Penedes, Special Mention
I Amateur Film Contest of Valdesema, Special Mention (1981)
Profession:
Restaurant Manager
Biographical Notes:
Nacida en Errentería en 1946, creció en Donostia. En su adolescencia le regalaron un tomavistas y tras dos cortometrajes (Alco-Taba asesinos, 1976 y Los derechos humanos 1977) comenzó una serie de trabajos sobre distintas obras de artesanos de Euskadi, comenzando en el 1976 con Kaiuku hasta 1984 con Errota. Fundó junto con Miguel Angel Quintana y otros la productora Video de Alta Banda (VideoLAN). Realizaron trabajos de tipo documental y comercial en colaboración con ETB, manteniéndose en activo hasta 1994. Compaginó su actividad en el cine documental con la gestión del restaurante familiar Panier Fleuri, al que dedicaría gran parte de su vida laboral. Es integrante del movimiento gastronómico de la nueva cocina vasca.

Born in Errentería in 1946, she grew up in Donostia. During her teenage years she received a small format camera and after making two short films (Alco-Taba murderers, 1976 and The human rights, 1977) she began a series of films on diverse works from Euskadi artisans, beginning in 1976 with Kaiku until 1984 with the film Errota. Along with Miguel Angel Quintana and others, she founded the production company Video de Alta Banda [High Band Video] (VideoLAN). They did documentary and commercial video in collaboration with ETB, staying active until 1994. She combined her film activity with managing Panier Fleuri, a family restaurant to which she would dedicate a large portion of her working life. She is an active member of the new Basque cuisine gastronomic movement.

Bibliographic Resources:
Oarso 95. Errentería: Editorial Ayuntamiento de Errentería, 1995, 18-19

Oarso 82. Errentería: Editorial Ayuntamiento de Errentería, 1982, 112.