Tullio Pellegrini
Gender:
Male
Awards/Recognition:
PSA Ten Best 1954, PSA Gold Medal Award 1957, PSA Ten Best 1957, PSA Gold Medal Award 1958, PSA Ten Best 1958
Films:
Biographical Notes:
Italian American from San Francisco, California. Inventor with patents related to movie cameras. Was a seller of variable shutter units for amateur cameras.
Bibliographic Resources:
PSA Journal, January 1955, PSA Journal, Nov. 1958, 46.
Other resources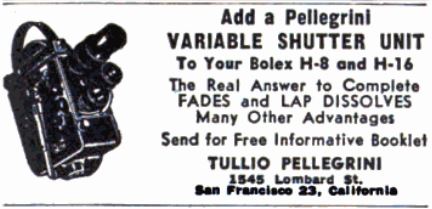 ​