---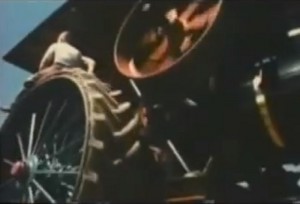 Date produced: 1968
Filmmaker(s):
Description:
"Those sensual machines, steam tractors, reveal a remarkable ability to perform to music." Canadian Filmmakers Distribution Centre.
---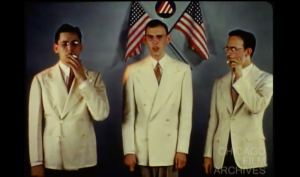 Date produced:
Description:
"Three men encourage people to follow rules set by the air raid warden in the event of an air raid. The rules are put to song, and some rules are depicted by actors." Chicago Film Archives
---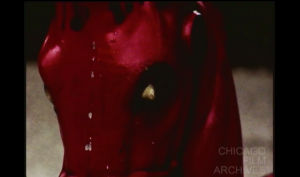 Date produced: 1971
Filmmaker(s):
Description:
"Student film made at the School of the Art Institute of Chicago set to "Sugar Mountain," a song by Canadian folk rock singer and composer Neil Young." Chicago Film Archives
---
Date produced: 1959
Filmmaker(s):
Description:
"This film is dedicated to all lousy golfers who give up the game daily..." Fully narrated film of a round of golf at the [Cape Neddick?] Country Club in Ogunquit, Maine. Foldfilm.org
---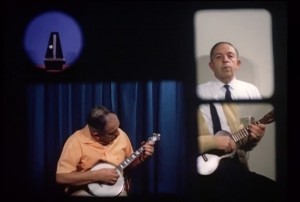 Date produced: 1970
Filmmaker(s):
Description:
"Multiple Sidosis by Sidney N. Laverentz a PSA member of National City, California. Sid's title is a mind-boggler surpassed only by the unbelievable single frame multi-image exposures, all in synchronization, that is reminiscent of his winner of a few years ago, "One Man Band." This 10-minute 16mm film won for him a Ten Best medal and the Golden Microphone Award, the new title for the past Sound Award" PSA Journal, Nov. 1970, 38.
---
Date produced: 1963
Filmmaker(s):
Description:
"A fast ride through the mountains, over the desert, and on to the freeways to the accompaniment of a superb sound track. An audio-visual experiment designed to elicit a response from the audience. You cannot help but become a part of the "tempo" PSA Journal, Oct. 1963, 42.
---
Date produced: 1963
Filmmaker(s):
Description:
"From the era of jazz to the big swing bands, show business has meant life and music. The voices of Sophie Tucker, Al Jolson and Bing Crosby bring nostalgic memories as they sing those grand old songs. Clever, pantomime, night scenes of New York, familiar faces, along with the arrangements of Benny Goodman, Glen Miller and others, make the audience chuckle as they tap their toes and swing their shoulders, being caught up in the rhythm and excitement of "Show Biz" PSA Journal, Oct. 1963, 42.
---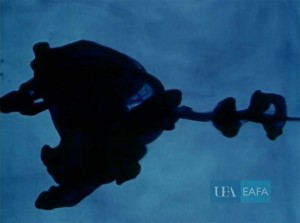 Date produced: 1962
Filmmaker(s):
Description:
"Floating, bubbling, revolving, darting, projecting, swirling, blending, forming, superimposing colors upon colors in sync with jazz music. Two numbers of different tempo and patterns, a fantasia of color configuration and music. What can one say about this type of visual and audible accomplishment on film? This will be included in the [prize winning] Package." PSA Journal, Oct. 1962, 34.
---
Date produced: 1949
Filmmaker(s):
Description:
"The familiar plight of a boy who disappears just before his music lesson is the simple springboard launching The Great Man Hunt. The subsequent adventures of the older brother and a reluctant pal who search for the errant youngster build into a chase sequence (on the teen age level) that is soundly representative of basic movie techniques. In developing this theme, Donald Volkman set himself many a difficult exposure problem — notably in shots of the boys aboard a trolley car and in wooded areas with sunlight slanting through tall trees. His solution of these problems is satisfying in every case. Further, Mr. Volkman's cross cutting in the chase sequences indicates intelligent study of professional masters of this technique. A swift climax is presented amusingly as the music teacher apprehends the boy who, wearing only a pair of swimming trunks, tucks a violin under his chin and proceeds to play his lesson at the edge of a lake." Movie Makers, Dec. 1949, 455.
---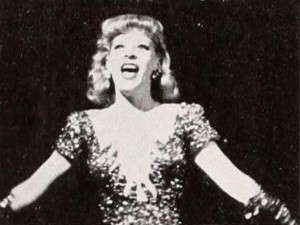 Date produced: 1944
Filmmaker(s):
Description:
"Oscar H. Horovitz had, obviously, a certain amount of influence aiding his production of Follow the Girls, a motion picture study of the Gertrude Niesen musical comedy. This fact, however, does not explain the secret of his success. Others before him have had influence behind their filming of such dramatic spectacles as the circus, indoor ice carnivals, pageants and assorted stage shows. The influence did not help; their filming remained but a record, immobile and inanimate between the confines of a proscenium arch. Not so in Follow the Girls! Although executed with brilliant technical ability, the paramount triumph of this picture is its prevailing and sure sense of genuine cinematics. The cameraman seems to have been everywhere — on stage and off. Scenes of an ensemble or of a single singer cut in complete confidence from long shot to medium to closeup, without missing so much as a shoe tap. Follow the Girls, besides being lively and colorful entertainment, should serve as a model for all future personal movies of its kind and as an important record of this era of entertainment." Movie Makers, Dec. 1944, 477, 494.
---