---
Date produced: 1935
Filmmaker(s):
Description:
"From Australia James A. Sherlock sent 'Harbor,' a picture in Kodachrome. While the picture was well made, finely edited and cut, it suffered from uneven coloring and density. Undoubtedly much was taken with the earlier Kodachrome which darkened rapidly after it was exposed if it was not rushed to the processing plant." American Cinematographer, Feb. 1937, 73.
---
Date produced: 1960
Filmmaker(s):
Description:
Edited film "chronicling travel through Tahiti and Mo'orea including scenic landscapes, aerial views, harbor scenes, resorts, local flora, markets, underwater scenes, dance and storytelling," Human Studies Film Archives, Smithsonian Museum.
---
Date produced: 1955
Filmmaker(s):
Description:
"The dependence of all living things on water. The physical properties of water; water as a habitat for such creatures as insects, birds, beavers, frogs; use and abuse of water resources by man." (BC Archives)
---
Date produced: 1964
Description:
"Film features trees and leaves, ducks, water, a statue, 2 women wearing coats, a bridge and some house-like structures. The garden was filmed in the spring/summer and fall" Archives of Ontario.
---
Date produced: 1935
Filmmaker(s):
Description:
"A background film, to be used to 'point up' a lecture (or sermon) on the benefits Nature disposes upon us" American Cinematographer, May, 1938, 204.

"The Abbé Tessier, who is a lecturer at Laval University, Quebec, made this film for use in connection with his own educational work. The film should be viewed with this in mind" American Cinematographer, April, 1938, 170.
---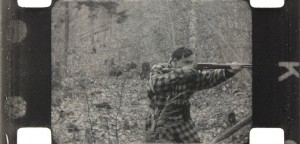 Date produced: 1926
Filmmaker(s):
Thomas Archibald (Archie) Stewart
Description:
"Structured around a hunting trip to Maine made by Archie Stewart and Howard Kendall. The two men travel to Perry, Maine, from New York state by train, then drive a car to a lake where they transfer their luggage to a motor boat on Grand Lake Stream and ride through heavy fog on rough water to West Grand Lake. They then carry a canoe to Lower Sysladobsis Lake, load the canoe with their rifles and supplies, and paddle off. After reaching their camp along the lake's shore, they check their rifles and eat before hunting." oldfilm.org
---
Date produced: 1937
Filmmaker(s):
Description:
"A Vacation with Lucy Carlisle, Margaret Pinkham, Virginia Carlisle." oldfilm.org
---
Date produced: 1938
Filmmaker(s):
Description:
"A process film with interititles about the spring capture of alewives, an andromadous fish." oldfilm.org
---
Date produced: 1957
Filmmaker(s):
Description:
"Title, 'Nequasset Bridge is on new location of Route 1 near the famous ship-building city of Bath.'" oldfilm.org
---
Date produced: 1948
Filmmaker(s):
Description:
"Brickett Bridge, Andover Maine was built in 1871 of native spruce lumber. It served its purpose well until 1948 when it was replaced with steel and concrete." oldfilm.org
---
Total Pages: 5