---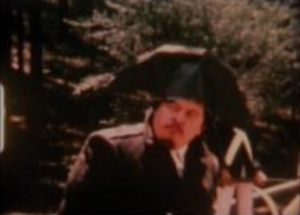 Date produced: 1971
Filmmaker(s):
Description:
"Se trataba del regreso de un soldado de origen mexicano a la Ciudad de México después de haber combatido en Vietnam con las tropas estadounidenses. El hombre llega a la estación del ferrocarril de Buenavista y recorre la ciudad para acabar finalmente en el departamento de su hermano. Busca trabajo y no lo encuentra. Por la voz off que sigue el hilo de sus pensamientos, nos enteramos que a su mente guerrera le cuesta trabajo adaptarse a la vida pacífica. La película intercala una serie de secuencias oníricas que de alguna manera ilustran su delirio belicista: sueña que es un soldado griego que asesina al niño que lo molesta en el taxi colectivo (un pesero) que lo conduce a casa de su hermano; imagina en el personaje que lo entrevista cuando aplica para obtener un trabajo a Napoleón Bonaparte (interpretado por Juan José Gurrola) dirigiendo una batalla; o sueña que es un caballero medieval que asesina a su familia en un pacífico día de campo. Finalmente el personaje no encuentra cabida en la sociedad pacífica y acude –todavía en traje de caballero medieval – al aeropuerto para comprar un boleto de avión "a la guerra más próxima"" (Vázquez Mantecón, 2012).

"It is about the comeback of a Mexican soldier to Mexico City after fighting in Vietnam along with American troops. The man arrives to the train station in Buenavista y goes around the city to end up at his brother's apartment. He looks for a job and cannot find one. The off voice, that follows his train of thought, tells us that his war mind has trouble adapting to a peaceful life. The film inserts a series of dreamlike sequences that in a way illustrate his war delirium: he dreams he is a greek soldier that murders the kid that bothers him in a collective cab that drives him to his brother's house; he imagines the character that interviews him when he is looking for a job is Napoleon Bonaparte (played by Juan José Gurrola) directing a battle: or he dreams he is a medieval knight that murders his family in a peaceful day in the country. Finally the character doesn't find a place in a peaceful society and goes –still in medieval armor– to the airport to buy a by a plane ticket to the "nearest war" " (Vázquez Mantecón, 2012).
---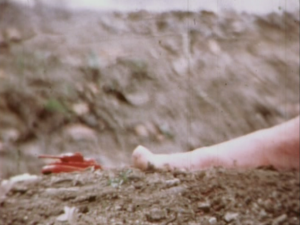 Date produced: 1972
Filmmaker(s):
Description:
" La segunda primera matriz narraba visual y poéticamente una historia de la humanidad, desde el origen hasta la carrera espacial, como una nueva frontera. En una primera sección, entre tomas de nubes, remolinos y oscuridad, hacía referencia al origen de la vida. (...) Después del lanzamiento del cohete y de las imágenes sobre la exploración del espacio, se ve a una mujer desnuda en el campo. La cámara hace un lento tilt down recorriendo su cuerpo. Al pasar por el pubis sigue a una gota de sangre que comienza a deslizarse por la pierna. Cuando llega al suelo aparece un desfile de tanques de guerra en miniatura, rojos, como los que se habían mostrado anteriormente en la película. La película termina con un cartel que dice 'Pero también se puede parir la nada' " (Vázquez Mantecón, 2012).

La segunda primera matriz [The second first womb] told visually and poetically a story about humanity, from its origin to the Space Race, as a new frontier. In a first section, amongst shots of clouds, swirls and darkness, it referred to the origin of life. (...) After the launch of a rocket and images about exploring space, the film shows a woman naked in the country. The camera makes a slow tilt down of her body. When passing by the pubis, the camera follows a drop of blood that slides by the leg. When it reaches the floor, a parade of miniature war tanks appear, red, like the ones previously shown. The film ends with a sign that says 'But you can also give birth to nothing' " (Vázquez Mantecón, 2012).
---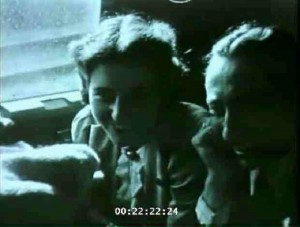 Date produced: 1942
Description:
"Title onscreen indicates that the footage shows an outing of the Munich amateur film club to Dachau, 1942. . . . They arrive at the station and begin filming in the residential/commercial areas of the town (NOT the camp)." United States Holocaust Memorial Museum.
---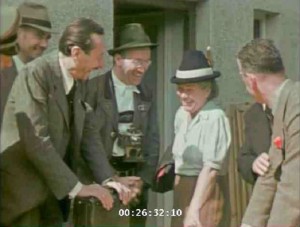 Date produced: 1943
Description:
"This outing was shot by a baker who supplied bread to Dachau concentration camp. . . . Another title reads: 'Der Ausflug des BDFA, 1943' [Outing of the amateur film club, 1943]." United States Holocaust Memorial Museum.
---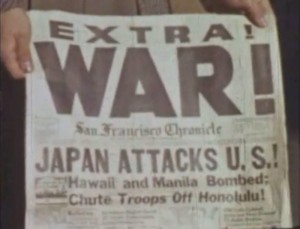 Date produced: 1945
Filmmaker(s):
Description:
"Amateur film footage shot by Dave M. Tatsuno while he was interned at the Topaz War Relocation Center, the Japanese-American internment camp located in Delta, Utah. The footage dates from 1942-1945, the years that Tatsuno was interned in the camp." Archives West.
---
Date produced: 1944
Filmmaker(s):
Description:
"A lesson on FDR's Four Freedoms." ("More about an Amateur Cinema League of Nations.")
---
Date produced: 1976
Filmmaker(s):
Description:
"Edited film created by Frank L. Kreznar, an award winning amateur filmmaker, documents Slovenia, Croatia, Bosnia-Herzegovina, Vojvodina, and Serbia. Most of the footage is of countryside or mountainous areas although Kreznar depicts Zagreb, Croatia, and Belgrade, Serbia. The historic Petrovaradin Fortress in Vojvodina, Serbia, is only historic building filmed. The footage of Slovenia emphasizes agriculture, while the footage of Bosnia-Herzegovina includes scenic shots of mountains and waterfalls. Kreznar also shows traditional houses in the rural areas providing a contrast to modern Soviet construction such as Soviet-style apartment buildings. Shots of urban areas also include an emphasis on the lack of cars, high volumes of pedestrian traffic, and the popularity of public transportation. He depicts churches that are still being actively used while discussing the lack of Soviet suppression of religion in Yugoslavia, and he shows the existence of privately held business enterprises such as taxi services and cafés. He also mentions that the majority of Yugoslavian agriculture is under private, family control and that private businesses with five or less employees are allowed to exist. Kreznar discusses the impact of wars between Eastern and Western Europe on this territory, showing various war memorials throughout the film. The film ends with footage of hitchhikers – mainly from countries in Western Europe – attempting to travel through the country" via the Human Studies Film Archives, Smithsonian Museum.
---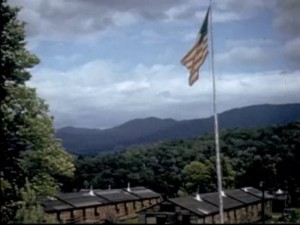 Date produced: 1944
Filmmaker(s):
Description:
"Filmed in color during the war years of 1941-1944, this silent film shows the Vermont State Guard holding muster at the Tunbridge Fairgrounds and at Camp Wills, which later became Camp Johnson in Colchester, Vermont. The film also shows a bond rally on the steps of the Statehouse in Montpelier, and maneuvers at the airfield in Berlin, Vermont, and at a camp in Moscow, Vermont. The State Guard began as Company H, 1st Regiment, Infantry in 1941 and was re-organized in 1943 as Company H, 2d Battalion. This film is an important documentation of the State Guard's early history and Vermont's home front activities during World War II. Although silent, intertitles are inserted with an explanation of the scenes to follow, as well as scrolling text of explanation at the beginning and end of the film." Vermont Historical Society.
---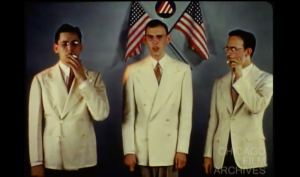 Date produced: 1942
Filmmaker(s):
Description:
"Three men encourage people to follow rules set by the air raid warden in the event of an air raid. The rules are put to song, and some rules are depicted by actors." Chicago Film Archives
---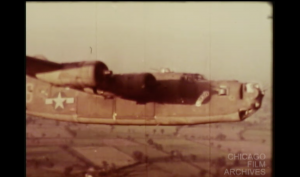 Date produced: 1945
Filmmaker(s):
Description:
"A short combat film documenting WWII allied forces "liberation over Europe." The film begins in Wesel, Germany March 24, 1945, followed by aerial shots of war-torn countries. The film ends with a non fatal crash landing followed by allied forces drinking coffee." Chicago Film Archives
---
Total Pages: 4