---
Date produced: 1976
Filmmaker(s):
Description:
"Edited film created by Frank L. Kreznar, an award winning amateur filmmaker, documents Slovenia, Croatia, Bosnia-Herzegovina, Vojvodina, and Serbia. Most of the footage is of countryside or mountainous areas although Kreznar depicts Zagreb, Croatia, and Belgrade, Serbia. The historic Petrovaradin Fortress in Vojvodina, Serbia, is only historic building filmed. The footage of Slovenia emphasizes agriculture, while the footage of Bosnia-Herzegovina includes scenic shots of mountains and waterfalls. Kreznar also shows traditional houses in the rural areas providing a contrast to modern Soviet construction such as Soviet-style apartment buildings. Shots of urban areas also include an emphasis on the lack of cars, high volumes of pedestrian traffic, and the popularity of public transportation. He depicts churches that are still being actively used while discussing the lack of Soviet suppression of religion in Yugoslavia, and he shows the existence of privately held business enterprises such as taxi services and cafés. He also mentions that the majority of Yugoslavian agriculture is under private, family control and that private businesses with five or less employees are allowed to exist. Kreznar discusses the impact of wars between Eastern and Western Europe on this territory, showing various war memorials throughout the film. The film ends with footage of hitchhikers – mainly from countries in Western Europe – attempting to travel through the country" via the Human Studies Film Archives, Smithsonian Museum.
---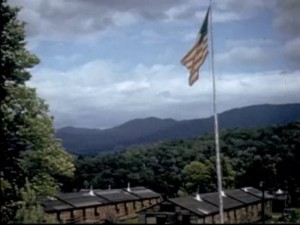 Date produced: 1944
Filmmaker(s):
Description:
"Filmed in color during the war years of 1941-1944, this silent film shows the Vermont State Guard holding muster at the Tunbridge Fairgrounds and at Camp Wills, which later became Camp Johnson in Colchester, Vermont. The film also shows a bond rally on the steps of the Statehouse in Montpelier, and maneuvers at the airfield in Berlin, Vermont, and at a camp in Moscow, Vermont. The State Guard began as Company H, 1st Regiment, Infantry in 1941 and was re-organized in 1943 as Company H, 2d Battalion. This film is an important documentation of the State Guard's early history and Vermont's home front activities during World War II. Although silent, intertitles are inserted with an explanation of the scenes to follow, as well as scrolling text of explanation at the beginning and end of the film." Vermont Historical Society.
---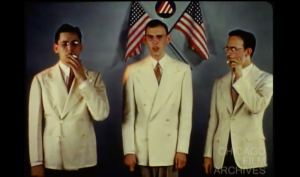 Date produced:
Description:
"Three men encourage people to follow rules set by the air raid warden in the event of an air raid. The rules are put to song, and some rules are depicted by actors." Chicago Film Archives
---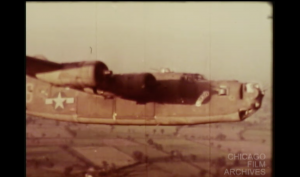 Date produced: 1945
Filmmaker(s):
Description:
"A short combat film documenting WWII allied forces "liberation over Europe." The film begins in Wesel, Germany March 24, 1945, followed by aerial shots of war-torn countries. The film ends with a non fatal crash landing followed by allied forces drinking coffee." Chicago Film Archives
---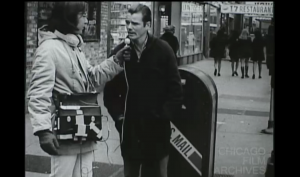 Date produced: 1971
Filmmaker(s):
Description:
"RATAMATA is a portrait of the diverse opinions of Chicagoans (ranging from high school students to habitual mayoral candidate Lars Daly) as they reflect on the general state of affairs in America, the war in Vietnam, social and racial conflict, freedom and personal liberty, happiness, and social justice." Chicago Film Archives
---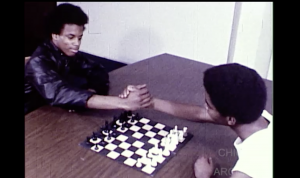 Date produced: 1972
Filmmaker(s):
Description:
"A South Shore High School student film that is an allegory on the wastefulness of war and the duplicity of those who wage it. Filmmaker Wayne Williams, who was 17 at the time, cuts back and forth between a chess game and a guerrilla theater war game to underscore the sense of importance of the fighters and the cynicism of those who control their lives - and deaths." Chicago Film Archives
---
Date produced: 1940
Filmmaker(s):
Description:
"A propaganda film, made in the early days of the Second World War. Opening with footage of a giant Empire Youth Rally at Brockton Point Oval, the film illustrates Canadian democratic values, institutions and ideals which are now threatened by fascism and war -- farming, industry, the home and family, education, racial tolerance, elections, and religious freedom. Also includes footage of First World War memorials in Vancouver and Victoria, cemeteries, Remembrance Day ceremonies and parades, and veterans. Canada's contribution to the war effort is shown through shots of recruiting stations, marching recruits, military parades, warships, etc. One lengthy sequence uses model airplanes, dramatizations, stock shots, photographs, and footage of local civil defence drills to simulate the impact of aerial attacks on British cities during the Blitz (including civilian casualties and damaged or burning buildings)" British Columbia Archives.
---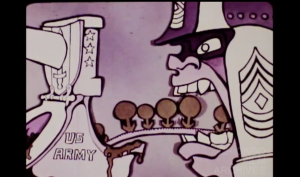 Date produced: 1970
Filmmaker(s):
Description:
"University of Illinois Chicago (UICC) animated student film about being drafted to the Vietnam War." Chicago Film Archives
---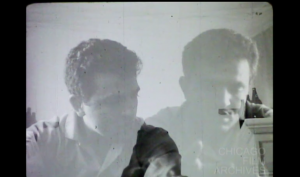 Date produced: 1970
Filmmaker(s):
Description:
"Columbia College student film about a young man receiving and responding to his Vietnam draft card." Chicago Film Archives
---
Date produced: 1969
Filmmaker(s):
Description:
"A short amateur film that show "how to stop a war without trying anything much." Footage of protesters and activists advocating against the war in Vietnam are intercut with altered images of war." via Chicago Film Archives
---
Total Pages: 3