---
Date produced: 1966
Filmmaker(s):
Description:
Stan Midgley travels by bicycle through Utah in this "chucklelogue."
---
Date produced: 1951
Filmmaker(s):
Description:
"'Jeep Trails Through Utah' was produced by Stan Midgley with the use of a jeep rather than his faithful bicycle. He had to leave his bicycle at home, as the deep sands of Utah can only be traveled in a jeep. In his mechanical horse he criss-crossed one of the emptiest blanks on the American map. He leaves the traveled highways and goes back into the little known areas to find fantastically beautiful and unusual natural formations. He travels over sand-blown desert trails, up rocky mountain paths and through treacherous mountain gorges to produce a gem-like picture of Utah." La Canada Valley Sun, Sept. 9, 1971.
---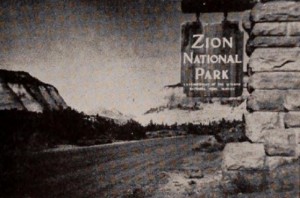 Date produced: 1946
Filmmaker(s):
Description:
"Mr. Midgley's production is a gay and picaresque saga of a 350 mile jaunt by bicycle along the highways of Bryce and Zion National Parks and Cedar Breaks National Monument. Distinguished camera work, pleasing compositions and imaginative treatment contribute to the film's success. Outstanding in the picture, however, are its crisp pace and lighthearted laughter at the cyclist's own wry adventures. Brightly executed titles and a restrained use of a fine "running gag" round out this altogether engaging travel study." Movie Makers, Jan. 1947, 49.
---
Date produced: 1939
Filmmaker(s):
Description:
"This color film was shown at Duncan MacD. Little's 11th annual International show of amateur motion pictures. The rising sun greets the golden fairyland of Bryce. Tunnels cut through the rocks, car passing through. Shot after shot of beautiful scenery with lovely sky and cloud affects. People climbing. Camp life shows the rugged simplicity of the daily routine of outdoor life. Grand Canyon nature's mightiest spectacle. Sunset. The magic of stop-motion compresses time and hastens drifting clouds. Night draws a veil over flaming canyon and wonderland" Educational Film Guide, 1945 Edition, 412.
---
Date produced: 1957
Filmmaker(s):
Description:
"Al Morton's "Wild Water and Bouncing Boats" takes us through Desolation and Gray Canyons on the Green River which flows into the great Colorado River. The Green River starts in northern Utah and joins the Colorado south of Arches Monument in Utah. The picture takes us down the Colorado as far as the Hoover Dam. The country abounds in desert and canyon scenery—to say it is spectacular is a display of modesty. There are canoes and other hand-powered craft on the turbulent rapids with upsets and the struggle to gain an island rock and the shore. There are craft equipped with outboard motors to drive it through turbulent waters and rapids. This film is packed with thrills for those who like rough water" PSA Journal, Nov. 1957, 33.
---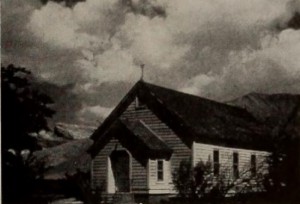 Date produced: 1953
Filmmaker(s):
Description:
"In Caineville, Glen H. Turner has now turned his camera on a Western ghost town, and with moments of sheer movie magic, he has brought it to life again. The slow turning by the wind of the leaves of an abandoned school book, and the slow pan to initials carved on a schoolhouse desk, evoke as if he were alive the youngster who carved them. In another scene, done with consummate smoothness, Mr. Turner shows an abandoned street on which a schoolboy, with books over his shoulder, slowly materializes into solid form — and then dissolves again into thin air. Surrounding Caineville always are the brooding mountains and the ever-encroaching river which implacably seeks to destroy the last vestiges of the crumbling village. Caineville is a triumph of imaginative creation over static material." Movie Makers, Dec. 1953, 320.
---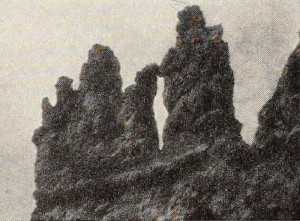 Date produced: 1951
Filmmaker(s):
Description:
"Leo J. Heffernan's 'What God Hath Whrought" pictures some of the wonders of Nature, with emphasis on the mighty Niagara Falls. His color photography is excellent." American Cinematographer, May 1952, 224.

"While motoring through Zion National Park, Leo J. Heffernan photographed the mountains, trees and canyons as they passed by his camera. The resulting picture, What God Hath Wrought, filmed almost entirely from his moving car, has an amazing three-dimensional effect. Changes in depth and perspective give the viewer a strong sense of participation, a true feeling that he is actually on the spot. For, traveling along the main highways, where so many tourists drive each year, Mr. Heffernan shows us this usually static subject from a tourist's level — but with new and refreshing viewpoints." Movie Makers, Dec. 1952, 341.
---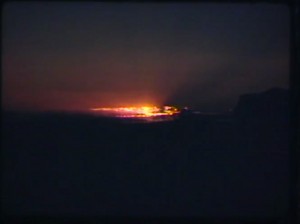 Date produced: 1950
Filmmaker(s):
Description:
"In I Walked a Crooked Trail, O. L. Tapp has lured a good deal of motion and humor out of what must be one of the world's most static subjects — the Arches National Monument. Remembering that story interest is an important part of cinematics, Mr. Tapp has kept his very competent camera trained on continuous human action, letting his travelog unwind itself, very subtly, as a background. The film is limited by the essential triviality of its theme — the unfolding of a practical joke. But within its limits it does very well indeed." Movie Makers, Dec. 1950, 467-468.
---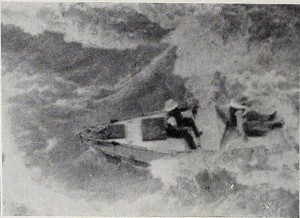 Date produced: 1950
Filmmaker(s):
Description:
"Al Morton has conquered another river. This time it is the unruly turbulence of the Green River in Utah. Not content to be simply a passenger, Mr. Morton built his own boat (and named it Movie Maker!) for shooting the rapids, one of three craft making up the river party. Green River Expedition is a record of lazy, sunny days on quiet stretches, of motor trouble and of scenery along the banks, of back breaking portages where the rapids are too dangerous to maneuver, and finally of the breath taking excitement of riding the tumultuous waters. To partake of this dangerous sport would seem accomplishment enough, but Mr. Morton puts it all on film as well, in about as sparkling, steady photography as one will ever see. The narrative accompaniment, while informative concerning the technique of river boating and the historical background of the surrounding country, seemed overfull. It is enough, in parts, to devote one's whole attention to the thrilling action on the screen." Movie Makers, Dec. 1950, 464.
---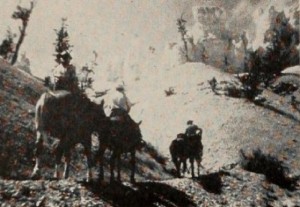 Date produced: 1947
Filmmaker(s):
Description:
"In a land that abounds in colorful formations, Frank Gunnell's discerning camera has recorded in appealing detail the less usual, as well as the familiar, views of Bryce Canyon. This thorough coverage of a popular national park is enhanced by pleasant scenes of a pack trip, closeups of the darting antics of a chipmunk and a "running gag" of the hungry cameraman, whose equipment .cases carry edibles with film and filters. Bryce Canyon Trails provides the audience with a wholly entertaining tour of this famous and awesome natural wonder. Mr. Gunnell, as always, presents breath taking camera work in his integrated and admirable reproduction of a vast canvas." Movie Makers, Dec. 1947, 514.
---
Total Pages: 2