---
Date produced: 1935
Filmmaker(s):
Description:
"Film footage moderately edited with added intertitles, shot in Ceylon, Egypt, and Italy by oil explorer and geologist Walter Link during his personal vacation, records various tourist destinations. Landmarks include: the beach and harbor at Colombo, Sri Lanka (Ceylon); the Sphinx, pyramids, Mosque of Mohamed Ali and Egyptian Museum in and around Cairo, Egypt; Villa San Michele in Capri, Italy; and St. Peters and the Coliseum in Rome, Italy. Footage consists mainly of sights and structures, and features little interaction with local inhabitants," Human Studies Film Archives, Smithsonian Museum.
---
Date produced: 1960
Description:
"Edited film by Floyd Henry Wells, a retired salesman and a member of the Wally Byam Caravan Club of Airstream trailers, chronicles travel with a Wally Byam club down the Baja Peninsula. Film documents scenic landscapes, road signs and natural wonders along the Baja Pen and scenes of cities, town, churches and markets in Mexico. Film also captures local peoples including Mexican bands and dancers and a bakery with an outdoor stone oven. Some identified locations include Ensenada, Rancho Santa Ynez, El Presidente (motor lodges), Santa Rosalia, Tropic of Cancer, La Paz, Alamos, El Caracol and the Hotel los Portales. Film is narrated by his wife, Ruth Wells, who identifies many of the locations and events depicted with some historic comments or trivia. Wells also comments on various issues of importance to travelling by an Airstream trailer such as water sources and etiquette," Human Studies Film Archives, Smithsonian Museum.
---
Date produced: 1962
Filmmaker(s):
Description:
Edited film "chronicling an airstream caravan through Central America (Mexico, Guatemala, El Salvador, Panama, Costa Rica). Film includes many views of scenic landscapes, mountain roads, cities and villages, ruins (Kabah, Uxmal, Dzibichaltun, Chichen Itza) and historic landmarks and airstream trailers tavelling or in recreational vechicle parks. In Guatemala they visit the villages Solola and Panajachel near Lake Atitlan and and town of Antigua. Scenes also include marketplaces, churches and chuch-life, a woman weaving, local crafts, washing clothing at public fountains" Human Studies Film Archives, Smithsonian Museum.
---
Date produced: 1929
Filmmaker(s):
Description:
"West Virginia, the State Beautiful is organized as a series of scenic vignettes taken during an auto trip eastward on Route 60, known as the Midland Trail .... This route, first proposed by George Washington in 1783, had been upgraded for automobiles in the 1920s and is portrayed here as a source of civic pride. Rev. Snodgrass probably screened his 75-minute travel documentary for church and civic groups. The five excerpts included here begin with the start of the tour in the border town of Kenova, whose name is laid out in an intertitle ("KEN. O. VA.") to drive home its derivation from the first letters of the states the town touches: Kentucky, Ohio, and (West) Virginia. In Huntington, Route 60 runs down busy Fifth Avenue and past the International Nickel Company, opened six years earlier and rightly labeled in the titles as the world's largest nickel alloy plant. Farther east in the higher Appalachians are glimpses of sheer "LOVER'S LEAP" cliffs (before the Hawks Nest Dam was built in the 1930s) and lumber-industry trains geared for the steep hills. Rev. Snodgrass closes with a homemade sing-along slide for the state song, "The West Virginia Hills."" —Scott Simmon
---
Date produced: 1970
Description:
"... a view of the tourist side of the city through the eyes of Captain Vancouver, brought to life from the golden figure atop the legislature buildings." Captain Vancouver was played by Victoria entertainer Jerry Gosley. The process of shooting, editing and post-production is described in Margaret Sharcott's Daily Colonist article.
---
Date produced: 1938
Filmmaker(s):
Description:
"B&W: views of Arrow Lakes scenery from a sternwheeler; arrival; the "Minto" at dock. Two men travelling by packhorse in the Lardeau. The steam tug "Beaton". Sequence on gold mining in the Cariboo, with footage of a hydraulic mining operation. COLOUR: Vancouver; Lions Gate Bridge and Stanley Park approach; city skyline. Trip on the steamship S.S. "Catala": views at sea; approaching settlement; people meeting the boat; log boom and sawmill adjacent to the dock. Alert Bay: views of village, store, homes, etc.; Indian children at play; schoolgirls in red sweaters [from St. Michael's Indian Residential School]; steamboat arriving; many shots of totem poles, graveyard, etc. Fishing fleet in harbour, preparing nets, and heading out to sea. Fishboat crew hauling in net full of thrashing salmon, and brailing them onto boat. Other fishboats setting their nets, hauling in salmon. Fishboat crew unloading salmon onto conveyor; shots of cannery wharf, female cannery workers. Savary Island: family vacation scenes; lodge; children at play; adults playing golf on beach at low tide; departing on a boat trip." (BC Archives)
---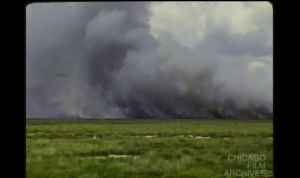 Date produced: 1954
Filmmaker(s):
Description:
"2 part edited footage of a road trip along the Gulf Coast from Louisiana to the border of Mexico. Includes much natural scenery, often from a moving car, but also documents visits to the Tabasco factory and two ranches. A woman also evokes the Longfellow poem, Evangeline, by taking a wistful walk." Chicago Film Archives
---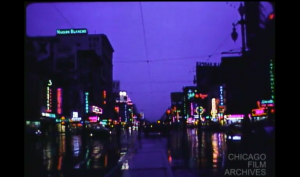 Date produced: 1954
Filmmaker(s):
Description:
"2 part edited footage of a road trip along the Gulf Coast from Louisiana to the border of Mexico. Includes much natural scenery, often from a moving car, but also documents visits to the Tabasco factory and two ranches. A woman also evokes the Longfellow poem, Evangeline, by taking a wistful walk." Chicago Film Archives
---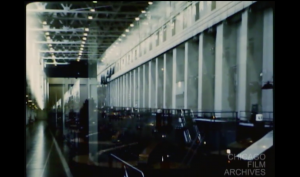 Date produced: 1950
Filmmaker(s):
Description:
"Edited travelogue footage of a trip down the Columbia River. Along with scenic views, industrial processes are documented such as harvesting grain, canning salmon, making plywood and the factory production of sweaters." Chicago Film Archives
---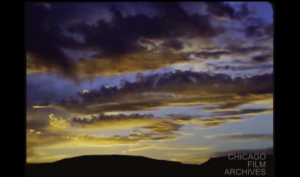 Date produced: 1950
Filmmaker(s):
Description:
"Edited travelogue footage of a trip down the Columbia River. Along with scenic views, industrial processes are documented such as harvesting grain, canning salmon, making plywood and the factory production of sweaters." Chicago Film Archives
---
Total Pages: 4