---
Date produced: 1960
Filmmaker(s):
Description:
"Stan Midgley returns again, this time presenting the "Yellowstone Tetons and Glacier Park." In the wonderful northwest corner of Wyoming you can see spectacular mountains, beautiful lakes, canyons, waterfalls, wild animals and more natural wonders than a tourist can see in a month. There are superb pictures of most of the world's greatest geysers and the changes made by the great 1959 earthquake with before and after pictures. There is Earthquake Lake and its notorious landslide. The Cooke City Red Lodge Highway over the Beartooth Mountains —Ghost Towns and modern towns of Western Montana —Glacier Park, beautiful from the highway, incomparable from the wilderness trail. The ending comes in the golden glory of autumn." Central Union Reaper, Sept. 27, 1966, 3.
---
Date produced: 1966
Filmmaker(s):
Description:
Stan Midgley travels by bicycle through Utah in this "chucklelogue."
---
Date produced: 1949
Filmmaker(s):
Description:
"A new illustrated lecture filmed on an amusing trip by bicycle through the isolated, unspoiled southwestern corner of Colorado." Pacific Union Recorder, Dec. 12, 1949, 4.
---
Date produced: 1951
Filmmaker(s):
Description:
"'Jeep Trails Through Utah' was produced by Stan Midgley with the use of a jeep rather than his faithful bicycle. He had to leave his bicycle at home, as the deep sands of Utah can only be traveled in a jeep. In his mechanical horse he criss-crossed one of the emptiest blanks on the American map. He leaves the traveled highways and goes back into the little known areas to find fantastically beautiful and unusual natural formations. He travels over sand-blown desert trails, up rocky mountain paths and through treacherous mountain gorges to produce a gem-like picture of Utah." La Canada Valley Sun, Sept. 9, 1971.
---
Date produced: 1944
Filmmaker(s):
Description:
"Sept. 1944 - 489 miles by Bicycle over the Rockies." UCLA Film and Television Archive.
---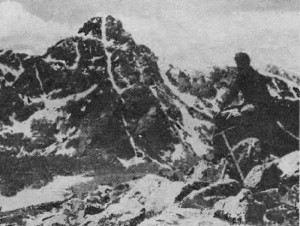 Date produced: 1958
Filmmaker(s):
Description:
"In a color chucklelogue Midgley will show spectacular pictures of Colorado today and give a nostalgic look into Colorado's colorful past. . . . The film features Denver, Pikes Peak, the Garden of the Gods, the Royal Gorge, Estes Park, ascent of Longs Peak, Trail Ridge Road, skiing at Aspen, and pictures of ghost towns and horseless carriages. Some of these pictures, filmed in excellent color years ago during the last days of the Narrow Gaugers, could never be replaced." The Clock Tower, Oct. 17, 1969, 1.
---
Date produced: 1959
Filmmaker(s):
Description:
"On bicycle and afoot, Stan Midgley, humorist and photographer, explored some of the more inaccessible points of the Canadian Rockies. The result of his adventures is 'Awheel and Afoot in the Canadian Rockies'." Battle Creek Enquirer, Oct. 16, 1959, 26.
---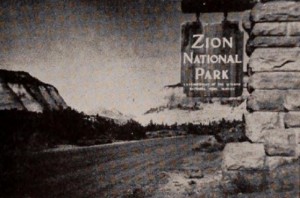 Date produced: 1946
Filmmaker(s):
Description:
"Mr. Midgley's production is a gay and picaresque saga of a 350 mile jaunt by bicycle along the highways of Bryce and Zion National Parks and Cedar Breaks National Monument. Distinguished camera work, pleasing compositions and imaginative treatment contribute to the film's success. Outstanding in the picture, however, are its crisp pace and lighthearted laughter at the cyclist's own wry adventures. Brightly executed titles and a restrained use of a fine "running gag" round out this altogether engaging travel study." Movie Makers, Jan. 1947, 49.
---
Date produced: 1929
Filmmaker(s):
Description:
"West Virginia, the State Beautiful is organized as a series of scenic vignettes taken during an auto trip eastward on Route 60, known as the Midland Trail .... This route, first proposed by George Washington in 1783, had been upgraded for automobiles in the 1920s and is portrayed here as a source of civic pride. Rev. Snodgrass probably screened his 75-minute travel documentary for church and civic groups. The five excerpts included here begin with the start of the tour in the border town of Kenova, whose name is laid out in an intertitle ("KEN. O. VA.") to drive home its derivation from the first letters of the states the town touches: Kentucky, Ohio, and (West) Virginia. In Huntington, Route 60 runs down busy Fifth Avenue and past the International Nickel Company, opened six years earlier and rightly labeled in the titles as the world's largest nickel alloy plant. Farther east in the higher Appalachians are glimpses of sheer "LOVER'S LEAP" cliffs (before the Hawks Nest Dam was built in the 1930s) and lumber-industry trains geared for the steep hills. Rev. Snodgrass closes with a homemade sing-along slide for the state song, "The West Virginia Hills."" —Scott Simmon
---
Date produced: 1930
Filmmaker(s):
Description:
"Amateur production. A man, Dent Harrison, falls asleep and dreams that the R-100 sails for North America from its base in England. Various long shots of the airship under way. After the mooring procedure is completed, S/L R.S. Booth, S/L E.L. Johnson, Capt. G.F. Meager and other members of the crew meet with the welcoming party led by Minister of National Defence, J.L. Ralston. G/C Stedman, G.J. Desbarats, Maj. Gen. McNaughton and officers of the U.S. Navy are also in attendance. Several civilians are also in the party. Harrison's "clone" visits with his "brother". Cut back to the airship and shots of repairs to damage sustained in a thunder storm over Trois-Rivières. Visitors climb into the airship in a high wind. The R-100 is shown leaving on its Canadian flight. View of the shadow of the ship on the ground and several shots from various distances, notably from Windrift, the summer home of the Harrisons at Lakeside, Québec. Aerials of Niagara Falls, Welland Canal, Toronto, a lake steamer, Kingston, Queen's University, Kingston Penitentiary, the Thousand Islands, with cuts inside the airship's gondola, with crew men silhouetted against bright windows. More aerial shots of Cornwall, the shadow of the R-100 on Montreal, Côte-St-Luc and Verdun. Various ground to air long shots and closer views of the R-100 in flight, of the airship moored to its mast at St-Hubert air base. Sequences on Dent Harrison talking to his "clone" as he edits his footage, projects it into the lens of the camera. The two have lunch and the clone departs. Shots of the R-100 leaving as seen fromn directly underneath. Cut back to Harrison waking up from his dream." (LAC description)
---
Total Pages: 4