---
Date produced: 1930
Filmmaker(s):
Description:
"Amateur production. A man, Dent Harrison, falls asleep and dreams that the R-100 sails for North America from its base in England. Various long shots of the airship under way. After the mooring procedure is completed, S/L R.S. Booth, S/L E.L. Johnson, Capt. G.F. Meager and other members of the crew meet with the welcoming party led by Minister of National Defence, J.L. Ralston. G/C Stedman, G.J. Desbarats, Maj. Gen. McNaughton and officers of the U.S. Navy are also in attendance. Several civilians are also in the party. Harrison's "clone" visits with his "brother". Cut back to the airship and shots of repairs to damage sustained in a thunder storm over Trois-Rivières. Visitors climb into the airship in a high wind. The R-100 is shown leaving on its Canadian flight. View of the shadow of the ship on the ground and several shots from various distances, notably from Windrift, the summer home of the Harrisons at Lakeside, Québec. Aerials of Niagara Falls, Welland Canal, Toronto, a lake steamer, Kingston, Queen's University, Kingston Penitentiary, the Thousand Islands, with cuts inside the airship's gondola, with crew men silhouetted against bright windows. More aerial shots of Cornwall, the shadow of the R-100 on Montreal, Côte-St-Luc and Verdun. Various ground to air long shots and closer views of the R-100 in flight, of the airship moored to its mast at St-Hubert air base. Sequences on Dent Harrison talking to his "clone" as he edits his footage, projects it into the lens of the camera. The two have lunch and the clone departs. Shots of the R-100 leaving as seen fromn directly underneath. Cut back to Harrison waking up from his dream." (LAC description)
---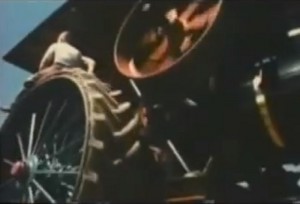 Date produced: 1968
Filmmaker(s):
Description:
"Those sensual machines, steam tractors, reveal a remarkable ability to perform to music." Canadian Filmmakers Distribution Centre.
---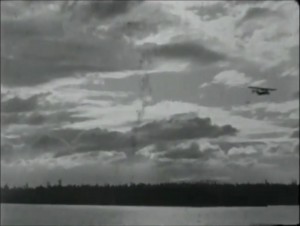 Date produced: 1933
Filmmaker(s):
Description:
"Members of the BC Mountaineering Club fly from Jericho Beach, Vancouver, in a Sikorsky S-38 amphibian (Canadian Airways, registration CF-ASO), and land on Garibaldi Lake. Most of the footage depicts the members climbing Mount Garibaldi and resting at the summit. Returning to the lake, they board the amphibian and fly back to Jericho Beach" British Columbia Archives.
---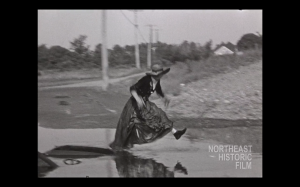 Date produced: 1937
Filmmaker(s):
---
Date produced: 1933
Filmmaker(s):
---
Date produced: 1932
Filmmaker(s):
---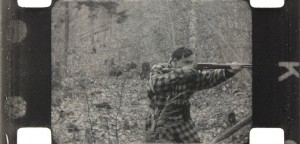 Date produced: 1926
Filmmaker(s):
Thomas Archibald (Archie) Stewart
Description:
"Structured around a hunting trip to Maine made by Archie Stewart and Howard Kendall. The two men travel to Perry, Maine, from New York state by train, then drive a car to a lake where they transfer their luggage to a motor boat on Grand Lake Stream and ride through heavy fog on rough water to West Grand Lake. They then carry a canoe to Lower Sysladobsis Lake, load the canoe with their rifles and supplies, and paddle off. After reaching their camp along the lake's shore, they check their rifles and eat before hunting." oldfilm.org
---
Date produced: 1937
Filmmaker(s):
Description:
"A Vacation with Lucy Carlisle, Margaret Pinkham, Virginia Carlisle." oldfilm.org
---
Date produced: 1927
Filmmaker(s):
Description:
"Romantic narrative by Rochester homemaker Marion Gleason that was used by Kodak to introduce home-moviemaking to the public." filmpreservation.org
---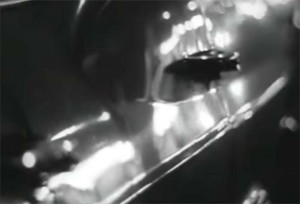 Date produced: 1967
Filmmaker(s):
Description:
"Herbie is an abstract pattern mostly of automobile headlights enough out of focus to cause the viewer to wonder what they are. The judges felt the maker of this film should be commended for synchronizing his sound track to the abstract movements, of the patterns made by the lights" PSA Journal, Aug. 1967, 37.
---
Total Pages: 3