---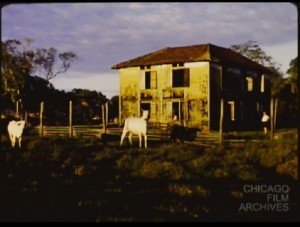 Date produced: 1957
Filmmaker(s):
Description:
"2 part edited travelogue film of the people and customs encountered in towns along the Amazon River in South America. Part one includes landscapes, a variety of housing from towns to shacks along the river, people selling goods, trapping and selling exotic animals, herding cattle, boating, and a religious ceremony." Chicago Film Archives.
---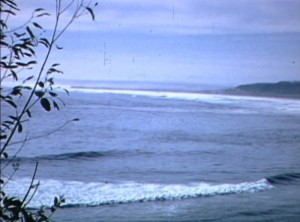 Date produced: 1957
Filmmaker(s):
Description:
Travelogue that visits tourist destinations across several countries in South America.
---
Date produced: 1933
Filmmaker(s):
Description:
"Red Sand, a carefully edited study of bull fighting, is another reel, which will run just over 200 feet selected from the 1000 feet that was shot." Movie Makers, Feb. 1933, 50.
---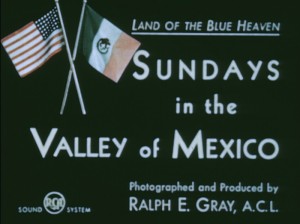 Date produced: 1942
Filmmaker(s):
Description:
"A colorful travelogue of modern, urban life in Mexico City. "Shows scenes typical of modern Mexico, such as the tall buildings and wide boulevards of Mexico City. The canal leading to Xochimilco, with its fruit- and flower-laden boats, is pictured. Then describes a festival held in honor of the Vice President of the United States, Henry Wallace, when he visited Mexico City. It includes a bullfight and a parade of Mexican beauties. Ends with a pageant of old and new Mexican dances" (War Films Bulletin of the Extension Division Indiana University, February, 1943, 19)" Indiana University Libraries Moving Image Archive.
---
Date produced: 1937
Filmmaker(s):
Description:
"'Eclipse over Peru,' a Cinecoles picture made by Charles Coles when he went with the Hayden Planetarium expedition to Peru for the total eclipse last year, is a gorgeous bit of colored travelogue" American Cinematographer, April, 1938, 173.
---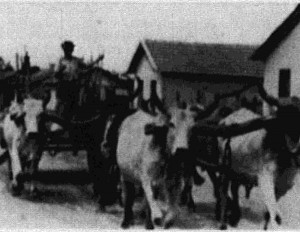 Date produced: 1956
Filmmaker(s):
Description:
"This travelogue of Belo Horizonte in Brazil contrasts modern cities with primitive roads and countrysides. The narration is excellent and the film has a well developed musical score." PSA Journal, Nov. 1956, 45.
---
Date produced: 1955
Filmmaker(s):
Description:
"A travelogue depicting the characteristics and life of this South American city. From the star, upon landing at the airfield in Rio, good photography is noted throughout the film." PSA Journal, Dec. 1955, 37.
---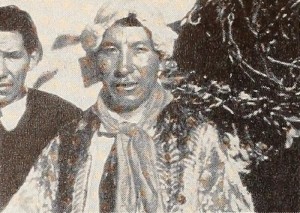 Date produced: 1952
Filmmaker(s):
Description:
"The curious and, to many of us, unknown peoples of the Bolivian Andes are the subjects of Ciudad de la Paz (City of La Paz), an interesting and colorful film by Eduardo Douglas Di Fiore. The peasants' life, arduous and squalid amid the beauty of their mountain home, has been competently and effectively documented. Their vividly colored costumes and monochromatic, weather-beaten faces take on a new beauty through the dramatic use of an interplay between natural light and shadow, a device which is used tellingly throughout the film. There are times, however, when Mr. Di Fiore tends to belabor his point. These overlong sequences, despite the ever-present beauty and grandeur, detract on occasion from the overall quality of the picture. The music and narrative (in Spanish) complement the mood and tempo of the film effectively." Movie Makers, Dec. 1952, 340.
---