---
Date produced: 1996
Filmmaker(s):
Description:
Experimental film showing Sid Laverents performing as a drunken stand-up comedian. The film includes a laugh track and footage inserts of comedy club audiences.
---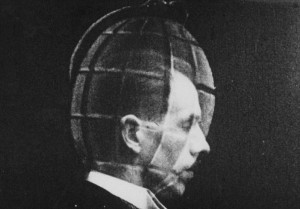 Date produced: 1936
Filmmaker(s):
Description:
"Norman McLaren and Helen Biggar's urgent work of animated agit-prop utilises a mixture of film forms (from found footage to title cards and staged action) stitched together with rapid editing to create an incisive and disorienting polemic against government armament spending. Made in 1936 as fascism was on the rise throughout Europe, the film was the result of collaboration between animator McLaren and sculptor Biggar, made during their tenure at the Glasgow School of Art. The idea was to use a rapid succession of violent images to jolt the viewer into demonstrative action against a new war, decades before such Brechtian techniques were employed by artists like Jean-Luc Godard. The result is one of the most striking and memorable of all animated political films" British Film Institute.
---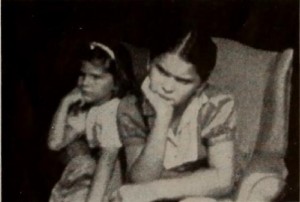 Date produced: 1953
Filmmaker(s):
Description:
"We had thought satire, especially in films, was a lamented art of the past. Thus it is a pleasure to report that it is back again with a vengeance in March of TV. Following both the visual and narrative patterns originated by the now-familiar March of Time series, Charles E. Coleman has created an uproarious satire on television and the inroads it has made into the American home. Both subtle and devastating by turns, the film leaves no aspect of this electronic marvel unscathed. On the technical side, all departments have been capably handled, with the crisp direction and portentous narration being, perhaps, the most notable. The acting is assured and natural, remaining always within the farcical framework of the satire. Whether you like, dislike or simply ignore the subject which this shortie so sparklingly derides, March of TV is unreservedly guaranteed to keep you in stitches." Movie Makers, Dec. 1953, 332.
---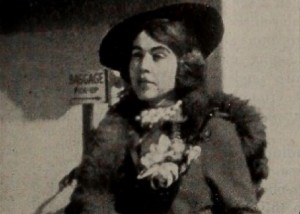 Date produced: 1953
Description:
"A high-pressure advertising agency, rivalry within the firm, a switch of entries in a beauty contest and the effects thereof — these are the story ingredients out of which the Los Angeles 8mm. Club has fashioned an outstanding club film. Competent in all phases of movie production, from the smart opening titles to the corny romantics at the end, A Switch in Time is a hilarious cine satire of the foibles of big-time advertising. Seldom does a film of this type demonstrate so capably — in story, photography, direction, acting, editing and sound — the combined abilities of a group of enthusiastic movie makers." Movie Makers, Dec. 1953, 319-320.
---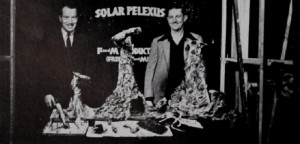 Date produced: 1936
Filmmaker(s):
Description:
"Mel Weslander and Harry French of San Francisco, with 'Solar Pelexus,' were winners of Agfa's contribution of six rolls of film. As the misspelling of the title indicates, the subject was a farce portraying the journey of two men to another planet in a rocket." American Cinematographer, Jan. 1938, 28.
---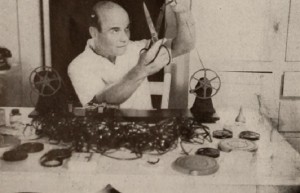 Date produced: 1941
Filmmaker(s):
Description:
" 'Oh, would some power the giftie gie us, to see ourselves as others see us.' In a sophisticated, fast moving satire, Fred Evans has struck at some of the blights of amateur movie making and screening. Turning his opening guns on tyros who ignore the instruction book which accompanies a new camera, Mr. Evans proceeds in a light, witty manner to poke cine fun at those movie makers who insist on learning the hard way. The picture continues on its farcical path, pausing now to watch invitations being telephoned for a screening of an as yet on-existent film and again to sympathize at the scene of frantic last minute editing. Home Movies has as its climax, of course, the fiasco of the screening, which should not be "tipped off" by a verbal preview. Compact and restrained, this movie offers meaningful as well as light entertainment." Movie Makers, Dec. 1946, 471.
---
Date produced: 1946
Filmmaker(s):
Description:
"In spite of the almost insurmountable difficulties in using feet to portray much of the action and most of the emotion in a movie, E. H. Sparks has managed to make Doghouse Blues completely comprehensible. A delightful farce of a bibulous fisherman, the story makes judicious use of the angler's big toe to denote thirst, hunger and any other emotion which might master a man on a solo weekend. Colorful scenes of inlets and bays, as well as attractive sequences of fishing craft, imbue the film with a flavor of authenticity. In satiric repetition, his indignant wife trails the tippling angler to the secluded spot where his boat rides at anchor, there to find him "taking the long count." A rude awakening for the errant husband and an eminently suitable final scene close the picture." Movie Makers, Dec. 1946, 471.
---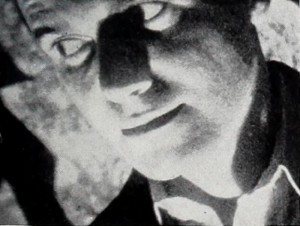 Date produced: 1945
Filmmaker(s):
Description:
"Lon Wadman has done in This'll Kill You! what few movie makers who have tried it have achieved. He has filmed a farce that does not wander into other interpretive channels. His mockery of detective stories is accomplished with real humor, and the acting of the players is in like vein. The lighting is in proper melodramatic mood, but it leans toward underexposure. The film is presented with two phonograph records which were aptly chosen to supplement the theme. Mr. Wadman has kept his film brief, which is as it should be with this type of story." Movie Makers, Dec. 1945, 496-497.
---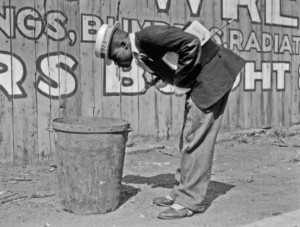 Date produced: 1933
Filmmaker(s):
Description:
"Mr. Motorboat's Last Stand, written and produced by John A. Flory, who was assisted in photography by Theodore Huff, ACL, carries the subtitle, A Comedy of the Depression. It has, however, nothing in common with the typical motion picture comedy but is, instead, one of the very few films made each year that represent an intelligent attempt at experimentation with the motion picture medium. It is a story of Mr. Motorboat, an unemployed negro, who lives as elegantly as circumstances will permit in an automobile dump and who sells carefully washed and polished apples on a street corner. The picture turns into fantasy as Mr. Motorboat appears to ride to work in the morning in one of the cars of the dump that stands motionless without its wheels. Then the fantasy becomes more complete when he makes a bit of money and uses it as bait with which to fish in Wall Street. This he does literally and actually and with marvelous results until the crash of 1929. Simultaneously with the explosion of the prosperity bubble, Mr. Motorboat's competitor smashes his apple stand and the picture ends in a magnificent chase sequence, Mr. Motorboat after the competitor. This picture is photographed superbly well, and the editing is as smooth as that of the professional studio product. It is filled with remarkable directorial touches and cinematic symbolism and, although it suffers to some extent from the haphazard admixture of fantasy and realism, it is decidedly the best experimental film of the year." Movie Makers, Dec. 1933, 522.
---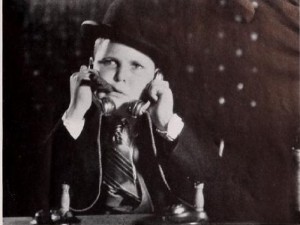 Date produced: 1932
Filmmaker(s):
Description:
"In Little Geezer, running 400 feet, Theodore Huff, ACL, has produced one of the most able and amusing burlesque film stories of the amateur year, repeating his success of that earlier satiric classic, Hearts of the West. Again he has used, with amazing directorial facility, the neighborhood youngsters as his only actors. Again he has aped, with his own peculiar genius, the threadbare cliches of professional drama, poking fun in his filming as well as his titling. Little Geezer offers fine examples of real cinema, is the sort of thing amateurs can do as well or better than professionals and is delightfully amusing in the process." Movie Makers, Dec. 1932, 561.

"Theodore Huff, ACL, has done it again! That lone wolf producer of Hearts Of The West has paralleled the gorgeous fun of his earlier panning of the purple plains as he takes the gangsters for a ride in Little Geezer. The Big Shot, his lieutenant, Greta Garbage (" — more to be pitied than sniffed at") and Scarface Macaroni are all there, played by the neighborhood kids, no one of them over eleven years old. Through their naively serious acting and his own genius at direction and editing. Mr. Huff has riddled with bursts of laughter the machine gun monarchy of professional filmdom." Movie Makers, Sept. 1932, 398.
---
Total Pages: 2