---
Date produced: 1962
Filmmaker(s):
Description:
"'This is a simple story concerning the affairs of a cat and a dog. Are they natural enemies, or can they become playmates?' (Amicus description, via Library & Archives Canada web site.) This film received a Certificate of Merit in the Amateur Category at the 14th Canadian Film Awards, 1962. English and French-language versions were apparently distributed by Thomas Howe Associates Ltd. in 1980" British Columbia Archives.
---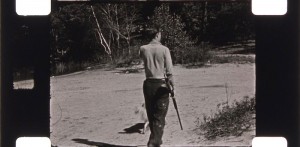 Date produced: 1937
Filmmaker(s):
Description:
"Hunting, cast of "Boy," played by Winthrop Rolfe, and "Dog," played by Teddy. Boy, walks with Dog through the forested mountainside, gazes at views over the alley, drinks water from a rushing stream, and kneels to shoot at birds." Notes by (NHF) Chris Reed and Chris Castiglia, June 2013
---
Date produced: 1969
Filmmaker(s):
Description:
"Wild Dogs of Africa is a film by a perennial winner, Fred Harshbarger of Colton, Calif. Most of us have seen films made in Africa but this nine minutes is not about the "run-of-the-mill" African animals that one expects. Who would think of making a film about wild dogs? Well Fred did - and because of it we all know just a little more of that part of the world. Naturally it's in color and shot with the usual Harshbarger "know-how". Winning the Nature Award was a natural for this picture" PSA Journal, Nov. 1969, 56.
---
Date produced: 1968
Filmmaker(s):
Description:
"On the Reef can refer to only one place in the world and that's the Great Barrier Reef off the eastern coast of Australia. Graemer Grosvenor handled the world of sea life very nicely with a smooth flowing story of a group of young adventurers in this area of the unusual. This film from Australia had no difficulty in capturing the Nature Film Award" PSA Journal, Oct. 1968, 49.
---
Date produced: 1967
Filmmaker(s):
Description:
"Problems in the Pounding Surf is an animated cartoon of a little dog's antics in the ocean. Entered in a previous film competition, judges in that event stated "A truly fabulous animation film, extremely competent timing and use of line with good overall humor." So our judges were not alone in their praise of this workmanship. What our judges did not know and won't know until they read these words here is that the maker of this film, Dale Ramsey, is only 15 years old" PSA Journal, Aug. 1967, 37-38.
---
Date produced: 1965
Filmmaker(s):
Description:
"The Black Cat is a 25-minute version of Edgar Allen Poe's story by the same name and concerns a man who does away with his wife in what he believes to be the perfect crime, only to be outdone in the end by the family black cat. This low key, well dramatized version is the only 8mm film among the top ten and also received the MPD Scenario Film Award" PSA Journal, Sept. 1965, 50.
---
Date produced: 1964
Filmmaker(s):
Description:
"The Visible Woman is an attractive little package about a woman who tries to construct a visible woman. Doesn't sound like much of a theme, does it? But with a parallel in counterpoint between herself and her son, the injection of a cat that at times steals the show, and a real twist at the end, this well lighted and well photographed little gem is one you'll remember for quite a spell. Probably its finest feature is its editing - great" PSA Journal, Sept. 1964, 51.
---
Date produced: 1963
Description:
"A boy and his dog - the love, companionship and understanding between these two develop a deep bond. When the bond is broken, it is as though a part of life is gone. The fruitless search, the unanswered prayers take the spark out of a lively little boy. Even an appealing puppy substitute does not fill the gap for him, but does compensate a heartbroken little girl who has to give up the dog she has "found" and returned to his delight master" PSA Journal, Oct. 1963, 39.
---
Date produced: 1960
Filmmaker(s):
Description:
"Humphrey, a loveable dog built low to the ground and with big ears. He does for a playful run in the park. He flushes out a cup and this releases the genie who extends three wishes to Humphrey. Our "fido" wishes himself into the form of man. But in the actions that follow, he is still Humphrey. In the end genie returns Humphrey to h is conventional self and there is a captivating happiness in again being a dog" PSA Journal, Nov. 1960, 40.
---
Date produced: 1959
Filmmaker(s):
Description:
"A most pleasant day with a little girl, her four kittens, and collie dog. The kittens do so many things that set them apart from other animals. They seem to enjoy their various playful activies before the flood lights and camera. While all this is going on, the collie feels just a little bit left out of things. Finally, all return to the barn for some fresh milk and a good night" PSA Journal, Nov. 1960, 39.
---
Total Pages: 4