---
Date produced: 1955
Filmmaker(s):
Description:
"Footage of scenic areas of Southern Utah with narration. Included are the 'Canyons of Fire,' wild flowers, hiking trails and the 'Fairy's Landing' at Bryce Canyon; Zion Canyon, the 'Great White Throne,' the 'Mountain of Mystery,' the 'Angel's Landing' and the Mt. Carmel highway at Zion National Park; and Navaho Lake at Cedar Breaks." University of Utah Marriott Library.
---
Date produced: 1937
Filmmaker(s):
Description:
"A vacation to Cedar Breaks, Bryce, Zion, and Grand Canyon of the Colorado." American Cinematographer, June 1938, 257.
---
Date produced: 1935
Filmmaker(s):
---
Date produced: 1958
Filmmaker(s):
Description:
Edited film "chronicling travel through Nova Scotia, Prince Edward's Island and Cape Breton. Film includes scenic landscapes (Langdale/Bowen Island, Queen Elizabeth Arboretum, Yoho National Park, Yoho Glacier, Twin Falls, Bow Lake, Columbia icefield, Athabasca Falls, Banff, Gaspe, Cape Breton Highlands National Park), urban scenes, fishermen, outdoor garden of religious statuary, light houses, bag pipe players, Canadian Royal Mounted Police and the Lovat Scots, a boag and drum corp," Human Studies Film Archives, Smithsonian Museum.
---
Date produced: 1933
Filmmaker(s):
---
Date produced: 1960
Filmmaker(s):
Description:
"Stan Midgley returns again, this time presenting the "Yellowstone Tetons and Glacier Park." In the wonderful northwest corner of Wyoming you can see spectacular mountains, beautiful lakes, canyons, waterfalls, wild animals and more natural wonders than a tourist can see in a month. There are superb pictures of most of the world's greatest geysers and the changes made by the great 1959 earthquake with before and after pictures. There is Earthquake Lake and its notorious landslide. The Cooke City Red Lodge Highway over the Beartooth Mountains —Ghost Towns and modern towns of Western Montana —Glacier Park, beautiful from the highway, incomparable from the wilderness trail. The ending comes in the golden glory of autumn." Central Union Reaper, Sept. 27, 1966, 3.
---
Date produced: 1966
Filmmaker(s):
Description:
Stan Midgley travels by bicycle through Utah in this "chucklelogue."
---
Date produced: 1951
Filmmaker(s):
Description:
"'Jeep Trails Through Utah' was produced by Stan Midgley with the use of a jeep rather than his faithful bicycle. He had to leave his bicycle at home, as the deep sands of Utah can only be traveled in a jeep. In his mechanical horse he criss-crossed one of the emptiest blanks on the American map. He leaves the traveled highways and goes back into the little known areas to find fantastically beautiful and unusual natural formations. He travels over sand-blown desert trails, up rocky mountain paths and through treacherous mountain gorges to produce a gem-like picture of Utah." La Canada Valley Sun, Sept. 9, 1971.
---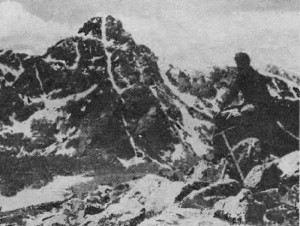 Date produced: 1958
Filmmaker(s):
Description:
"In a color chucklelogue Midgley will show spectacular pictures of Colorado today and give a nostalgic look into Colorado's colorful past. . . . The film features Denver, Pikes Peak, the Garden of the Gods, the Royal Gorge, Estes Park, ascent of Longs Peak, Trail Ridge Road, skiing at Aspen, and pictures of ghost towns and horseless carriages. Some of these pictures, filmed in excellent color years ago during the last days of the Narrow Gaugers, could never be replaced." The Clock Tower, Oct. 17, 1969, 1.
---
Date produced: 1959
Filmmaker(s):
Description:
"On bicycle and afoot, Stan Midgley, humorist and photographer, explored some of the more inaccessible points of the Canadian Rockies. The result of his adventures is 'Awheel and Afoot in the Canadian Rockies'." Battle Creek Enquirer, Oct. 16, 1959, 26.
---
Total Pages: 5