---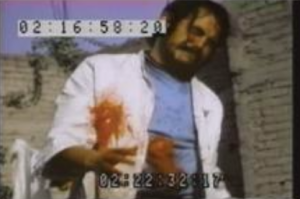 Date produced: 1970
Filmmaker(s):
Description:
"El paletero cuenta la historia de un vendedor de helados y paletas (Héctor Suárez) que recorre las calles de la ciudad. Es simpático: juega volados con los niños, conversa amistosamente con una criada que ha salido a la calle para hacer el mandado (July Furlong). De pronto un grupo de policías judiciales, vestidos de civil, deciden acosarlo. Se acercan intimidantes a la pareja. Rompen los conos de galletas para helado. El paletero siente pánico y huye por las calles de la ciudad. Es perseguido por los judiciales. Intenta esconderse en las ruinas de una casa abandonada, donde es seguido por uno de los policías. Luchan y el paletero consigue quitarle la pistola. Amenaza al policía y reemprende la huída. Al final encuentra un nuevo escondite en una vecindad. Presa del pánico, el paletero dispara sobre sus perseguidores, hiriendo a dos. Los policías lo ejecutan, y de paso matan a un niño que jugaba en el patio de la vecindad y que había quedado situado en medio del tiroteo" (Vázquez Mantecón, 2012).

El paletero [The popsicle man] tells the story of an ice cream and popsicles seller that goes around the city streets. He is nice: he plays coin toss with children, talks kindly with a maid that has left the house to run some errands. Suddenly a group of policemen, dressed as civilians, decide to harass him. They approach the couple in an intimidating manner. They break the ice cream cones. The popsicle man feels panic and runs away through the city streets. He is chased by policemen. He tries to hide in the ruins of an abandoned house, where he is followed by one of the policemen. They fight and the popsicle man takes his gun. He threatens the policeman and starts running away again. At the end he finds a new hiding spot in a vicinity. Overcome by panic, the popsicle man shoots wounding his persecutors. The policemen execute him, and they also kill a child of the neighborhood that was caught up between the shooting" (Vázquez Mantecón, 2012).
---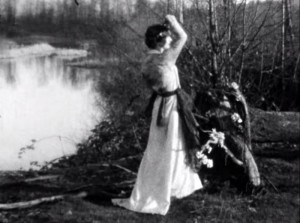 Date produced: 1952
Filmmaker(s):
Description:
"A parody of William Shakespeare's "Hamlet," produced and directed by James Blue while he was an undergraduate student at the University of Oregon." Knight Library.
---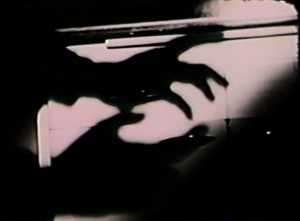 Date produced: 1953
Filmmaker(s):
Description:
Thriller film about an escaped murderer, and a nearby woman who is home alone.
---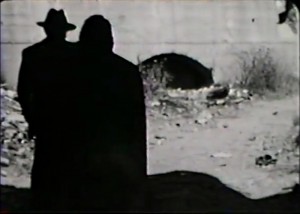 Date produced: 1933
Filmmaker(s):
Description:
"Story of murder during a treasure hunt." Movie Makers, Nov. 1933, 475.
---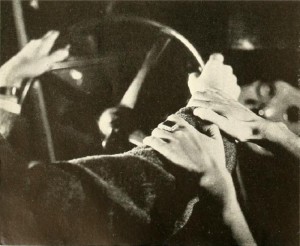 Date produced: 1934
Filmmaker(s):
Description:
"The producers of 'Chronicle' must be commended for a novel treatment. They employed the hands only to show the life of a boy from his third birthday until maturity. Into this novel treatment they spun a story of the boy's downfall until he is found guilty of murder and is incarcerated. All of it was interior and was well photographed." American Cinematographer, Jan. 1936, 40.
---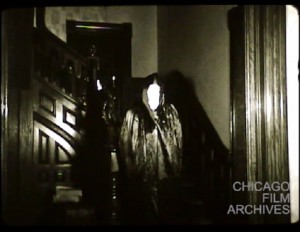 Date produced: 1946
Filmmaker(s):
Description:
"A short mystery film from members of the Amateur Cinema League. A group of relatives gather in a haunted house for the reading of a will. Someone among them knows a secret about the house, and uses stories about the Black Widow to try and scare everyone away. In the end, their identity is revealed and all the secrets come to light. Title cards narrate the dialogue." Chicago Film Archives.
---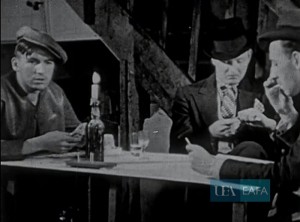 Date produced: 1933
Description:
"A tale of greed, murder and passion set in a French provincial town in the 1930s. The focus is a tawdry basement drinking and gambling club. Rejecting the violent advances of a man who returns to her rooms with her, a local girl kills him and is assisted in the disposal of the corpse by her regular beau - a cynical, louche cardsharp. A vigilant detective brings her to court for murder. Witnesses take the chance to blacken her name by giving false testimonies but she is acquitted. Her freedom is soured by her lover's rejection of her and she returns to the streets" East Anglian Film Archive.
---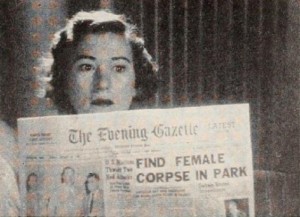 Date produced: 1952
Filmmaker(s):
Description:
"A teen-aged girl — whose imagination has been excited by murder headlines in the local paper — and a mysterious new boarder in her mother's home are the ingredients of The Man With The Box, a superlative melodrama by James L. Watson. For here is as hair-raising a thriller as you could want to see. Mr. Watson tells his story through the interplay of image and counterimage, without benefit of dialog, and he tells it simply and well. Taut and well paced, the film should hold any audience in suspense-filled excitement from its quiet and clearly stated beginning right up to the shock of its logical and terrifying conclusion. The small cast has been cunningly chosen and wisely directed. The players, Cathy Moss as the inquisitive young girl and John Dowell as the strange boarder, give restrained yet moving performances, sustaining the film's mood admirably. The accompanying score not only complements the story line: it becomes, excitingly, an integral part of it. The Man With The Box returns to the first principles of the silent cinema with rewarding vitality." Movie Makers, Dec. 1952, 399-400.
---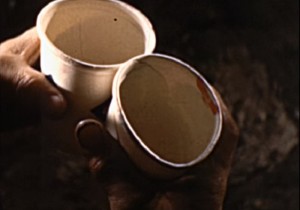 Date produced: 1951
Description:
"Under the able direction of Kenneth E. Carrier, ACL, a production unit of the Grand Rapids Amateur Movie Club has produced an engrossing film drama based on a short-short story from a Billy Rose column. Two Paper Cups begins as if it would tell the familiar tale of a bored husband plotting the murder of his wife for the love of that "other woman." But a double switch at the plot's end saves the life of the married woman and, with irony but without need, takes the life of the husband. Top notch photography, expert staging and lighting, good acting and skillful editing make this photoplay an outstanding example of cooperative filming at its best." Movie Makers, Dec. 1951, 410.
---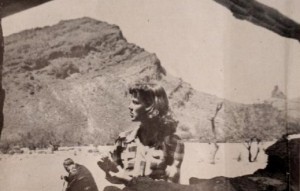 Date produced: 1950
Filmmaker(s):
Description:
"Startling photography in 8mm. Kodachrome gives Harry W. Atwood's Outpost a dramatic appeal beyond the merits of its rather confused and melodramatic story. Story aside (it's a tale of murder, in which some very critical action is not adequately pointed up), Outpost deals magnificently with some of the most interesting and barren country you are likely to find this side of your nightmares. If his plot developments can become more convincing, Mr. Atwood has an excellent filming future." Movie Makers, Dec. 1950, 468.
---
Total Pages: 3