---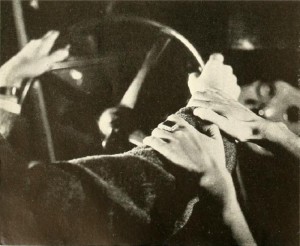 Date produced: 1934
Filmmaker(s):
Description:
"The producers of 'Chronicle' must be commended for a novel treatment. They employed the hands only to show the life of a boy from his third birthday until maturity. Into this novel treatment they spun a story of the boy's downfall until he is found guilty of murder and is incarcerated. All of it was interior and was well photographed." American Cinematographer, Jan. 1936, 40.
---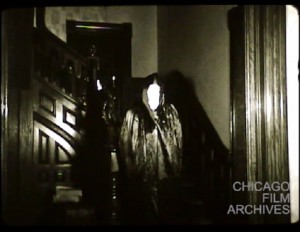 Date produced: 1946
Filmmaker(s):
Description:
"A short mystery film from members of the Amateur Cinema League. A group of relatives gather in a haunted house for the reading of a will. Someone among them knows a secret about the house, and uses stories about the Black Widow to try and scare everyone away. In the end, their identity is revealed and all the secrets come to light. Title cards narrate the dialogue." Chicago Film Archives.
---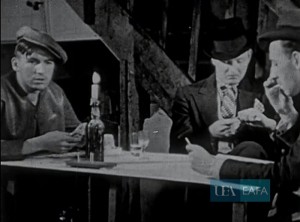 Date produced: 1933
Description:
"A tale of greed, murder and passion set in a French provincial town in the 1930s. The focus is a tawdry basement drinking and gambling club. Rejecting the violent advances of a man who returns to her rooms with her, a local girl kills him and is assisted in the disposal of the corpse by her regular beau - a cynical, louche cardsharp. A vigilant detective brings her to court for murder. Witnesses take the chance to blacken her name by giving false testimonies but she is acquitted. Her freedom is soured by her lover's rejection of her and she returns to the streets" East Anglian Film Archive.
---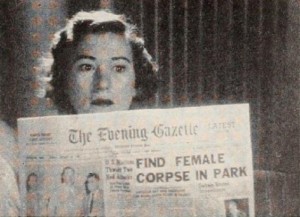 Date produced: 1952
Filmmaker(s):
Description:
"A teen-aged girl — whose imagination has been excited by murder headlines in the local paper — and a mysterious new boarder in her mother's home are the ingredients of The Man With The Box, a superlative melodrama by James L. Watson. For here is as hair-raising a thriller as you could want to see. Mr. Watson tells his story through the interplay of image and counterimage, without benefit of dialog, and he tells it simply and well. Taut and well paced, the film should hold any audience in suspense-filled excitement from its quiet and clearly stated beginning right up to the shock of its logical and terrifying conclusion. The small cast has been cunningly chosen and wisely directed. The players, Cathy Moss as the inquisitive young girl and John Dowell as the strange boarder, give restrained yet moving performances, sustaining the film's mood admirably. The accompanying score not only complements the story line: it becomes, excitingly, an integral part of it. The Man With The Box returns to the first principles of the silent cinema with rewarding vitality." Movie Makers, Dec. 1952, 399-400.
---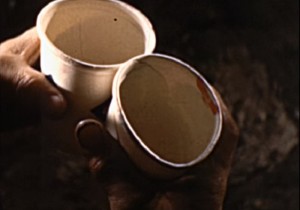 Date produced: 1951
Description:
"Under the able direction of Kenneth E. Carrier, ACL, a production unit of the Grand Rapids Amateur Movie Club has produced an engrossing film drama based on a short-short story from a Billy Rose column. Two Paper Cups begins as if it would tell the familiar tale of a bored husband plotting the murder of his wife for the love of that "other woman." But a double switch at the plot's end saves the life of the married woman and, with irony but without need, takes the life of the husband. Top notch photography, expert staging and lighting, good acting and skillful editing make this photoplay an outstanding example of cooperative filming at its best." Movie Makers, Dec. 1951, 410.
---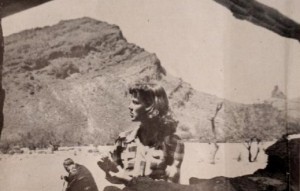 Date produced: 1950
Filmmaker(s):
Description:
"Startling photography in 8mm. Kodachrome gives Harry W. Atwood's Outpost a dramatic appeal beyond the merits of its rather confused and melodramatic story. Story aside (it's a tale of murder, in which some very critical action is not adequately pointed up), Outpost deals magnificently with some of the most interesting and barren country you are likely to find this side of your nightmares. If his plot developments can become more convincing, Mr. Atwood has an excellent filming future." Movie Makers, Dec. 1950, 468.
---
Date produced: 1950
Filmmaker(s):
Description:
"King Bookie: John Cowart set himself a tremendous goal in undertaking the production of this dramatic film, which has to do with bank robbers. But thanks to his zeal, his all around ability in movie making, the sincerity and cooperation of his amateur cast, and the cooperation of local merchants who happily contributed the use of their business establishments for locations, he has turned out a highly creditable production. The picture opens with a girl, unwittingly involved in the robbery, relating to an attorney events of the story which is pictured in retrospect. King Bookie is an underworld character who plots the crime, involves several others, some of whom meet death by his gun when the proceeds are retrieved from one gang member who sought to double-cross King Bookie. Narration, dialogue and musical score are a commendable effort of sound-on-film recording." American Cinematographer, May. 1951, 190.
---
Date produced: 1949
Filmmaker(s):
Description:
"'Cup of Fear' produced and entered by the Stamford (Connecticut) Cinema Club and photographed by John Harms, is a well directed, acted and photographed 'whodunit' in which one of several office employees who have been passed up in a company promotion, murders the hapless executive promoted to the vice-presidency. A cup of wine, antidote for poison supposedly fed the murderer at a dinner, proves his undoing. All shots are interiors and save for one or two, are excellently lighted and photographed. Many professional touches, such as dolly shots, dramatic camera angles, and story-telling closeups highlight the picture. Harms used a 16 mm. Bolex camera and Kodak Super-X panchromatic film." American Cinematographer, Apr. 1950, 146.
---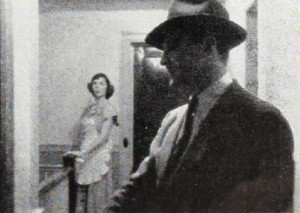 Date produced: 1949
Filmmaker(s):
Description:
"'The Voice of the Key' is a magnificently staged photoplay, beginning with the very professional series of opening titles and featuring remarkable interior photography, considering the limited equipment at the disposal of the filmer. Charles Carbonaro, using photo-floods entirely, has achieved some truly professional illumination in his interior settings, and his camera technique displays an artist's genuine feel for forceful and dramatic story telling with a camera. The story concerns a murder of an unfaithful wife's lover by her husband, and the steps the husband takes to conceal his part in the crime, only to be tripped up by his door key as the incriminating evidence. Carbonaro used a Cine Special Camera and Eastman Super X panchromatic film. The script, which he wrote himself, was adapted from a story published in 'This Week', Sunday supplement magazine of national distribution." American Cinematographer, Apr. 1950, 133.

"Great ambition and a wide knowledge of both amateur and Hollywood camera techniques mark Charles J. Carbonaro's The Voice of the Key. The film is a whodunit, involving many of the human reactions — from love and hate to cynicism, impatience and sudden passion — all of which have to be registered by the actors at Mr. Carbonaro's command. It's a large order, and the film does not quite fill it dramatically. But the good things about The Voice of the Key are very good indeed." Movie Makers, Dec. 1950, 468.
---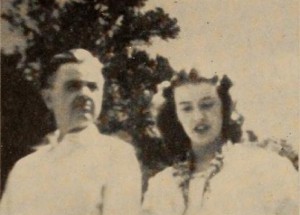 Date produced: 1947
Filmmaker(s):
Description:
"Basing his story line on an incident which is said actually to have occurred in Sweden, Harry W. Atwood has proved once again in Through the Valley his imaginative understanding of what makes a true motion picture. For here is camera work of the first order, expressed in meaningful angles and building through a stirring chase sequence to a point of very real dramatic tension. If anything, the film's climax has been staged with a shade too much of melodrama, while a concluding quotation from the Scriptures left these reviewers regretfully more puzzled than uplifted." Movie Makers, Dec. 1949, 471.
---
Total Pages: 2