---
Date produced: 1960
Filmmaker(s):
Description:
"Stan Midgley returns again, this time presenting the "Yellowstone Tetons and Glacier Park." In the wonderful northwest corner of Wyoming you can see spectacular mountains, beautiful lakes, canyons, waterfalls, wild animals and more natural wonders than a tourist can see in a month. There are superb pictures of most of the world's greatest geysers and the changes made by the great 1959 earthquake with before and after pictures. There is Earthquake Lake and its notorious landslide. The Cooke City Red Lodge Highway over the Beartooth Mountains —Ghost Towns and modern towns of Western Montana —Glacier Park, beautiful from the highway, incomparable from the wilderness trail. The ending comes in the golden glory of autumn." Central Union Reaper, Sept. 27, 1966, 3.
---
Date produced: 1949
Filmmaker(s):
Description:
"A new illustrated lecture filmed on an amusing trip by bicycle through the isolated, unspoiled southwestern corner of Colorado." Pacific Union Recorder, Dec. 12, 1949, 4.
---
Date produced: 1951
Filmmaker(s):
Description:
"'Jeep Trails Through Utah' was produced by Stan Midgley with the use of a jeep rather than his faithful bicycle. He had to leave his bicycle at home, as the deep sands of Utah can only be traveled in a jeep. In his mechanical horse he criss-crossed one of the emptiest blanks on the American map. He leaves the traveled highways and goes back into the little known areas to find fantastically beautiful and unusual natural formations. He travels over sand-blown desert trails, up rocky mountain paths and through treacherous mountain gorges to produce a gem-like picture of Utah." La Canada Valley Sun, Sept. 9, 1971.
---
Date produced: 1944
Filmmaker(s):
Description:
"Sept. 1944 - 489 miles by Bicycle over the Rockies." UCLA Film and Television Archive.
---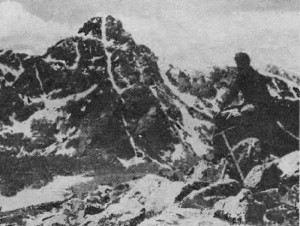 Date produced: 1958
Filmmaker(s):
Description:
"In a color chucklelogue Midgley will show spectacular pictures of Colorado today and give a nostalgic look into Colorado's colorful past. . . . The film features Denver, Pikes Peak, the Garden of the Gods, the Royal Gorge, Estes Park, ascent of Longs Peak, Trail Ridge Road, skiing at Aspen, and pictures of ghost towns and horseless carriages. Some of these pictures, filmed in excellent color years ago during the last days of the Narrow Gaugers, could never be replaced." The Clock Tower, Oct. 17, 1969, 1.
---
Date produced: 1959
Filmmaker(s):
Description:
"On bicycle and afoot, Stan Midgley, humorist and photographer, explored some of the more inaccessible points of the Canadian Rockies. The result of his adventures is 'Awheel and Afoot in the Canadian Rockies'." Battle Creek Enquirer, Oct. 16, 1959, 26.
---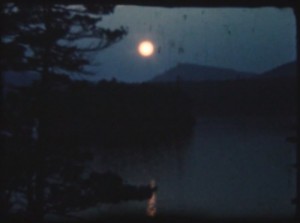 Date produced: 1942
Filmmaker(s):
Description:
"Land of My Dreams, Joseph J. Harley, ACL, will tell you, is a simple record of fun and friends. As such, it is an attractive piece of Kodachrome, colorful in its camera work, leisurely in its pace (400 feet, 8mm.) and frankly sentimental in its outlook. Lake Saranac and the Harley summer cottage comprise the land of Joe Harley 's dreams, although his myriad friends of ten years' standing play a large part in that Elysium. You see them throughout the film, going about their fishing and boating, picnics and swimming with an infectious zest and good humor. The record is climaxed with a detailed presentation of a grand communal party, at which each of the guests is required to put on some sort of skit or bit of entertainment." Movie Makers, June 1944, 246.

Note of warning: the "communal party" referenced in the description above includes a performance in blackface.
---
Date produced: 1950
Filmmaker(s):
Description:
"Animals found in the mountains of BC: birds, squirrels, chipmunks, black bear, deer, bighorn sheep, mountain goats, etc." (BC Archives)

This film appears to have been made during the years 1944-1950.
---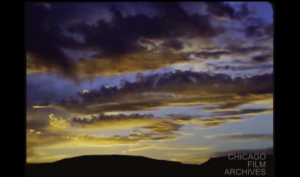 Date produced: 1950
Filmmaker(s):
Description:
"Edited travelogue footage of a trip down the Columbia River. Along with scenic views, industrial processes are documented such as harvesting grain, canning salmon, making plywood and the factory production of sweaters." Chicago Film Archives
---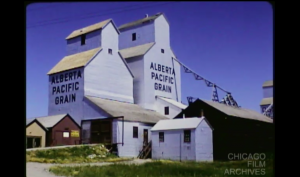 Date produced: 1956
Filmmaker(s):
Description:
"2 part edited travelogue film beginning in Ontario and working west to British Columbia, documenting the resources, landscape and recreation of Canada. Includes a large amount of natural scenery, but also diverse events such as fishing, a rodeo and water sports. Also gives a look into factories and resorts." Chicago Film Archives
---
Total Pages: 5