---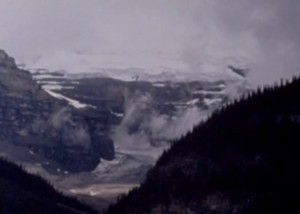 Date produced: 1964
Filmmaker(s):
Description:
"Focusing in on Lake Louise, this film presents the viewer with an in depth look at the diverse and majestic landscape of the Banff National Park region. Using time-lapse photography, we can see the movement of not only the plant life in the mountains, but also the movement of the clouds, and weather patterns of the area," via SUNY College of Environmental Science and Forestry.
---
Date produced: 1950
Filmmaker(s):
Description:
"Footage of a boating trip on the Great Salt Lake. Views of the shoreline, passengers, raising and lowering of sails, sunset, the galley, dinner and sleeping accommodations. Also, views of the boat from the shore and unloading the boat at dock." University of Utah Marriott Library.
---
Date produced: 1930
Filmmaker(s):
Description:
"Along Utah Trails shows Utah scenery, including Hayden's Peak and Mirror Lake." University of Utah Marriott Library.
---
Date produced: 1962
Filmmaker(s):
Description:
Edited film "chronicling an airstream caravan through Central America (Mexico, Guatemala, El Salvador, Panama, Costa Rica). Film includes many views of scenic landscapes, mountain roads, cities and villages, ruins (Kabah, Uxmal, Dzibichaltun, Chichen Itza) and historic landmarks and airstream trailers tavelling or in recreational vechicle parks. In Guatemala they visit the villages Solola and Panajachel near Lake Atitlan and and town of Antigua. Scenes also include marketplaces, churches and chuch-life, a woman weaving, local crafts, washing clothing at public fountains" Human Studies Film Archives, Smithsonian Museum.
---
Date produced: 1960
Filmmaker(s):
Description:
"Stan Midgley returns again, this time presenting the "Yellowstone Tetons and Glacier Park." In the wonderful northwest corner of Wyoming you can see spectacular mountains, beautiful lakes, canyons, waterfalls, wild animals and more natural wonders than a tourist can see in a month. There are superb pictures of most of the world's greatest geysers and the changes made by the great 1959 earthquake with before and after pictures. There is Earthquake Lake and its notorious landslide. The Cooke City Red Lodge Highway over the Beartooth Mountains —Ghost Towns and modern towns of Western Montana —Glacier Park, beautiful from the highway, incomparable from the wilderness trail. The ending comes in the golden glory of autumn." Central Union Reaper, Sept. 27, 1966, 3.
---
Date produced: 1959
Filmmaker(s):
Description:
"On bicycle and afoot, Stan Midgley, humorist and photographer, explored some of the more inaccessible points of the Canadian Rockies. The result of his adventures is 'Awheel and Afoot in the Canadian Rockies'." Battle Creek Enquirer, Oct. 16, 1959, 26.
---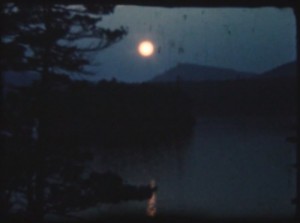 Date produced: 1942
Filmmaker(s):
Description:
"Land of My Dreams, Joseph J. Harley, ACL, will tell you, is a simple record of fun and friends. As such, it is an attractive piece of Kodachrome, colorful in its camera work, leisurely in its pace (400 feet, 8mm.) and frankly sentimental in its outlook. Lake Saranac and the Harley summer cottage comprise the land of Joe Harley 's dreams, although his myriad friends of ten years' standing play a large part in that Elysium. You see them throughout the film, going about their fishing and boating, picnics and swimming with an infectious zest and good humor. The record is climaxed with a detailed presentation of a grand communal party, at which each of the guests is required to put on some sort of skit or bit of entertainment." Movie Makers, June 1944, 246.

Note of warning: the "communal party" referenced in the description above includes a performance in blackface.
---
Date produced: 1953
Filmmaker(s):
Description:
"The Pelican colony at Stum Lake in the Chilcotin Region." (BC Archives)
---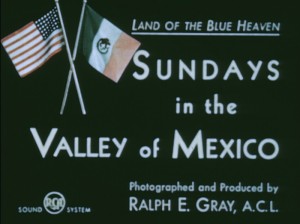 Date produced: 1942
Filmmaker(s):
Description:
"A colorful travelogue of modern, urban life in Mexico City. "Shows scenes typical of modern Mexico, such as the tall buildings and wide boulevards of Mexico City. The canal leading to Xochimilco, with its fruit- and flower-laden boats, is pictured. Then describes a festival held in honor of the Vice President of the United States, Henry Wallace, when he visited Mexico City. It includes a bullfight and a parade of Mexican beauties. Ends with a pageant of old and new Mexican dances" (War Films Bulletin of the Extension Division Indiana University, February, 1943, 19)" Indiana University Libraries Moving Image Archive.
---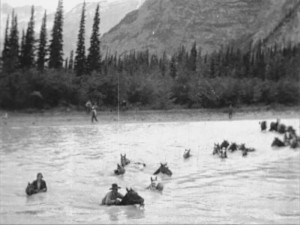 Date produced: 1931
Filmmaker(s):
Description:
"Shows an expedition through northeastern British Columbia by Mary Gibson Henry, Pennsylvania botanist and plantswoman. Mrs. Henry was interested in the legendary "Tropical Valley" of northern B.C., where the warmth of hot springs supposedly fostered vegetation not otherwise found in the region. The film was shot in the summer of 1931, during the first of four such journeys she made in the period 1931-1935. Mrs. Henry was accompanied by her husband, Dr. J. Norman Henry; four of her children; topographer Knox McCusker (of the Dominion Topographical Surveys Branch); Dr. B.H. Chandler, a surgeon friend; and outfitter S. Clark, as well as various wranglers. The second and third reels of this three-reel film show the party of 16 travelling by pack-train, crossing rivers, caching food, and fishing, as well as some camp scenes. At an encampment of "Grand Lake Indians" on the Tetsa River, they engage Charlie Macdonald, the chief's son, to guide them to Toad Hot Springs on the Toad River, but they do not proceed north to Liard Hot Springs. On the return trip south, stops include St. Paul's Lake, Henry River, and Lake Mary and Lake Josephine [named after the Henry's daughters]; these place names do not seem to have become official. Following the Peace River, they arrive at Hudson's Hope (having travelled 800 miles in 79 days), and continue down river to Taylor Flats." (BC Archives)

The title given above is a supplied title based on the film contents. The actual title of the film is unknown, since it survives as reels 2 and 3 of 3 -- and the actual title and credits (if any) would likely have been at the start of reel 1.
---
Total Pages: 4