---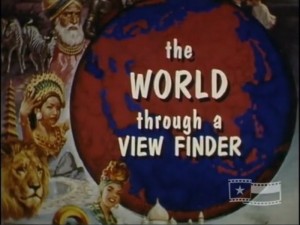 Date produced:
Filmmaker(s):
Description:
"This amateur film captures Edwin and Minnie Mayer's worldwide adventure across Australia, Asia, Africa, and Europe in the 1950s. This segment documents stops in Australia, Japan, Hong Kong, the Philippines, and Malaysia" Texas Archive of the Moving Image.
---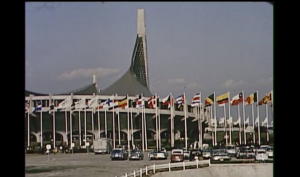 Date produced: 1964
Filmmaker(s):
Description:
"The Tokyo Olympics, 1964 takes us to Tokyo and the Olympic games and provides us with a ringside seat for the numerous events that composed this athletic activity. Bad weather cannot be helped in a work of this kind, but the results in this picture did not suffer because of any inclement weather. For cut-aways we see the Emperor of Japan in his box, the smiling faces of the Orientals in the audience, and even an occasional glimpse of the cold drink hustlers charging 50 yen for a bottle of Coca Cola" PSA Journal, Sept. 1965, 51.
---
Date produced: 1971
Filmmaker(s):
Description:
"Rice Harvest in Japan by James and Veda Linford, PSA members of Oakland, Calif. The Linfords have presented another pirze film to go along with their former winners. This 8-minute 16mm film was awarded a Ten Best Medal" PSA Journal, Nov. 1971, 41
---
Date produced: 1969
Filmmaker(s):
Description:
"Monkey's of the Snow Mountain is a touching film of northern Japan produced by Masatoshi Okochi of Japan. You will never believe how sorry you can feel for a tribe of monkeys in 15 minutes of snow, snow and more snow. The film is in color, mostly white. It took four years to film the seasonal cycle in its fullest. Here we have suffering not only by the subjects of the film but by the film maker as well. In spite of that, you'll enjoy it" PSA Journal, Nov. 1969, 57.
---
Date produced: 1968
Filmmaker(s):
---
Date produced: 1968
Description:
"The Legend of San San Ku was a practically unanimous choice as winner of the top award with its story of a Japanese legend. If the credits were to be removed from the beginning of this film, it would be hard to believe that it was not made in Japan. It was a very ambitious production for a crew of amateurs to undertake, and they came through with flying colors. Here's 20 minutes of Japan that is delightful to experience" PSA Journal, Oct. 1968, 48.
---
Date produced: 1967
Filmmaker(s):
Description:
"Rice and Farmer depicts the life and toil of the Japanese who raise rice for a living. Ueda, who made the film, has a keen eye for composition. Few filmers today pause long enough to look for a pleasing view through the lens before pressing the trigger, but this is one of Ueda's strong points, and his film is a joy to see for this one aspect alone" PSA Journal, Aug. 1967, 37.
---
Date produced: 1964
Filmmaker(s):
Description:
"Orient–Old and New–Japan is an excellent travelog of this oriental island in the well known superb Ross style. Narrated by his wide, we are taken to many of the well known spots on the island, and shown some of the more unusual places of interest. The commentary is full of factual information which gives the film an exceptionally good pacing" PSA Journal, Sept. 1964, 50.
---
Date produced: 1963
Filmmaker(s):
Description:
"Many forms of art originated in old Japan. Here is a demonstration of a unique and improbably one that began as entertainment for children. Origami, the art of paper folding, is charmingly portrayed and described in this very imaginative film. One of the Ten Best, it will be enjoyed in the 1963 Top of the Ten pack" PSA Journal, Oct. 1963, 40.
---
Date produced: 1962
Description:
"Wood block printing is one of the highest forms of art in Japan. It was first introduced into that country 2000 years ago, from China. With hammer and chisel, various cuts are made in the wood block to create the pattern to be printed. A separate block is cut for each hue. The form of each block is inked and impressed upon the paper or cloth or obtain the complete print. The picture takes us gently stimulate our interest in the art of wood block printing. we are privileged to see some of the exquisite prints. The narrator's voice with its oriental flavor adds a delightful touch to the picture. This will be included in the Package" PSA Journal, Oct. 1962, 34.
---
Total Pages: 2