---
Date produced: 1965
Filmmaker(s):
Description:
"In Pattern of Living we are told how life on this earth probably began. Most likely it started after the upheaval of the sun 5,000 million years ago. Algae and animacules were perhaps the first forms of life, to be followed by the vegetable, and later the worm which was the forerunner of insects as we know them today. Clorophyll, the narrator explains, is responsible for combining water with sunlight to produce sugar that gives energy. Much of the film was shot through a microscope and some animation is used" PSA Journal, Sept. 1965, 51.
---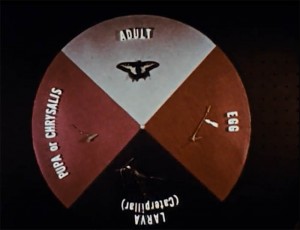 Date produced: 1965
Filmmaker(s):
Description:
"The Butterfly with Four Birthdays is a well done documentary on the life cycle of the Anise Swallowtail (Papilio Zelicaon). The Zelicaon, often mistaken for the Monarch, lives in the Western United States and lays her eggs on the anise plant, also known as sweet fennel. From the egg comes the baby caterpillar, thirdly the pupa or chrysalis stage, and finally, on its fourth birthday, the butterfly. This film also received the MPD Nature Film Award" PSA Journal, Sept. 1965, 50.
---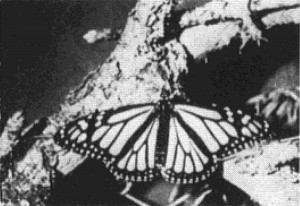 Date produced: 1960
Filmmaker(s):
Description:
"The monarch butterfly comes home to the butterfly trees at Pacific Grove, California, from Canada and the Pacific Northwest, in the early fall. School children, with the help of the grownups, stage a colorful parade in honor of these monarchs. The habits and complete life cyce unfold before us; the butterfly, eggs, larva or caterpillar, chrysalis, and the emergence of the new butterfly. A fascinating subject presented beautifully" PSA Journal, Nov. 1960, 40.
---
Date produced: 1955
Filmmaker(s):
Description:
"A study of the Wanderer Butterfly presented in an interesting manner. Making full use of extension tubes and telelenses, the excellent extreme close-up photography affords the audience a detailed glimpse of the life cycle of this beautiful insect." PSA Journal, Dec. 1955, 36.
---
Date produced: 1953
Filmmaker(s):
Description:
"In this year's goodly collection of films based largely on extension tube cinematography, Nature in the Garden by W. G. Nicholls tops not only the excellent pictures of many other contestants, but also his own Ladybird, a ten best award winner in 1953. Nature in the Garden is an instructional film pure and simple, chock full of facts to please the most apathetic, as well as the most enthusiastic, bug-viewer. Excellent technical work by a master student of both nature and cinematography has resulted in outstanding and often exciting closeups of bees, spiders, moths and other insects. Skillful editing and an unobtrusive yet informative narrative make Mr. Nicholls' production an exceptional short subject. To this teacher, Nature in the Garden is definitely superior to most of the professional nature films now being circulated in American educational circles" PSA Journal, Jan. 1955, 49.
---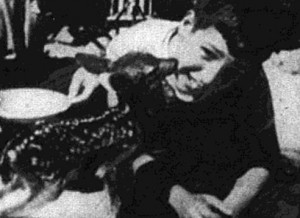 Date produced: 1954
Filmmaker(s):
Description:
"Eye to Eye, by Tullio Pellegrini, is an instructive and hilarious romp through the insect world, as seen via extension tubes and as scenarized with a sharply satiric sense of humor. Mr. Pellegrini has managed to poke just the right amount of fun at both insects and insect hunters (particularly movie makers) to tickle the most crusty rib in the audience. Among the more madcap moments are a parody of Dragnet, in which a spider lures his hapless victims to their deaths, and a sequence of "Bug-o-Phony" sound, in which (audio-wise) caterpillars make like locomotives and ladybugs like taxicabs" PSA Journal, Jan 1955, 48.
---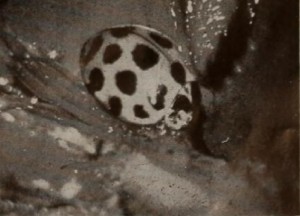 Date produced: 1953
Filmmaker(s):
Description:
"In The Ladybird, W. G. Nicholls has told the story of the life of the common ladybug — remember "Ladybug, ladybug, fly away home . . ."? — in a film that is entertainingly instructive as well as distinguished by excellent photography, composition and editing. Many of the extreme closeups of the tiny ladybird as it goes through the various stages of its insect life-cycle are indeed remarkable. Mr. Nicholls's skill in closeup cinematography is particularly well demonstrated in the series of scenes featuring the ladybird's value as a devourer of the aphids that so bother rose growers. A narrative that is educative and well written creates a feeling of respect for the ladybird as a friend to man in his constant struggle against destructive insects. Here is a nature study which is first class in every way." Movie Makers, Dec. 1953, 334.
---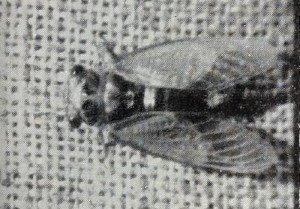 Date produced: 1951
Filmmaker(s):
Description:
"There is a lively and rewarding sense of participation about Nature Campers which, despite its threatening length, should give this picture wide appeal. In it, an eager-eyed group of young people and a few engagingly raffish naturalists pursue their studies of the outdoors with enthusiasm — and sound cinematics. Birds, butterflies, frogs and fish are among the creatures which come before Herbert Shumway's camera. But they come there, not just in the stiff ultracloseups of the studio, but as a natural part of the picture's development. The background musical selections are an enjoyable addition to an entertaining picture." Movie Makers, Dec. 1951, 412.
---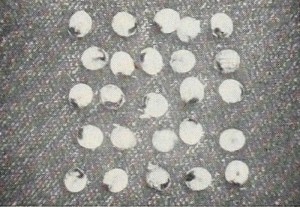 Date produced: 1950
Filmmaker(s):
Description:
"Citheronia Regalis, the Royal Walnut Moth, or Hickory Horned Devil are some of the ringing appellations admiring entomologists have given the colorful caterpillar on which Jay T. Fox has chosen to turn his microcinematographic attention. The result, The Birth of a Caterpillar, is an excellent example of scientific filming. In it, Mr. Fox records the egg, embryonic and finally emerging stages of his subject with sound scientific knowledge, exceptional technical ability and obvious patience." Movie Makers, Dec. 1950, 468.
---
Date produced: 1950
Filmmaker(s):
Description:
"Lily Was A Lady: Roy C. Wilcox failed to state what camera he used in filming this fine study of the habits of Lily, a praying mantis, but both his color photography and his editing skill have netted a highly interesting film about one of nature's queerest insects." American Cinematographer, May. 1951, 192.
---
Total Pages: 4