---
Date produced: 1960
Filmmaker(s):
Description:
"1 View of small plane at an airport. 2 View of dinghy in a harbor at the Great Salt Lake. 3 Views of shoreline and boat moving through the Great Salt Lake. 4 Views of the west coast of Central America, dolphins leading the boat, fishing, Santa Cruz, local inhabitants, cliff diving and a vacation resort." University of Utah Marriott Library.
---
Date produced: 1960
Filmmaker(s):
Description:
"Edited film by Floyd Henry Wells, a retired salesman and a member of the Wally Byam Caravan Club of Airstream trailers, chronicling travel through New Zealand including scenic views, urban scenes, beaches, Puhoi Hotel, Lyltelton and Diamond Harbors, marina, fishing, Wairakei Geyser Valley, geysers, Tehokowhitu-atu archway, Maori Reserve and indigenous peoples, and motor camping (Rainbow Springs Motor Camp)," Human Studies Film Archives, Smithsonian Museum.
---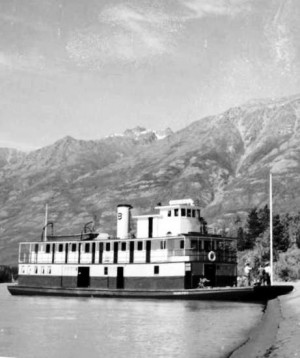 Date produced: 1935
Filmmaker(s):
Description:
"Mainly shows trip(s) up the Stikine by riverboat and placer mining activity [nearby]. Includes: waterfront view of Wrangell, Alaska; views of and from riverboat Hazel B No. 2 going upriver; the Three Sisters (islands in the river); riverboat at Telegraph Creek and barge at Dease Lake, and local activity; forest fire & fire-fighting; shots of Fokker F-11AHB flying boat designated CF-AUV (at dock and taking off) and a Fairchild floatplane; aerial shots in the vicinity; wreckage of aircraft CF-AUV (which crashed at McDame Lake, 13 July 1935); general scenery and wildlife. The placer mining footage, which is interspersed, includes shots of a small mining camp, sluice works, panning, hydraulic monitor operation, jerry-built mining equipment in use, etc. [The footage] was shot [ca. 1933-35] by Joseph J. Jackson, whose company "Three J's Placer Mines, Inc." prospected near the confluence of Thibert Creek with Dease Lake in [the years 1931-35]." (BC Archives)


---
Date produced: 1949
Filmmaker(s):
Description:
"Marine mammals of the Pacific Coast: sea lions, sea otters, fur and harbour seals, porpoises, killer whales. Also: Indian whaling techniques; whaling ship Westwhale; processing of whale carcasses at Coal Harbour whaling station." (BC Archives)

Film includes some footage provided to Dr. Carl by the Western Whaling Corporation.
---
Date produced: 1948
Filmmaker(s):
Description:
"Oolichan fishing; the preparation and rendering of oil from oolichans by the Kwakiutl [First Nation]." (Camera West)

The oolichan or eulachon, sometimes known as the "candlefish," provides an oil or grease which is a historic dietary staple of the First Peoples of the Pacific Northwest.
---
Date produced: 1938
Filmmaker(s):
Description:
"B&W: views of Arrow Lakes scenery from a sternwheeler; arrival; the "Minto" at dock. Two men travelling by packhorse in the Lardeau. The steam tug "Beaton". Sequence on gold mining in the Cariboo, with footage of a hydraulic mining operation. COLOUR: Vancouver; Lions Gate Bridge and Stanley Park approach; city skyline. Trip on the steamship S.S. "Catala": views at sea; approaching settlement; people meeting the boat; log boom and sawmill adjacent to the dock. Alert Bay: views of village, store, homes, etc.; Indian children at play; schoolgirls in red sweaters [from St. Michael's Indian Residential School]; steamboat arriving; many shots of totem poles, graveyard, etc. Fishing fleet in harbour, preparing nets, and heading out to sea. Fishboat crew hauling in net full of thrashing salmon, and brailing them onto boat. Other fishboats setting their nets, hauling in salmon. Fishboat crew unloading salmon onto conveyor; shots of cannery wharf, female cannery workers. Savary Island: family vacation scenes; lodge; children at play; adults playing golf on beach at low tide; departing on a boat trip." (BC Archives)
---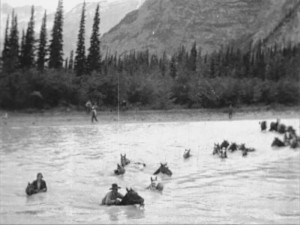 Date produced: 1931
Filmmaker(s):
Description:
"Shows an expedition through northeastern British Columbia by Mary Gibson Henry, Pennsylvania botanist and plantswoman. Mrs. Henry was interested in the legendary "Tropical Valley" of northern B.C., where the warmth of hot springs supposedly fostered vegetation not otherwise found in the region. The film was shot in the summer of 1931, during the first of four such journeys she made in the period 1931-1935. Mrs. Henry was accompanied by her husband, Dr. J. Norman Henry; four of her children; topographer Knox McCusker (of the Dominion Topographical Surveys Branch); Dr. B.H. Chandler, a surgeon friend; and outfitter S. Clark, as well as various wranglers. The second and third reels of this three-reel film show the party of 16 travelling by pack-train, crossing rivers, caching food, and fishing, as well as some camp scenes. At an encampment of "Grand Lake Indians" on the Tetsa River, they engage Charlie Macdonald, the chief's son, to guide them to Toad Hot Springs on the Toad River, but they do not proceed north to Liard Hot Springs. On the return trip south, stops include St. Paul's Lake, Henry River, and Lake Mary and Lake Josephine [named after the Henry's daughters]; these place names do not seem to have become official. Following the Peace River, they arrive at Hudson's Hope (having travelled 800 miles in 79 days), and continue down river to Taylor Flats." (BC Archives)

The title given above is a supplied title based on the film contents. The actual title of the film is unknown, since it survives as reels 2 and 3 of 3 -- and the actual title and credits (if any) would likely have been at the start of reel 1.
---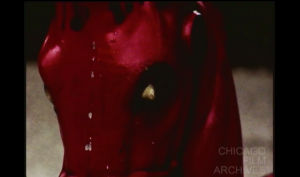 Date produced: 1971
Filmmaker(s):
Description:
"Student film made at the School of the Art Institute of Chicago set to "Sugar Mountain," a song by Canadian folk rock singer and composer Neil Young." Chicago Film Archives
---
Date produced: 1941
Filmmaker(s):
Description:
"Harriet Gerry shot this film during an automobile journey from Rosedale to Williams Lake and Soda Creek on the Cariboo Highway, and part of the return trip via the Dog Creek Road, in the summer of 1941" British Columbia Archives.
---
Date produced: 1950
Filmmaker(s):
Description:
"Our Friendly Enemies: This unique title has its origin in the fact that the Seminoles are the only native American Indians who have never signed a peace treaty with the government. Ralph E. Gray has chronicled in color with his 16mm Cine Special camera the contemporary life of the Seminoles living in Florida, picturing their activities against the backdrop of modern-day living and habits. Gray's reputation for camera and good editing has resulted in very professional results on the screen. Narration and sound effects on the recorded track round out the superior treatment of this better than average amateur effort." American Cinematographer, May 1951, 190.
---
Total Pages: 3