---
Date produced: 1937
Filmmaker(s):
Description:
"'Chicago the Vacation Center of the Nation,' which was awarded the honors in the Documentary class, was photographed in 16mm. color by Theodore D. Shaw of the Metro Movie Club of Chicago. Mr. Shaw has been making movies for eight years, which fact perhaps explains why he was able to accomplish what he did without the use of filters or other effects. The film gives an excellent portrayal of life in a big town, starting with the day as Chicago appears at sunrise. Perhaps it would be difficult to name a city which possesses so varied a background in its lake and river and bridges. Certainly educational authorities searching for subjects that portray with authenticity life in metropolitan centers could not go wrong in seeking this fine picture of Chicago. The subject rates in all departments as a finished film." American Cinematographer, Jan. 1939, 17.
---
Date produced: 1934
Filmmaker(s):
Description:
"Bill Turnbull of Denver entered several 8mm subjects of the Chicago Fair. To our mind they were among the very best pictures of that event that had been submitted to us in the past two years. His pictures were well cut, nicely edited and deserving of honorable mention." American Cinematographer, Feb. 1936, 73.
---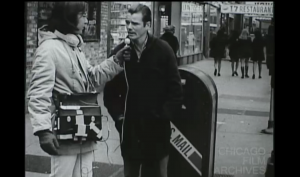 Date produced: 1971
Filmmaker(s):
Description:
"RATAMATA is a portrait of the diverse opinions of Chicagoans (ranging from high school students to habitual mayoral candidate Lars Daly) as they reflect on the general state of affairs in America, the war in Vietnam, social and racial conflict, freedom and personal liberty, happiness, and social justice." Chicago Film Archives
---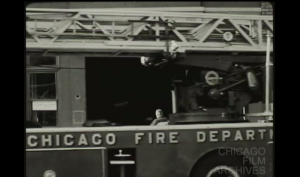 Date produced: 1971
Filmmaker(s):
Description:
"University of Illinois Chicago (UICC) student film that documents the Chicago Fire Department house and fire officers of 158 West Erie Street. Images of the officers at work and play are interspersed with portraits of the firehouse, which is located in Chicago's River North neighborhood." Chicago Film Archives
---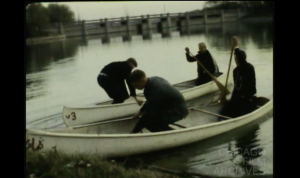 Date produced: 1957
Filmmaker(s):
Description:
"Amateur silent film of a boy scout troop making a fiberglass canoe step by step from a mold, from start to finish. Boy scouts all help in each part of the process. They then take their finished canoes on a trip where they learn how to row their new canoes and camp out on the river." Chicago Film Archives
---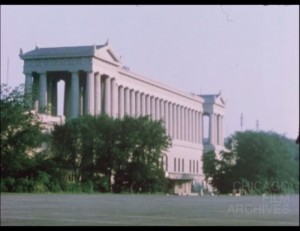 Date produced: 1962
Filmmaker(s):
Description:
"A "city symphony" film, produced to encourage Photographic Society of America members to attend their 1963 conference in Chicago, City to See is a surprising film. It combines footage of Chicago with a deadpan commentary that pokes fun commercial travel films: "Chicago is my town," the narrator says wryly, "and no other town will do."" Chicago Film Archives
---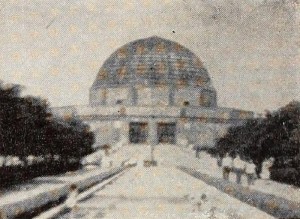 Date produced: 1952
Filmmaker(s):
Description:
"Attempting to film a large city with its huge skyscrapers and teeming population through the lens of an 8mm. camera would seem to be an almost overwhelming task. However, boldly tackling such a gigantic project, Richard Guetl in his entry, The Big City, proves it can be done. This competent photographic work presents a good, clear coverage of Chicago, where Mr. Guetl resides. His angles are interesting and compositions pleasing. His street shots around the Loop and his camera treatment of the human derelicts on Skid Row are worthy of special commendation. While The Big City is not an epic, it is a capable, factual presentation with just enough skyscraper shots to make it authentic, enough stores and people to give it pulsating life, and enough pathos to arouse the emotion." Movie Makers, Dec. 1952, 340-341.
---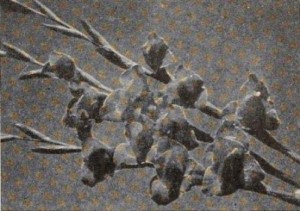 Date produced: 1952
Filmmaker(s):
Description:
"Bulbs and Beauty reveals in painstaking detail the planting, cultivating and harvesting of gladioli in the vast fields surrounding the town of Momence in the state of Illinois. In this elaborate undertaking, Haven Trecker unfolds in well planned and profusely close-upped sequences the many colorful aspects of this popular plant in the life of flower-loving America. The harvesting sequence is followed by somewhat generous footage of a flower festival, the big annual affair in glad-minded Momence; and the festival in turn is followed by a seemingly endless parade in tribute to these bounteous blossoms. Bulbs and Beauty, accompanied agreeably by magnetic sound on film, appears to have been made for informative and record purposes. It fulfills these functions in a lively and competent manner." Movie Makers, Dec. 1952, 337, 339.
---
Date produced: 1932
Filmmaker(s):
Description:
"Charles and Robert Coles showed a fine knowledge of the use of filters in their twin subject, 'Cascade and World's Fair.' Also they showed a grasp of composition and camera angles that was refreshing." American Cinematographer, Dec. 1933, 342.
---
Date produced: 1934
Filmmaker(s):
Description:
"The World's People, production of Edmund Zacher, II, ACL, and Herbert Johnson, ACL, with musical accompaniment and incidental sound effects by the record and double turntable method and with a narrative presented by Mr. Johnson through the sound system, offers a combination of visual and aural entertainment that is marked by a finish and perfection in cinematography and an interest and liveliness in accompaniment. The film describes a visit to the Century of Progress exposition in Chicago, featuring as its theme the many races and nations of the world represented there. The cinematography of Messrs. Zacher and Johnson is effortless and of uniformly high standard, is playing with intelligent restraint the effects used by professional cameramen. The combination of long shots, medium views and closeups leaves no beholder unsatisfied in any scene presented. There is a decidedly human character in the whole footage and the people are never overshadowed by architecture or machinery. In one place, two somewhat indignant ladies are seen in vigorous and disapproving conversation, for example, yet they are entirely unconscious actors. In continuity planning and execution, in cinematographic perfection and in a satisfying and informing use of excellent narrative, music and sound effects, The World's People sets a high standard in starting out to do a thing and doing it with sureness and real success." Movie Makers, Dec. 1934, 546.
---
Total Pages: 2