---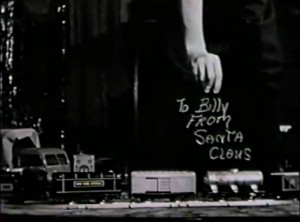 Date produced: 1942
Filmmaker(s):
---
Date produced: 1965
Filmmaker(s):
---
Date produced: 1938
Filmmaker(s):
---
Date produced: 1937
Filmmaker(s):
Description:
"'Santa Visits Elaine,' 16mm. in color, by John E. Pohl of Cicero, Ill., was the winner in the home movies class. The picture is finely done. It greets you with an unusually strong title when it flashes upon you on the screen. No filters are used. There are few characters in the story—as a matter of fact Elaine and her mother carry the greater burden of the cast. To be sure, Santa is in the limelight long enough to do a little tree and interior decorating. Elaine looks a trifle large to accept as gospel truth all the conversation sometimes handed to children about the comings and goings of Santa Claus, but the young lady does or is caused to do one good deed which may indicate one of two things: either she is going to do her utmost to entertain Santa while he is visiting that house or else she has a line on the habits of the male person who is in her mind slated to do the hanging. She very prominently places a bottle of beer and a large glass right where the visitor cannot miss it. Does he miss it? No, he does not. In spite of the obstacle presented by the phoney mustaches he gets around them." American Cinematographer, Jan. 1939, 17.
---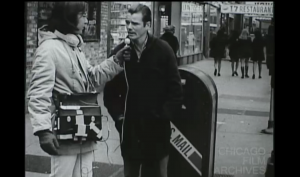 Date produced: 1971
Filmmaker(s):
Description:
"RATAMATA is a portrait of the diverse opinions of Chicagoans (ranging from high school students to habitual mayoral candidate Lars Daly) as they reflect on the general state of affairs in America, the war in Vietnam, social and racial conflict, freedom and personal liberty, happiness, and social justice." Chicago Film Archives
---
Date produced: 1954
Filmmaker(s):
Description:
"Joyous Noel by Gilbert B. Jansen Jr. is the sort of color motion picture record of an American family's Christmas that so many home-loving cameramen dream of producing - but seldom do. Undoubtedly the producer and all members of his family will treasure this film immediately. Not a great work, Joyous Noel is nevertheless an unusually good Christmas film in which all of the preparations and celebrations found in graceful family living are depicted through the activities of a young couple and their two children. Well lighted scenes, technically proficient camera work, pleasant acting by all concerned, and a background of Christmas carol music all contribute to make this a thoroughly pleasant production" PSA Journal, Jan. 1955, 50.
---
Date produced: 1934
Filmmaker(s):
Description:
"A record of a summer trip with humorous twists." American Cinematographer, Feb. 1936, 73.
---
Date produced: 1933
Filmmaker(s):
---
Date produced: 1933
Filmmaker(s):
---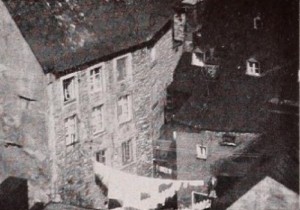 Date produced: 1948
Filmmaker(s):
Description:
"A schoolboy in need of material for a geography theme launches Five Days From Home, as Dad gets out the movie projector and shows Son the cine harvest of his summer holiday. Among the points covered in a whirlwind auto trip from New York to Canada are Quebec City, Montmorency Falls, a Canadian pulpwood mill and Ausable Chasm, in New York State. Mannie Lovitch's handling of these subjects is always competent, occasionally excellent. His inquiring camera found many scenes of quaint charm in the old St. Lawrence city, and his full scale visual treatment of the pulp mill is sustained in interest by a superb bit of scoring with modern music by Virgil Thompson. Of especial note is Mr. Lovitch's mobile cross-cutting of the three to four themes which make up his coverage of the usually difficult Ausable Chasm." Movie Makers, Dec. 1948, 493.
---
Total Pages: 2