---
Date produced: 1929
Filmmaker(s):
---
Date produced: 1929
Filmmaker(s):
---
Date produced: 1964
Filmmaker(s):
Description:
"Objectif Festival is a story based - on truth or not, we don't know - of an old photographer who decides to bring his camera, tripod and all, the to the Cannes Film Festival to get a few still shots. He is not prepared for the fast shooting shutterbugs of today, nor the Bikini clad French dolls that litter the beaches. Time has passed him by in more ways than one. The film has been cleverly cut to fit its musical score, and this unusual editing has earned for the film the MPD Golden Scissors Award for the best film editing in the contest" PSA Journal, Sept. 1964, 50-51.
---
Date produced: 1964
Filmmaker(s):
Description:
"A Glimpse of Paris shows us the usual sights of the French capital as well as some of the less common places. Tight editing keeps the film moving yet the feel of jumping rapidly from one spot to another, so often prevalent in travel films, is not present in this one" PSA Journal, Sept. 1964, 50.
---
Date produced: 1958
Filmmaker(s):
Description:
"George Kiehl's visit to Paris took him to many of the places of interest in the visitor. His fast moving travelog takes us through the main streets and some of the old sophisticated areas. We begin with the landmark of the 1889 Exhibition, followed by fountains, facades, monuments of marble and bronze, parades, tired souls asleep on the street, art centers, castles, water excursions, and, not to forget, Moulin Rouge and other night spots with choice centers of attraction" PSA Journal, Nov. 1958, 48.
---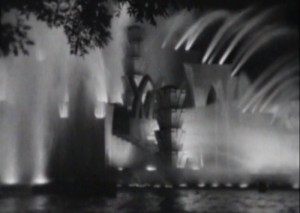 Date produced: 1931
Filmmaker(s):
Description:
Luci di Parigi: da mattina a sera ed a notte = Lights of Paris: from morning to evening and at night.
---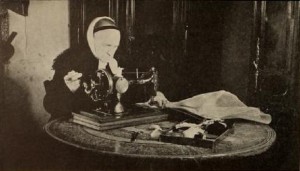 Date produced: 1937
Filmmaker(s):
Description:
"Luc Fauvel is a Norman, and he turned to his own pays to contrive as sensitive and trenchant a study of French provincial life, in miniature, done by the medium of film, as did giants like Flaubert and de Maupassant through the medium of words. His Vieille France has irony, pathos, humor and plain reporting. It is the tale of an old bonnet maker of Normandy, who goes through her daily tasks, in which she has grown old, but who, at the end of the labor, reviews the past, by means of her photograph album, and meditates on her son, who died on the field of honor in the World War, and on her daughter who has become a great dancer and is far removed from the little Norman village of her origin. Mr. Fauvel accomplishes most by suggestion, by indirect statement and by a kind of insidious comment on life, never more than fleetingly presented. This young Frenchman, now studying at Cambridge, in England, will give us better and more technically well knit pictures as times goes on." Movie Makers, Dec. 1937, 630.
---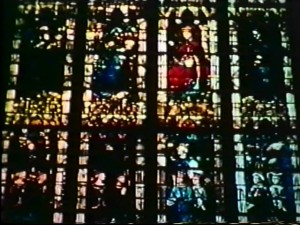 Date produced: 1932
Filmmaker(s):
Description:
"Studies in Blue and Chartres Cathedral, a cerulean cinema achievement, one 400 foot reel in full Kodacolor by John V. Hansen, ACL, shows what an artist's and a colorist's eye can select and record. While this film is in some sense a travel record, Mr. Hansen definitely made it a point to choose those scenes and vistas that revealed the open sky, whether seen in patches through the interlaced branches of trees or as a dim, distance haze, shimmering up from the tops of far off mountains. Here are deep blue skies overhead, merging into white mist at the horizon, apple green, azure, so many hues that it is a revelation to see that a mechanical process can so beautifully record nature. Mr. Hansen presents to the audience's eyes such a varying kaleidoscope of blending colors in his continuity that it is difficult to do the entire effect justice by mere description. But among his outstanding technical achievements are the recording of sunlit glades in a dense forest, especially effective cloud and sunset shots, distant and close shots and side lighting and backlighting in profusion. A further, outstanding triumph in color technique was shown in Mr. Hansen's recording of the vivid, glowing hues of the stained glass windows, taken from the interior of the cathedral at Chartres. Here, he succeeded in capturing that peculiar, deep dyed transparency found only in the colors of old stained glass. It is questionable if any other method of reproducing color can give such a real and beautiful rendition of stained windows as the motion picture. Certainly no color printing process can compete. The film was rounded out by some charming long shots of the carefully cultivated, rolling hills of Denmark." Movie Makers, Dec. 1932, 538, 560.
---