---
Date produced: 1957
Filmmaker(s):
Description:
Travelogue and social gathering document. Narrated by Joan Baldwin with orchestral music by Sibelius throughout. "Only 50 people lived here last winter and 12 children attend the school. Fishing..." oldfilm.org
---
Date produced: 1970
Filmmaker(s):
Description:
"West Texas by Alan E. Gadney of Sun Valley, Calif. Alan made this film while a student in the Department of Cinema, University of Southern California at Los Angeles, and it is a superb example of student work. The Logistics involved and problems encountered are hard to believe and yet the picture was made in California. This 55-minute 16mm film was awarded a Ten Best Medal, The Charles A. Kinsley Memorial Award, the Scenario Award and the Student Film Award" PSA Journal, Nov. 1970, 38.
---
Date produced: 1969
Filmmaker(s):
Description:
"Joniko and the Kush-Ta-Ka, the PSA Film of the Year, is a story of Alaska by a native, Charles Keen of Juneau. In 45 minutes of color and spectaculars, Mr. Keen shows us an Alaska that is beautiful throughout the seasons of the year. The law of nature is never questioned and only strength and courage survive. As if all this as not enough in the way of survival difficulties, there is added the threat of the Kush-Ta-Ka. You struggle, struggle some more and pray with young Joniko in his adventuresome trip to get help. It is truly a film of the year" PSA Journal, Nov. 1969, 56.
---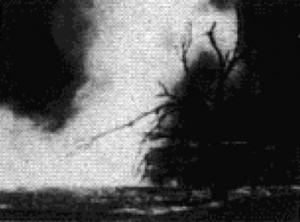 Date produced: 1962
Filmmaker(s):
Description:
"About 1800 John Colter discovered the area now known as Yellowstone National Park, set apart by the United States government in 1872 for the enjoyment of the people. It has an area of 3,458 square miles, approximately 62x55 miles. Colter's Hell, as it was then known, is a national vacation land of thermal activity, wild life, and tourists. In forty-three minutes, the Lawlers take us to all of the important thermal and water activities and a tour thru some of the remote areas where the wild life may be found, including the grizzly. This film has many, many more vistas animals, and birds than the usual visitor would see. If one cannot visit the Park he should at least see the film" PSA Journal, Oct. 1962, 33.
---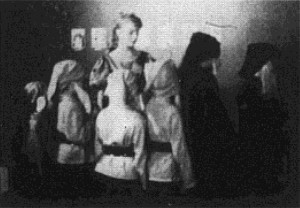 Date produced: 1960
Filmmaker(s):
Description:
"To film the story made famous by Walt Disney is a major assignment. Snow White, a pretty young miss, did her part exceedingly well. This is very important- she is with us for fifty-two minutes, and we are happy for our visit with her. The Seven Dwarfs are a collection of small fry and here the film had some of the problems of amateur actors. The picture is done to the sound track of Disney's Snow White. A story for young and old and, if we will look beyond some of the little things that could be better, a delightful bit of entertainment for all of us" PSA Journal, Nov. 1960, 40.
---
Date produced: 1959
Filmmaker(s):
Description:
"A scientific expedition to Mexico for a study of the animals, reptiles and birds. Our visit for the most part is in the rural or wilderness areas but we do get into the market place and we see some of the ancient ruins. A pictorial review of a great many of species of wild life which we rarely see as many of us are afraid to visit the habitat of those creatures. The close-up photography puts the small creatures almost on our noses" PSA Journal, Nov. 1959, 48.
---
Date produced: 1958
Filmmaker(s):
Description:
"A lover of wild life and good fishing, Russell Jameson has a real fishing picture for those who would like to go into the wilds of British Columbia where the lakes and streams are generously populated with big ones which are willing to make the anglers' acquaintance. Most of the fishing is with barbless hooks for the sport and catch is returned to the stream uninjured. The musical score and sound effects add a great deal to this picture. It will tempt any fisherman with the time and money to indulge in the sport" PSA Journal, Nov. 1958, 48.
---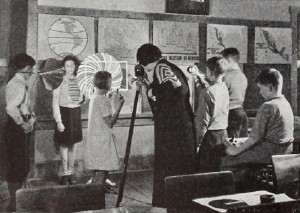 Date produced: 1934
Filmmaker(s):
Description:
"Mrs. Anne Filut of Milwaukee, possibly entered the most ambitious undertaking to be viewed by the judges. Eleven reels of 8mm film on 'Creative Work in Fractions,' in which she clearly shows the principles of her subject and the fundamentals of the work she is teaching, taken in the class room with the children themselves as the actors. She was given honorable mention." American Cinematographer, Feb. 1936, 73.
---
Date produced: 1934
Filmmaker(s):
Description:
"Photographed against the variegated background of Japanese life In Southern California, "Nisei Parade" strives to follow the lives of three nisei youths and of a girl, the sister of one of them, who returns to California after attending school in Nippon. The two young men, Ikuo and Sueo Serisawa, have taken their camera and their script into every phase of Japanese life into America. The story is centered on Jiro, one of the three nisei who is employed in one of the many huge produce markets in Southern California, and who is torn between the choice of a career as a photographer necessitating years of study, and his love for Sumi, the girl. It is the story also of George and Shig, the other two youths. The roles are capably portrayed by Tadashi Kamayatsu, Alice Iserl, Peter Takahashi, and James Sujishi. Although taken on 16mm. stock, and although it is a silent, film utilizing Japanese and English titles, "Nisei Parade" won praise for its photographic excellence when shown before various American groups, including MGM." The New World Daily News, March 14, 1935, 1.

"J. R. Derisowa [sic] received honorable mention for his 2000-ft. picture, 'Nisei Parade'. As a general rule it is difficult to maintain interest through five reels of pictures." American Cinematographer, Feb. 1936, 73.
---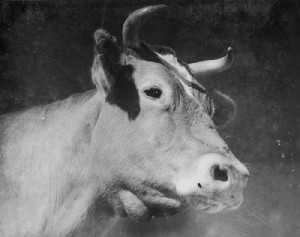 Date produced: 1934
Filmmaker(s):
Description:
"In this feature length publicity picture, Mr. Judson has portrayed, with unfailing technical excellence and a genuine feeling for smooth cinematic design, the birth and growth to maturity of the famous Adohr Guernsey, Linetta, judged grand champion of her breed at the California State Fairs of 1935 and 1936. Save for the fact that practically all the scenes take place on Adohr farms and ranches, the film is devoid of advertising as it tells a simple and satisfying story, replete with human interest." Movie Makers, Jan. 1937, 24.
---
Total Pages: 8