---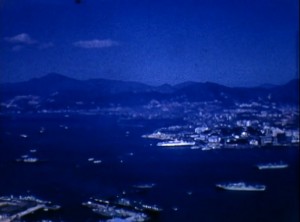 Date produced: 1961
Filmmaker(s):
Description:
"Hansen travels to Hong Kong following his original visit to China in 1937. Initially, he spends much of his time roaming the commercial districts, giving a sense of tourism side of Hong Kong. Immediately following, he spends several minutes focusing on the skyline and captures footage of locations on the outskirts of the city. Hansen then spends the rest of the evening eating at a local cuisine and attending a show. For the remainder of his trip, Hansen shifts his attention from Hong Kong's tourist areas to the residential districts, fishing docks, and rural farming." UC San Diego Library.
---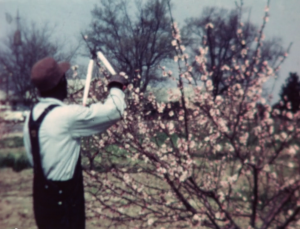 Date produced: 1967
Filmmaker(s):
Description:
"The life cycle of the peach -- from peach blossom to peach pie" (Holmes, 2018).
---
Date produced: 1937
Filmmaker(s):
Description:
"It has a story with titles in verse telling how the farm woman compared herself with the Duchess of Windsor and decides she prefers Pa to the Duke and her own simple tasks to the life of a Duchess." American Cinematographer, Feb. 1940, 87.
---
Date produced: 1939
Filmmaker(s):
Description:
"Filmed in 1939 by the town doctor, Cologne is a personalized portrait of a farming community that merited only a single sentence in the WPA's 1938 guidebook to Minnesota: "COLOGNE (945 alt., 355 pop.) is a German community named for the ancient city on the Rhine." Dr. Raymond Dowidat and his wife, Esther, arrived in 1937 for his first practice after internship, and the impulse for the film seems to have arisen from their desire to document Cologne before they moved on to his next position in Minneapolis." filmpreservation.org
---
Date produced: 1955
Filmmaker(s):
Description:
"Excellent handling of camera and lights. A nice story telling family film starring Maxine (who has appeared in several other prize winning films) and her new baby." PSA Journal, Dec. 1955, 37.
---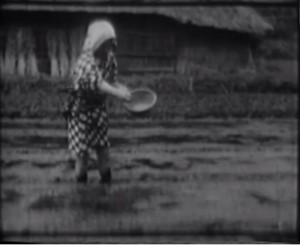 Date produced: 1933
Filmmaker(s):
Description:
"Documentary: On the life of rural rice farm families in Japan." National Archives.
---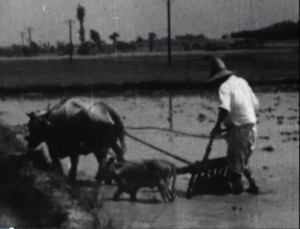 Date produced: 1932
Filmmaker(s):
Description:
"Documentary: On peasant farm life in Korea, the rice crop and family labor." National Archives.

"'Rice,' a three reel subject in the educational class entered by F. C. Ells of Yokohama, Japan, demonstrated a fine appreciation of production and photographic values as well as how to combine it so as to make entertainment. Many were of the opinion that this picture, if it were in 35mm, would be worthy of professional theatre presentation." American Cinematographer, Dec. 1933, 321.
---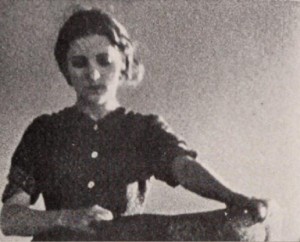 Date produced: 1933
Filmmaker(s):
Description:
"In New Horizon, Cinematographer Clardy presented the life of a farm girl at a moment of crisis. One reel, almost without titles, tells the story of her efforts to marry the man she loves in spite of her father's opposition which keeps her chained to the farm." American Cinematographer, Feb. 1935, 78.

"Clardy was the winner last year of the gold medal for scenario and photography. Last year Clardy's picture was based on a western theme, while this year his scenario, although set in its greater part in the outdoors had several indoor shots. However, most to be admired was the way in which he handled his production both from composition and directorial standpoint. There were only three people in his cast with the girl assuming the major role. His sense of dramatic values, and especially his fine feeling for the proper tempo brought forth unstinted praise from the judges." American Cinematographer, Dec. 1934, 365
---
Date produced: 1927
Filmmaker(s):
Description:
"Clyde Hammond, of 65 Murdock Street, Youngstown, Ohio, won an honorable mention in the 16 millimeter division for his study of country life, 'The Dragon Fly.'Mr. Hammond worked out a strong atmospheric study of a selfish country boy, home from college, and his hard-working farmer father."Photoplay, Jun. 1928, 137
---
Date produced: 1941
Filmmaker(s):
Description:
"Seldom has an amateur embarked upon so formidable a production as did David Bradley when he and some friends decided to film Ibsen's Peer Gynt, using Grieg's music for background. This mystic drama is considered so difficult that it has been performed only twice in the American theatre; yet the task held no terror for this group. Fashioning their own costumes and finding suitable locations in suburban Chicago, Mr. Bradley's intrepid band has done an amazingly good job. It would be easy to visualize the result had the production been in less capable hands than those of Mr. Bradley, and it is to his great credit that such quaint characters as the Button Moulder and the many trolls and woodland sprites do not appear ludicrous. The chief fault in this tremendous undertaking is that Ibsen's gigantic play has been transliterated to the screen rather than translated. That is, Mr. Bradley, by his own admission, modeled his scenario as closely as possible on a work written expressly for the theatre. Had he taken more liberties with the dramatic form in favor of a more peculiarly cinematic treatment — as exemplified so strikingly in the fine Hall of the Mountain King sequence — there would have been no structural weaknesses in his film. With this fundamental concept firmly in mind, Mr. Bradley, recently turned twenty one, should scale the heights in his future productions." Movie Makers, Dec. 1941, 566.
---
Total Pages: 2